What's cool in school: Youths say
YOLO

, duct tape, Wiz Khalifa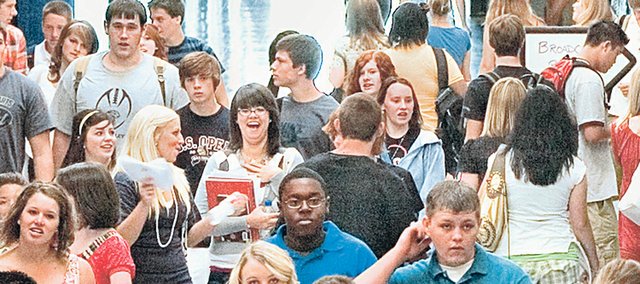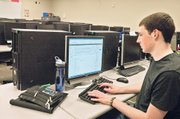 In unison, and almost without thinking, a small group of Trailridge Middle School students earlier this year answered "high-tops" in response to a question regarding what item of new clothing they HAD to have for school this year.
At Bonner Springs Elementary, a similar enthusiasm for new footwear was expressed by fifth-grader Bryce Krone.
"It doesn't matter what type of shoe," Bryce said. "It can be Nike, Under Armour, Adidas. Absolutely, new shoes."
Some young people view fashion as a way to express themselves as individuals, while others don't want to dress too differently from their peers.
Among area students, Justin Bieber and Wiz Khalifa are adored, Xbox 360 still provides hours of gaming entertainment and a new book-to-film series known as "The Hunger Games" has largely bumped "Twilight" out of its long-held spot as reigning teen and pre-teen drama.
Fashion, pop culture, social media, even school supplies offer a lot for students to choose from in the way of inspiration and a sense of identity. And what's cool for one school may not be for another. Here, we take a look at what's hot — and what's not so hot — among area students.
On the threads
Most students at Mill Valley High School "stick to a casual wardrobe" largely consisting of T-shirts and jeans, said senior Jillian Mullin. And that's largely true across the board at schools in Basehor, Bonner, Baldwin City and Tonganoxie.
But that doesn't mean there aren't students, like Jillian, who are looking for ways to express themselves through a more fashion-forward look. On trend at Mill Valley, Jillian said, are blazers, "of course," as well as colorful skinny jeans and statement necklaces.

"And I've been seeing a lot of different sorts of Oxfords," Jillian said, referring to the traditional lace-up shoe that has gotten quite a makeover. "Some are more classic looking and some are maybe studded or sparkly. Or I've seen them in all sorts of variations lately."
At Tonganoxie High School, clothes from the Buckle, jeans with rhinestones and other embellishments on the back pockets by the brand Miss Me, and Top-Sider shoes by Sperry are popular among virtually all the students, said Taylor Wolken.
She doesn't include herself in that group, however. She said her more high fashion clothing choices are seen as "a bit more extreme," at least at her school.
"We're not exactly the most fashion-forward school in the world," she said. "Kids tend to follow what other kids do. … They don't really like to express themselves in different ways from everybody else."
Wendy Dobbs, fifth-grade teacher at Bonner Springs Elementary, said she's been seeing a lot of cowboy boots, mixing of patterns and anything with a mustache on it in her classroom.
What about the guys?
Nike Elite socks, which can go almost to the knee and offer some cushioning in the foot, are huge among male students at a number of area schools, including Bonner Springs Elementary and Basehor-Linwood Middle School. But basically any long sock will do, as long as it's by a brand like Nike or Adidas, said Bryce. There is one caveat, however.
"Do not pull your socks all the way up to your knees," Bryce said. "It does not look good."
Drew Villaca, seventh-grader at Baldwin City Junior High, disagreed.
"Normally pull them all the way up as high as they can," he said of how he and other students wear the socks.
Outside of socks, he said, sports shirts or muscle shirts were pretty big at his school. And as far as shirts go, it's all about the V-neck at Basehor-Linwood Middle School.
"They're real big," said Jackson Brimblecom, Basehor-Linwood eighth-grader, of V-neck T-shirts. "A lot of people like them."
Don't forget the duct tape
If you're a young student, Bonner Springs Elementary fifth-grader Alex Thaxton will tell you, there's really no need to go shopping for accessories such as bags, belts and bracelets. Creative students like Alex are making their own accessories out of colorful varieties of duct tape.
"The kids are into it, but she's perfected it," Dobbs said of Alex, who makes everything from pens and flower rings to wallets and belts out of the duct tape she finds.
You only live once
Or, as most students in the area tell it, "YOLO!"
The acronym originated in a 2011 rap song, "The Motto," by Drake, and has since become a hugely popular expression among youths — a little too popular in Austin Gillespie's opinion.
"Some people don't really use it right," said the Mill Valley High School senior, who contributes a regular pop culture blog to the school's JagWire news site. He gave an example of this misuse: "Just ate dinner. YOLO!"
He said the expression has become so prevalent at his school, its real meaning has gotten lost. And, he said, its overuse on social media sites and in face-to-face conversations is getting a little "annoying."
Most students would beg to differ — with just two syllables, YOLO offers a fun and incredibly concise way to express the idea of "while you're young, do what you can," Taylor said. "You should just do whatever you want; just kind of live life to the fullest mainly."
The saying hasn't taken off at every school, however. Drew said he hears it every once in awhile at Baldwin City Junior High.
"But, no, I don't think it's really too common here," he said.
Social media, technology and the top in pop culture
Facebook and Twitter are still going strong among those students old enough to use the sites. Recently added to the mix, though, said Austin, are newer sites such as Instagram, which allows users to customize and share photos, and Tumblr, largely used for creating personal blogs.
"iPhones are huge," he said. "SO many of my peers have them."
And playing on many students' iPhones or iPods are pop singers such as Justin Bieber, Katy Perry and the British boy band One Direction, as well as the rappers Lil Wayne, Drake and Wiz Khalifa.
"The movie 'The Hunger Games,'" is really big," said Amanda Mason, fifth-grader at Bonner Springs Elementary, noting that the majority of people in her class had either seen the movie or read the Suzanne Collins series of books.
"'Hunger Games' has overshadowed 'Twilight,'" Austin said.
Other popular films right now include "The Dark Knight Rises" and "The Avengers," Bryce said.
But let's not forget about TV with its reality shows such as "Here Comes Honey Boo Boo," a favorite among students at Mill Valley.
"It just pulls people in because it's so funny," Austin said. "A lot of people will just kind of make references from the show."