What a finish:
SMNW

boys soccer's run halted by thinnest of margins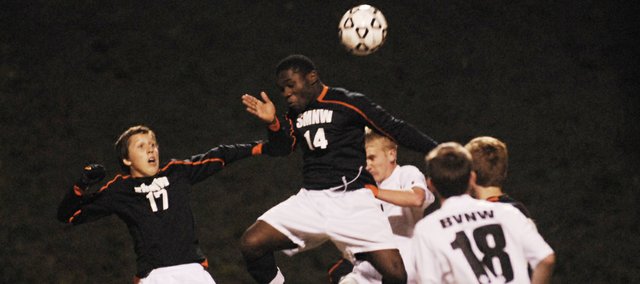 Photo Gallery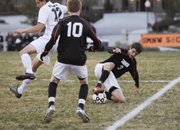 Oct. 30: Cougars end season with 1-0 O.T. loss at BVNW
SM Northwest fell, 1-0, in quarterfinal play at BV Northwest on Tuesday, Oct. 30.
Overland Park — A scoreboard can only tell you so much.
Last week at No. 1 Blue Valley Northwest (17-1-1), where the No. 4 Shawnee Mission Northwest boys soccer team sought to advance past the state quarterfinals by way of another upset, the scoreboard stayed mute for 99 minutes, seven seconds.
It's those final 53 tics the Cougars (9-8-2) want back.
With less than a minute left in the second 10-minute overtime period, BV Northwest junior Blake Levine found the opening both sides coveted all night, sending through the eventual game-winner to end the Cougars' season.
"We got caught on a counter attack and they came in and just slotted it in the bottom corner," SM Northwest junior goalkeeper Steven Skells said, eyes red minutes after the result.
For 53 seconds, 1-0 shone above the field, eventually noting who won, who lost. It couldn't begin, however, to tell the story of the match's other 99 percent.
Skells, and a stout SM Northwest back line, kept a persistent, No. 1-seeded Huskies squad off the board. Days after downing Olathe East (14-3-1), 2-0, to win its regional bracket, the Cougars flirted with another shocker.
For coach Todd Boren, the jury was no longer out on this year's team. After starting 0-4-1 and struggling to replace a host of 2011 starters, the Cougars rallied for a 9-4-1 finish.
"No one gave us a chance to make it, but we did," Boren said. "We just continued to believe in ourselves. I'm really proud of these guys."
Before conceding Tuesday's game-winner, Skells and the Cougar defense held its three postseason opponents scoreless for 259 minutes.
For much of the final 25 minutes of the first half, the Huskies backed SM Northwest into a corner. Offensively, the Cougars couldn't break through BV Northwest's midfield, instead allowing the Huskies to spend much of that stretch pressuring Skells and the Cougars' back line.
Though the law of averages suggested otherwise, the Cougars had no trouble with the increased volume of early BV Northwest chances, at one point stopping a free kick set up barely 15 yards out from the net.
SM Northwest sophomore Sam Nobrega bailed the Cougars out of several jams, including a clearance kick from just outside the net.
When SM Northwest needed a big play from Skells, however, he was more than game.
Among numerous saves was Skells' stop on what looked like a sure score that the keeper pushed up and behind the net with less than 6 minutes left in the first half.
"They work for each other," Boren said of the Cougars' defense. "(Junior) Evan Miller, my center back, has been rock solid for us all season. He's been a kid that has grown into that position, taking ownership of that back line and becoming a big reason why we held tough teams like this."
Junior Collin Jones and seniors Junior Agbor and Andy Alvey each helped orchestrate many of the Cougars' late chances.
With 26 minutes left in regulation, BV Northwest goalkeeper Ryan Bird robbed Jones of what until then was the Cougars' best look.
After a BV Northwest defender narrowly saved an SM Northwest shot, Jones headed the rebound at Bird, whose last-second leap kept it scoreless.
Skells intercepted a cross with five minutes left, and made two big saves within a span of 30 seconds minutes later.
The Cougars had a chance to orchestrate a buzzer beater. Alvey and Jones dished back and forth on a run down the sideline, Alvey flicking a final touch to Jones, whose cross was headed about as time expired.
Skells had one more save in him with 2:45 left in the second overtime period, denying a rocket of a shot by BV Northwest senior Jordan Tacker. Fortune faded, however, when the Huskies finally found their score in transition.
"We missed a tackle and didn't have coverage," Boren said. "Pretty simple."
Skells crumpled to the ground, aware of the likelihood of defeat after matching the keeper of one of the state's top teams, save for save, for so long.
SM Northwest bid farewell to 10 seniors Tuesday, but is poised to return 11 upperclassmen to varsity next year, among them a contingent of Cougars hungry for a return to a moment when the score reads 0-0.
"I'm excited for next year, I really am," Skells said. "I want to come back to this stage, get that regional win, and also go on to state."
Poised as he spoke, Skells returned to the present upon joining his teammates on the sideline.
He sat down on a bench and put his face in his hands, reconciling the moment in which the scoreboard changed Tuesday.