Alternate endings
Movie house plot could conclude with sale, swan song or demolition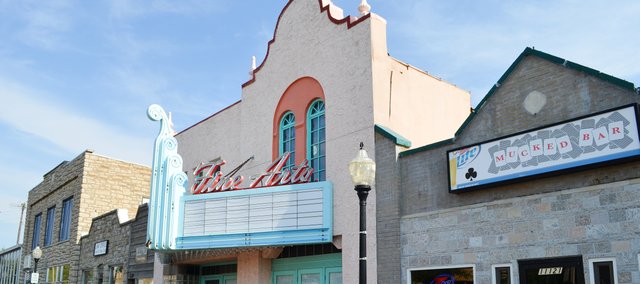 A project to renovate and reopen the historic Aztec Theatre on Shawnee's downtown square has been freeze-framed for half a dozen years.
With no resolution to a building-permit standoff with the city in sight, building owner Wade Williams said last week that he was ready to sell the building for the $240,000 he has invested in it.
That development, and the city's lack of interest in being the buyer, could signal an unhappy ending to the longtime dream of a theater to anchor continuing downtown revitalization efforts.
But Ben Mossman, who operates and co-owns other theaters Williams is involved in, could ride to the project's rescue soon, making renovation of the old movie house his swan song.
A last hurrah?
"I'm the one who wants to get the thing going again; Wade's kind of iffy," said Mossman, who along with his twin brother, Brian, has led renovation efforts for several theaters the brothers and Williams have reopened. "Brian and I will be 54, so I think that will probably be the last one that we do."
Mossman, whom Williams has delegated to make the call on whether or not to try to work things out with Shawnee officials, said he'd like to resume work on the project now. But he is currently involved in the digital conversion of projection equipment at all four theaters he and his brother run through their operating company, the Fine Arts Theatre Group.
The conversion of all 14 screens at the Rio, the Leawood Theatre and the Glenwood Arts in Overland Park and the Glenwood at Red Bridge in Kansas City, Mo., should be completed by mid-January, Mossman said.
"After that, I'll be ready to pick the ball back up in Shawnee," he said.
A few days earlier, Williams said he was ready to sell the single-screen Shawnee theater, which entertained local movie crowds from 1927 until 1975. New owners would eventually have to spend about $80,000 on digital projection equipment, Williams said, and he estimated that another $100,000 would be needed for a new roof and other finishing touches.
"It ought to be finished, and it ought to be owned by the city," Williams said.
City silent on sale
But Mayor Jeff Meyers and all eight members of the Shawnee City Council were as silent as a Charlie Chaplin movie when asked via email for their thoughts about a potential city purchase of the theater. And a former councilman who tried to ride to get the project untracked a few years ago said there's no way the city is going to buy it.
"You're talking about a $420,000 investment," David Morris said, using Williams' numbers. "Those numbers just don't work out for a movie theater as far as ROI (return on investment). The only way I think it has a chance is if Wade does it."
But thus far, Williams has stuck to his stand against the city's building permit requirements, said Morris, who resigned from the City Council in May but remains involved in civic affairs. And as the standoff continues, he said, the threats of deterioration, condemnation and, ultimately, demolition of the downtown landmark continue to grow.
"What I'm really concerned about is that it's going to get into a position where it's too far gone to actually repair," Morris said. "That's going to leave a huge gap downtown, which would just be a tragedy."
Williams, who has been restoring theaters with the Mossmans for 30 years, bought the Aztec building after a 1998 series of local newspaper articles on residents' remembrances of the theater brought it to his attention.
Longtime limbo
Purchased from the Pflumm family, which owned a controlling interest in Shawnee State Bank, the theater building had been used as storage for the bank's records until its merger with Commerce Bank in 1997. It was opened as The Mission Theater 60 years earlier by former Shawnee Mayor M.A. Summerour and was renamed the Aztec in the 1940s.
Another name change, to the Fine Arts Theatre, was announced in 2002, after the theater the Mossmans had operated under that name in Mission lost its lease. And through the next couple of years, restoration of the Shawnee theater proceeded smoothly. All plumbing was replaced. A marquee was salvaged from a historic theater in Abilene. And plans to open in fall of 2004 were announced.
But then, Williams and the Mossmans got sidetracked by demands at The Granada, a Kansas City, Kan., theater they purchased in 1998 and have since sold. And late in 2005, Williams said, a "regime change" at Shawnee City Hall led to "a bunch of bureaucracy" that he wasn't willing to fight.
Carol Gonzales, who had succeeded former City Manager Gary Montage in December 2005, "told me in her office that our (building) permit wasn't good anymore," Williams said, adding that was what shut down the project. Gonzales and Morris have a different story.
Two sides of the story
In 2002 or 2003, Gonzales said, Montague made an agreement allowing Williams to use a licensed engineer to review remodeling work at the theater to verify that it was being done according to codes. Thus, a building permit for the remodeling was issued under those terms in August 2003. But that permit lapsed in two years, after which city officials noticed that work had resumed without a permit.
According to Williams, he was then asked, as part of the permit renewal process, to furnish $8,000 to $10,000 worth of architectural drawings that he said were unnecessary given the Mossmans' remodeling experience and the fact that much of the work the drawings would depict was done.
Morris, who got involved in the dispute as chairman of the Shawnee Downtown Partnership, said Williams also was balking at continuing to pay an engineer to review the work at that point. That made the request for drawings completely reasonable, "especially for a public space like a theater," Morris said.
"When you're building or remodeling, you have to have a set of plans that shows where all the outlets are going, what gauge of wire you're using, where the plumbing is, the two-by-four spacing, all that stuff," Morris said.
But seeing that the requirement was such a hurdle for Williams to get over, Morris added, "I put together a group of people who would have paid the $8,000 to $10,000. He rejected it. That's Wade. He still thought it was just bureaucracy, and he didn't need that. He knew what he was doing."
When city inspectors reviewed the work that had been done to date in April 2008, however, "we found numerous building code problems with the construction," said Steve Thompson, chief codes administrator.
'It's all in Wade's hands'
After that, city officials continued talking with Williams about how they could help him resume the project while also ensuring its safety. But those discussions went nowhere, in part because the Fine Arts Theatre Group was engaged in opening its two newest theaters, the Leawood and the Glenwood at Red Bridge.
And now, Williams is bogged down with efforts to reopen the Englewood Theatre in Independence, which, like the Shawnee theater, he is sole owner of. That's why he left the decision on whether to try proceeding in Shawnee to the Mossmans, "who would be the ones running it," he said.
But Morris, who is willing to get involved again, said Williams is the one who will determine the ending.
"It's all in Wade's hands; he's the owner," Morris said. "If he makes a strong commitment with some deadlines, I guarantee a bunch of people will help him out. He's just got to give a little. He's got to play by the rules."