Finding fullfilment: 'Winter's Bone' film just one of many career highlights for Shawnee couple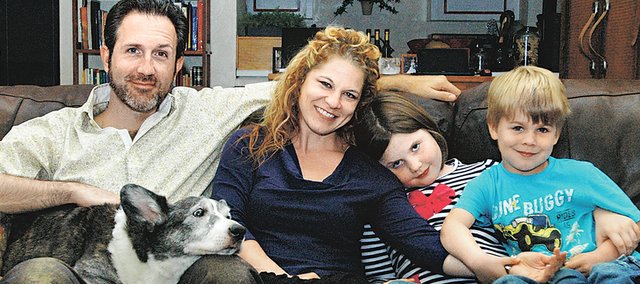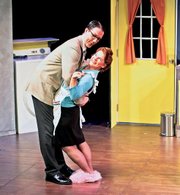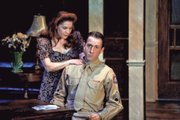 Recently, Anika Paulette, a third-grader at Benninghoven Elementary School, had her acting debut, performing with her parents and younger brother, Leo, in a 30-second commercial for Earth Friendly Products.
In August, that commercial, which was submitted to the Illinois-based green company's "Get Washed" video contest, garnered the Shawnee family second place and a check for $5,000. But at this point, Anika doesn't dream about parlaying the experience into anything full time when she grows up.
"I usually say I want to be a scientist," said Anika before pulling from the bookshelf proof of her career aspirations: a boxed collection of illustrated books on various science topics.

Still, with parents like Anika's, there's a chance she may one day change her mind. Brian Paulette and Cinnamon Schultz Paulette are both professional actors with a couple of extensive resumes to prove it. Those resumes include film, television, commercial and voice-over work. The husband and wife are also both frequent performers on Kansas City stages that include the Unicorn Theatre, the Kansas City Repertory Theatre, the Kansas City Actors Theatre and the Heart of America Shakespeare Festival.

One of Brian's most well-known roles can be seen in the short film "World Builder." The nine-minute computer-generated film, in which a man builds a holographic world for a woman he loves, was created by Bruce Branit, an area filmmaker and visual effects artist who has worked on such hit shows as "Lost," "Star Trek: Voyager" and "Alcatraz."
Cinnamon has the distinction of being the only Kansas City-area actor to be cast in the hugely successful 2010 feature film "Winter's Bone." Casting for extras and some of the smaller roles in the film was done in Kansas City, Cinnamon said. She auditioned and got cast as Victoria, wife of Uncle Teardrop, one of the film's main characters.
"It was wonderful. It was a learning experience of course," Cinnamon said of working on "Winter's Bone," which was shot with a small budget outside of Branson, Mo., and went on to earn four Academy Award nominations, including Best Picture. She said her part of the shoot took only one full day and night. "Around here, Brian and I get to work with other professional actors … but it's not like those kinds of films come around that often."
"Especially not of that caliber," added Brian, who said he knew, after reading the script for "Winter's Bone," how successful it was going to be.
As day jobs, Cinnamon teaches acting and speech classes at Johnson County Community College, while Brian, who is also a filmmaker and photographer, is creative director of Stallard Technologies in Overland Park. The two met as theater students at Kansas University. Cinnamon, who said her parents named her after a character from the original "Mission: Impossible" television series, grew up with performing in her blood; her father was a theater professor and her mother a music professor.
Brian said he didn't discover his passion for acting until his junior year of high school.
"I needed an elective to fill and took drama and kind of found that I had a knack for it and really enjoyed it," he said.
After they got married, Brian and Cinnamon's original plan was to stick around Kansas City for a while, building up their resumes before heading off to try to make it in the acting meccas of New York City or Los Angeles.
"The problem was that we kept getting so much work," Brian said. "And meanwhile, some of our friends that did go out to New York or L.A. stopped working. Half the time they would seem jealous of what we were doing in Kansas City."
Having children helped to solidify the deal, too, Cinnamon said.
"We wanted a home and school district that we could (feel) that they were getting a nice, good, rounded education," she said.
After looking around the Mission area, Brian and Cinnamon said, they landed on what they were looking for in the city of Shawnee. The couple moved here from midtown Kansas City in 2004, just two weeks after Anika was born. Their son, Leo, is now a kindergartner at Benninghoven.
"We fell in love with this house, and now we just really like the area," Cinnamon said.
And just down the highway is Kansas City, "a surprising little hotbed of arts in general, including theater," Brian said.
"When we work with actors from out of town," he said, "they almost always comment on how the city surprises them and it's not what they were expecting and it's so much color and more going on than what they would have thought."
Cinnamon is currently serving as a dialect coach on JCCC's production of "The Mystery of Edwin Drood," which opens in November. Brian said he's looking forward to his next gig firing Willy Loman every night as the character of Howard Wagner in "Death of a Salesman," which opens early next year at the Kansas City Repertory Theatre.