Grandpa Moses
At 76, local artist finally paints his way to first showing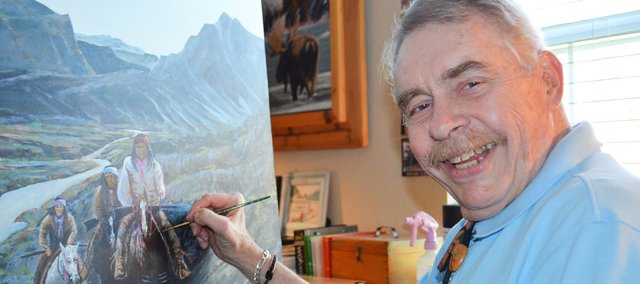 When he graduated from Shawnee Mission High School in 1954, Dick Berry told his father he wanted to attend the Kansas City Art Institute.
The elder Berry, "an old engineering guy," predictably dissuaded him, Berry said, so he went on to major in business and never received any formal art training.
But the bottled-up artist inside Berry never stopped trying to bust out. And now, the 76-year-old western Shawnee resident and his artwork are finally having a coming-out party.
Berry, who specializes in Native American, wildlife and landscape paintings, will be featured during an Artist of the Month show from 6 p.m. to 9 p.m. Friday at EPG Imaging Co., 7311 W. 79th St. in Overland Park.
The show, part of this month's Historic Downtown Overland Park Third Fridays event, will mark the first time Berry's paintings have been offered for sale. But it's not like he's never been asked to sell one of the 200 paintings he's completed since finally sitting down at an easel 15 years ago.
Berry, his resonant, outdoorsy voice reminiscent of that "Beef, it's what's for dinner" guy, Sam Elliott's, said he could pinpoint the exact moment, several years ago, when he knew he'd become a male counterpart to Grandma Moses, a painter who mastered her craft late in her life.
"It was when I let him hang one in our living room," his wife, Jan, interjected.
Today, the walls of the Berrys' home in the Town & Country Villas are adorned with dozens of Dick's paintings. And in recent years, he has carted several of them to the neighborhood's clubhouse for annual hobby and craft shows featuring residents' work.
"Everyone raved about them," Berry said. "But I made people mad because I wouldn't sell them. I've never sold one. But now, it's finally time to let some of them go."
Berry hadn't wanted to part with his originals, except for the few he's given to his three children, until he identified a quality and affordable means of creating prints. That happened recently when he walked into a downtown Overland Park store by mistake.
It was EPG Imaging, this Friday's show host. And through the chance encounter, Berry discovered the store's giclee printmaking capabilities, and the store discovered a talented artist to feature.
The works that will be on display Friday are all acrylics on hardboard. Berry likes the look of brush strokes applied on the hard, smooth surface, he said. But there's another reason he doesn't paint on canvas. As a former frame shop owner, he explained, "I've stretched thousands of canvases, and it always sags and warps. I hate it."
But Berry credits his frame shop experience for helping keep his youthful art dreams alive over the years.
In 1962, a year after he graduated from the business school at Drake University, another chance encounter gave Berry and his wife the opportunity to buy the frame shop, which was located in Des Moines.
"I had this frustrated artistic thing in me," he said, "and the framing satisfied it for a while. But after a while, I started wondering what it would be like to be the artist rather than the guy in the apron gluing the frames together."
His journey toward finally becoming that artist continued in 1968, when another opportunity prompted Berry to sell the frame shop.
Thanks to contract work from a Younkers Department Store, the shop had become a thriving side business. But Berry, who was teaching high school marketing and retailing classes in Des Moines, was invited to teach high school in Tucson, Ariz. And while there, surrounded by Southwestern art, he started satisfying his own artistic bent by building a long and adobe house and making ornate Hopi kachina dolls.
While in Tucson, Berry also began teaching at the University of Arizona, where he earned his master's degree in educational administration. Then, in 1976, he moved back to the Kansas City area and into the private sector, specializing in management training for First National Bank, the Gas Service Co., Payless Cashways and Farmland Industries. Eventually, he ended up back in education as a supervisor for a vocational school in Kansas City, Kan.
And after retiring in 1998, he finally started to do what he wanted to do in the first place: paint.