Mill Valley rolls by Tonganoxie for third straight win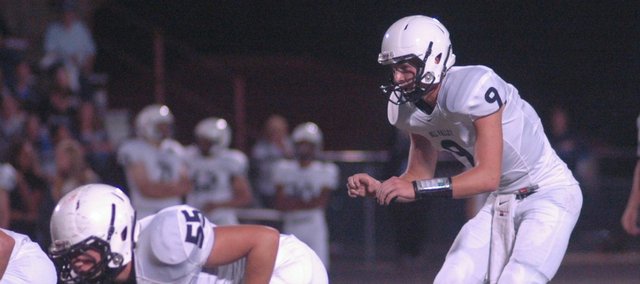 Tonganoxie — In Mill Valley's 46-6 win Sept. 14 against Basehor-Linwood, senior quarterback Skyler Windmiller showed he could get it done with his legs. On Friday at Tonganoxie, he showed he's just as dangerous with his arm.
Windmiller completed 9-of-10 passes for 212 yards and three touchdowns — all in the first half — and Mill Valley cruised to a 59-0 win against the Chieftains.
THS (1-3, 1-2 Kaw Valley League) had a promising start when junior Cole Holloway had runs of 12 and 11 yards on the opening drive, but the Chieftains were forced to punt when the drive stalled and Mill Valley took full advantage.
The Jaguars (3-1, 3-0 Kaw Valley) scored touchdowns on their first two offensive plays when Windmiller hooked up with freshman Christian Jegen from 74 yards out, then found fellow senior Staton Rebeck for a 47-yard strike. Rebeck added a punt return for a touchdown to give his squad a 21-0 lead just 5:15 into the first quarter.
"Our guys, they practiced all week and they executed very well on those first few plays," coach Joel Applebee said. They did a tremendous job. I'm very happy with what they did to start the game.
MVHS extended its lead to 28-0 by the end of the period on a 36-yard touchdown run by junior Nick Wilson. Windmiller and Rebeck hooked up again in the second quarter — this time from 16 yards out — giving Windmiller his third touchdown pass of the night.
Windmiller, who didn't play after halftime, didn't throw an incompletion until late in the second quarter.
"He has just continued to improve," Applebee said of Windmiller. "When you put in hard work, it shows on the field, so that's exciting to see."
Connor Mills added a 36-yard field goal and T.J. Midiros returned an interception 35 yards for a score to give the Jaguars a 45-0 lead at the break.
Windmiller was replaced by freshman Logan Koch for the duration of the second half. Koch totaled 110 rushing yards and two scores on just 11 carries in the second half.
"It's nice to get your twos into the game and get them some reps," Applebee said. "That allows them to see themselves on film so they can improve."
Freshman running back Austin Ettinger led the Chieftains (1-3, 1-2) with six carries for 56 yards — both career-highs. He gave THS its biggest play of the night on a 50-yard run in the fourth quarter.
The win was the third in a row for Mill Valley, which has outscored KVL opponents by a 162-13 margin. Meanwhile, the Chieftains dropped their third straight game. The Jaguars will travel Friday to Bonner Springs, while Tonganoxie will play host to Bishop Ward for homecoming.
Score by quarters
Mill Valley 28 17 14 0 — 59
Tonganoxie 0 0 0 0 — 0
First quarter
MVHS — Christian Jegen 74 pass from Skyler Windmiller (Connor Mills kick), 9:58
MVHS — Staton Rebeck 47 pass from Miller (Mills kick), 8:02
MVHS — Rebeck 50 punt return (Mills kick), 6:45
MVHS — Nick Wilson 36 run (Mills kick), 3:01
Second quarter
MVHS — Rebeck 16 pass from Windmiller (Mills kick), 10:47
MVHS — Mills 36 field goal, 3:46
MVHS — T.J. Midiros 35 interception return (Mills kick), 2:26
Third quarter
MVHS — Logan Koch 45 run (Mills kick), 5:42
MVHS — Koch 13 run (Mills kick), 2:32
Rushing
MVHS: Logan Koch 11-110, Nick Wilson 14-74, Skyler Windmiller 2-10, Isaiah Young 5-7, Staton Rebeck 1-3; THS: Austin Ettinger 6-56, Cole Holloway 15-44, Maleak Gibson 2-(-1), Eric Tate 1-(-3), Tyler Ford 5-(-4).
Passing
MVHS: Windmiller 9-10-0 212; THS: Carl Hecht 3-7-0 22, Ford 2-11-1 8.
Receiving
MVHS: Rebeck 4-83, Christian Jegen 1-74, L.J. Hatch 2-28, Alec Donn 2-27; THS: Tate 2-17, Tyler Hammond 1-11, Brett Shelton 1-1, Jared Sommers 1-1.