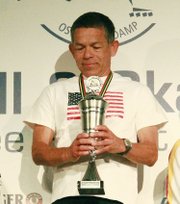 Age has not slowed Hernan Diaz when it comes to skating.
At 52, the Shawnee resident travels the globe and battles against some of the best inline speed skaters.
Whatever avenue of skating Diaz has decided to pursue throughout his career, he's been successful.
He has won in his age group at the World Masters Marathon Championship for inline speed skating the past two years. He first took home gold in France in 2011 and then defended his title in Germany in May.
Since he started roller skating at 4, Diaz has loved his sport on wheels no matter how they were positioned.
"Ninety percent of my traveling since I started when I was little was because of my skates," Diaz said.
Diaz grew up playing roller hockey on quad skates in his native Colombia.
Then, in the early 1980s, he decided to switch to roller speed skating, still using quads, but a little faster paced.
After training and traveling for several years, he visited the United States for the first time when he competed for Colombia in the Pan American Games in August 1987.
In the 1,500-meter roller speed skating competition, he produced his country's first medal in Pan American Games history.
"It was wonderful to be in all the papers in my country," Diaz said. "The first medal is very important."
Diaz continued to compete in roller speed skating for a while but then stopped in 1991. At that point, Diaz had finished college in Colombia and was looking for a place in the United States to earn his degree, learn to speak English and start a new chapter in his life.
"If I wanted to learn English, I knew I needed to move to the United States," Diaz said.
Diaz said his research convinced him that the Midwest was the best place to start that new chapter. So in 1993, he ended up at the University of Missouri-Kansas City, working toward a business degree and learning English. He graduated in 1997.
Diaz had put the skates away while focusing on college. But he kept himself in shape, he said, and "never quit doing sports; I was either running or swimming or biking."
And in 1996, he met some friends at the New York City Skate Marathon, sparking in him an interest to return to skating.
His friends told him where he could get skates near Kansas City, and Diaz found an inline skating race in Springfield, Mo., where he could start his second career in skating.
He won it.
"I didn't have very good technique, but I was fast," Diaz said.
From there, it's been a steady rise toward becoming one of the top inline speed skaters in the world — not only in his age group but overall.
Diaz has competed all over the world for the past 15 years, but two events stand out for him.
He races yearly in the Northshore Inline Marathon held each September in Duluth, Minn., and he won the 50-and-older division of this year's competition.
Diaz said thousands of skaters travel to Duluth for the event, with half of them coming from Minnesota. According to Diaz, Minnesota is one of the top inline skating destinations in the country.
Even with the large number of skaters, Diaz usually ends up near the leaders by the end of the 26.2-mile race.
Last year, Diaz also raced in the Berlin Marathon. He said tens of thousands of runners and inline skaters travel to Germany for the two-day event.
There, he finished in 96th place overall.
Diaz said none of these opportunities would be possible without his sponsor, Asphalt Beach Skate Shop in Nashville, which helps with equipment and travel costs.
When not traveling and skating, Diaz is a home contractor and handy man. He also coaches Kansas City Roller Warriors once a month, as well as other aspiring skaters in the area.
Since inline skating doesn't have a large following in the Kansas City area, Diaz usually trains by himself throughout the week.
"It's a lot of discipline, and to keep in shape is really, really hard," he said.
But it doesn't appear Diaz will be slowing down.
"I would like to win a gold medal when I get into my 60s," Diaz said.