Who's Tony Lauer?
Data-driven resident's input making impact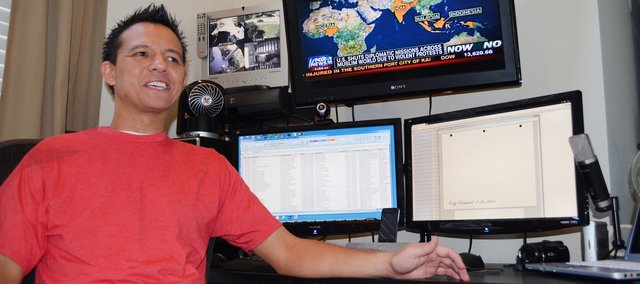 Who is Tony Lauer?
Someone up on current affairs in Shawnee might tell you Lauer is, take your pick:
• The local resident whose letter to the district attorney spawned a pending investigation into possible Kansas Open Meetings Act violations by elected city officials.
• The leader of a recent, successful campaign to have detailed written minutes of city meetings restored.
• The computer geek who, while looking through the city's online expenditure data for money to cover the cost of those minutes, discovered Shawnee may be wasting tens of thousands of dollars on sewer overpayments.
• The blogger whose research has begun surfacing in motions made by a couple of City Council members.
• The reason why local media outlets are asking why most subdivision plats in the city are null and void, according to Shawnee's own municipal code, because they weren't recorded within 30 days of city approval.
Friend or foe?
Lauer fits all those descriptions and, perhaps, this one: the most talked about resident of Shawnee right now. But the city's top two officials, Mayor Jeff Meyers and City Manager Carol Gonzales, declined to be interviewed about Lauer, signaling that differences of opinion may exist as to whether he's on Shawnee's side or just a thorn in it.
Gonzales did respond to the plat issue, saying the 30-day requirement spelled out in ordinance 16.24.010 is "directory not mandatory" and that state law supersedes the ordinance that makes it appear all but one Shawnee subdivision plat recorded during the past 40 years is void.
She also responded to Lauer's recent discovery that Shawnee apparently wasn't using deduct meters at some city parks and swimming pools to prevent overbilling by the Johnson County Wastewater department. City officials, she noted, received a large sewer bill for an aquatic center and park on July 31 and through a subsequent investigation came to some of the same conclusions Lauer did, prompting corrective actions.
Members of the City Council, however, didn't learn of the oversights until Lauer pointed them out via a Sept. 8 post on his blog site, Shawnee, Kansas — FWIW.
"That was good information," Ward 4 City Councilman Mickey Sandifer said. "Here we've been scrimping for dollars, and we've been overlooking that."
"I believe this is exactly the type of thing that could have been found with an efficiency audit talked about years ago," added Michelle Distler, who also represents Ward 4. "But we could never get a majority vote on the council to support it."
Meanwhile, Lauer is taking little credit for the wastewater billing discovery.
Driven to dig
"You would never believe that story," he said.
He had been on the phone, telling someone he was going to comb through the city's expense data for money to pay for the detailed minutes, when he decided to search the Microsoft Excel files for "waste."
He was "just joking around," he said. But the first thing that popped up was a $3,766 monthly wastewater charge for Stump Park, which is near Lauer's upscale home in the Crimson Ridge subdivision.
"I knew there were only a few toilets and sinks there," he said. "So as soon as I saw that, I already knew what the problem was."
That explanation, however, leaves out a couple of details that help answer the question, "Who is Tony Lauer?" One is the fact that Lauer had used his computer savvy to consolidate the city's expense data, which is posted for brief time intervals, into a single online checkbook to provide himself and his blog readers with "the big picture."
In addition, after using the tool to identify the potential wastewater billing issue, Lauer conducted further research to confirm his hypothesis. He compared Shawnee's water and sewer bills with those of other cities. He looked at satellite photos of Stump Park that revealed sprinkled green soccer fields surrounded by an otherwise drought-browned landscape. He made phone inquiries of Johnson County Wastewater employees. And he filed a Kansas Open Records Act request for Shawnee's sewer billing information.
"Sometimes I don't want to look under a rock," Lauer said, "because if I find something, I have to dig."
The information battle
In the case of the wastewater issue, Lauer eventually ended up with a computer disk containing most of the information he had requested of the county department. But it required two trips to Olathe to get. And the data came with a $41 bill for staff time, increasing to about $1,000 the amount Lauer has spent on KORA requests since getting involved in local government issues earlier this year.
Meyers said he didn't think it was in the community's best interest for him to comment on Lauer, who instigated the DA's investigation related to the recent appointment of Meyers' uncle by marriage to the City Council. But Meyers did say that the recent KORA requests pouring in from Lauer and others have cost the city "a great deal of additional time, work and money."
"Democracy's not supposed to be easy," responded Lauer, who moved to Shawnee in 2002 but didn't get involved in local politics until April.
At that point, Lauer and 43 other homeowners in Crimson Ridge received letters from attorney Pete Heaven, advising them that the 40 acres of open space their homes abutted had been sold to a for-profit company planning to convert it into a conservation preserve.
Lauer was concerned about his property value and the fact that, under the plans of the new owner, Habitat Kansas Inc., he and his family would be considered trespassers if they even set foot on the property. So he began researching city land records, zoning laws and minutes.
'Does this matter?'
Eventually, Lauer determined city officials had approved his subdivision plat after being told the open space would be offered for a municipal park and that, if the city declined to accept it (which it did), the acreage would be owned and maintained by Crimson Ridge's homeowners association. But that didn't happen, said Lauer, who frequently asks, "Does this matter?" in reference to plat approvals and other government requirements that appear to have been ignored.
Instead, the land was donated to a foundation, then sold to Habitat Kansas Inc., which has been seeking to have it designated by the U.S. Army Corps of Engineers as a stream mitigation bank. That would allow Habitat Kansas to sell mitigation credits to developers required to offset adverse impacts to aquatic resources in their projects.
Lauer, who compiled reams of data in leading the neighborhood fight against that plan, said he learned recently that Habitat Kansas had withdrawn its application, at least temporarily. But Lauer gives the city little credit for the successes homeowners have achieved with regard to the open space.
One key subdivision-related document that Lauer requested from the city in April wasn't provided until this month, he said. And generally, he added, "I've had to work a lot harder than I should have" to obtain data.
It didn't start out that way, Lauer said. When he first met with Gonzales about the Crimson Ridge issue, she seemed intent on helping, he said. However, when his research led him to start pointing out problems with the way city business was being conducted, Gonzales and other city officials turned defensive, Lauer said.
Birth of a 'troublemaker'
"I know I've been labeled a troublemaker," Lauer said.
But those who think he's just playing gotcha don't understand him, he said. That requires a look back.
Lauer, now 37, spent his earliest years in this area, where his father, Joe Lauer, worked as an environmental services manager with the Kansas City, Mo., school district. But after his parents divorced, he went with his mother to Oklahoma City, where he finished elementary school.
"My last full year of public school was sixth grade," said Lauer, who dropped out to start making money.
"None of it moved fast enough for him," Joe Lauer said. "And he has always been kind of an entrepreneur."
By the time he was 12, Lauer had started his own business: scrubbing, stripping and waxing floors for grocery stores at night. In the daytime, he home-schooled himself, acquiring the necessary materials with his earnings and blowing through several grade levels within a few months, he said.
Then, in 1992, Lauer returned to this area, where his father said, "You're going to school." So he enrolled as a junior at Shawnee Mission West. But the curriculum "wasn't interesting enough to keep my attention," Lauer said, so he quit after a couple of months.
"I think Tony gets deeply interested in some things, and he goes for it," his father said. "And computers have enabled him to educate himself far beyond what he would have been able to do in school."
Lauer taught himself to work on his family's Commodore 64, a computer introduced in 1982. When the movie "Short Circuit" was released four years later, he could readily identify with its robot protagonist, Johnny 5.
"He was always saying, 'Need input. Need input,'" Lauer said. "That's how I feel. ... If I see something that's not right, I'll point it out. But I have to operate on the basis of good data."
He just 'sees stuff'
Lauer's ability to gather and process data expanded after he landed a job at age 17 with a small tech firm in Lenexa. His first task was applying labels to floppy disks by hand. But Lauer, who advised the firm it could save money by investing in labeling equipment, moved up quickly.
Today, Lauer can't even tell you how many computers he owns — "more than a dozen, I guess." But he was quick to point out that three of them, each running three scripts, are running nonstop, compiling information related to the city of Shawnee.
Lauer said his knacks for computers and "seeing stuff" have prompted several businesses to seek his assistance in identifying areas of concern.
"I can walk into a room and immediately see about 50 things," he said. "But when you see a lot of things wrong, you spend a lot of time walking on eggshells. You think, 'I can't hit them with all 50.'"
Lauer said he's probably done a poor job of walking on eggshells with Shawnee officials. In addition, they may have been reluctant to embrace opinions from an unknown outsider. By this point, however, no one should be surprised to learn that Lauer makes part of his living being detail-oriented. Literally. Previously involved in real estate, he now manages all domestic and international distribution for Zaino International, which produces products used in car detailing.
Why he does it
Lauer does "absolutely not" plan to run for elected office, he said. But he said he does have an endgame: setting an example for his three sons, teaching others that "maybe you can accomplish something" and making sure government is working for the people.
He's been disappointed in the us-vs.-them attitude he often perceives in Shawnee officials, he said. But he figures he'd have issues with any city he lived and got involved in. "The fact is, I live in Shawnee," he said.
County Commissioner Jim Allen, a former Shawnee mayor, met Lauer in person recently during a local bicycle rodeo. "Nice young family," he said of Lauer; his wife, Jennifer; and their boys.
Before that, Allen had fielded a few calls from Lauer about endangered snake habitats like the one Habitat Kansas had discussed establishing in Crimson Ridge.
After hearing the county might have to spend $500,000 to replace the habitat to be disturbed by a Shawnee sewer project, Lauer made a few phone calls, sent a few KORA requests and helped county officials reach the conclusion that the snakes could be accommodated inexpensively in county parks.
"I've had nothing but cordial dealings with (Lauer)," Allen said. "And when someone like that takes an interest, as long as they're doing things correctly, they can be a resource. I know I have his blog site bookmarked."