Student-led green efforts paying off at Bluejacket-Flint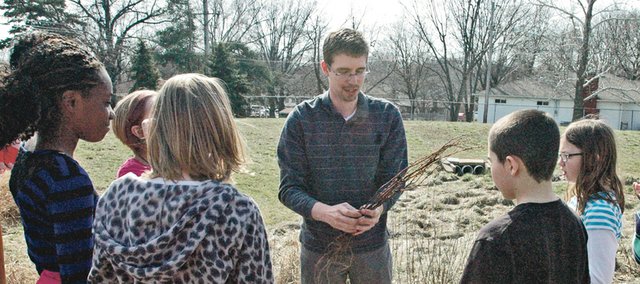 Last Thursday afternoon, Lucas Shivers' classroom was high-energy and full of chatter as students worked together on a project.
The group of students were members of Bluejacket-Flint Elementary School's Green Team, an after-school club that is just one of several environmentally friendly initiatives the school has taken up since 2008.
"Several teachers came together and just saw a need," Shivers, sixth-grade teacher at the school, said. "We did a waste audit, and we found that more than 30 percent of what we were throwing away could be recycled and composted."
But there were other issues, too. At that time, Shivers said, the school was the second most energy-consuming building in the entire Shawnee Mission school district.
The teachers decided it was time to change this trend, but they wanted substantial student learning and involvement to be part of that change. So they put the students themselves in charge, Shivers said.
"They truly do drive the process," he said. "It's their ideas, their motivation, their initiative that really make this happen for us."
Since then, Shivers said, through regular student-led recycling and composting, the school has reduced its number of trash bins from three to one. Students also monitor light switches and water faucets, helping to reduce the energy consumption at the school by 50 percent. Bluejacket-Flint is now the 22nd most energy-consuming school out of 44 in the district, Shivers said.
In 2011 students and their families helped plant a rain garden in a plot behind the school. Plants in the garden have deep roots that help to slow the flow of water and to filter out pollutants.
The Green Team is a voluntary after-school club for fourth- through sixth-graders that meets once a month. With the help of sponsors Shivers, fourth-grade teacher LoRee Walters and fifth-grade teacher Diane Zimmerman, students take part in green projects and activities based around a given annual theme. Last year, the students learned about green technologies, such as solar panels and wind turbines. And this year, the theme has been outdoor service learning projects, where the students have taken part in toy and book drives to learn the value of reusing materials. Later this year, they'll participate in a community litter pickup event, Shivers said.
The students frequently hear from experts working in the field, too.
"It just seemed like something kind of new and fun to do," said fifth-grader Aidan Randall of signing up for the club this year. "I like staying after school. It gives me time away from everything."
Shivers described all the efforts as "very grass roots," but they've been enough to garner the school some state and national recognition. Earlier this year, Bluejacket-Flint was named 2013 Kansas Green School of the Year by the Kansas Association for Conservation and Environmental Education; the school will be recognized at an awards celebration Friday in Topeka.
Bluejacket-Flint is also a finalist for the Kansas Green Ribbon School, a U.S. Department of Education award bestowed on those schools demonstrating major efforts to be sustainable while using those efforts as tools to educate students and get them involved in their communities. The winning school in Kansas will be announced on Earth Day, April 22, but Shivers said it was already an honor just to be nominated.
"Both of those honors were huge, just to recognize what students and staff are doing to really make a difference each and every day," he said.
Shivers said the school couldn't conduct all these efforts without the support, often in the form of grants that help to pay for supplies, from community partners such as the Kansas Department of Wildlife and Parks and Kansas University. As part of its work last week, the Green Team began planting at the school a large shipment of trees and shrubs it received from the Kansas Forest Service.
The work is never done, though, Shivers said, and next year his goal is to "see what we can do to help cross the home-to-school connection," by finding ways to inspire in students' homes the green efforts going on in their school.
But it seems some students have already beaten him to the punch. Said sixth-grader and Green Team member Erin Brown last week, "We actually started a composting bin at my house."