Erfurt Park includes touches inspired by German sister city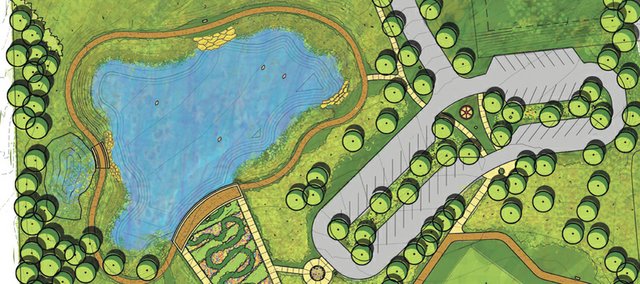 Visitors from Erfurt, Germany, which became Shawnee's third sister city 20 years ago, won't have to be out standing in their field much longer.
Though the 20 acres Shawnee purchased for Erfurt Park in 1998 has remained undeveloped, that hasn't stopped the Germans from visiting and wandering about the western Shawnee site while they're in town. Soon, however, there will be a lot more to see and do there.
Bert Schnettgoecke, a senior project engineer for the city, said the $1.6 million construction of Erfurt Park improvements will begin in November. They will include a one-acre lake, a perennial garden, two shelters, multipurpose event lawns, trails, a playground featuring a net climber, a nature playground, open prairie and an overlook.
Several of the features were inspired by Erfurt, Germany's rich horticulture background and festival life, said Dolores Silkworth, a landscape architect with RDG Planning & Design who worked on the project. Silkworth and Schnettgoecke attended an April 3 open house held at Mize Elementary to discuss the planned improvements with interested residents.
According to Schnettgoecke, Erfurt is known as the garden capital of Germany, partly due to the city's famous Egapark. It boasts Europe's largest ornamental flower bed, which includes 150,000 spring flowers and a sprawling display of perennials in the summer. The park also includes a rose garden featuring 450 varieties, a 7,000-square-meter Japanese rock and water garden, and the German Horticulture Museum.
Silkworth said Erfurt purchases about $1 million worth of flowers annually for the park, an investment Shawnee isn't even dreaming of mimicking at Erfurt Park. But by incorporating native grasses and perennials, she said, the city will be able to achieve nice splashes of color in the Erfurt-inspired garden area near the center of the park.
Located on the south side of 71st Street just west of Gleason Road, the Erfurt Park site currently includes a half-acre pond at the north end of the planned garden area. The pond will be doubled in size to improve stormwater retention in the area, Shawnee parks and recreation director Neal Holman said. In addition, the pond will be adorned with "flower boats," or floating horticultural displays, inspired by those found in Erfurt, he said.
Other nods to Shawnee's German sister city will include Erfurt Park's main shelter, which will include dormers, a red roof, and timber and masonry construction — all reminiscent of architecture in the medieval city.
The event fields, to be used for sports team practices and other events, are also reminiscent of Germany, Holman said. And the Erfurt Park trails, with strong connectivity to surrounding neighborhoods and trails, will promote the higher level of hiking and biking that have become part of the European lifestyle.
One stretch of trail, Silkworth said, will lead to a spiral path that will take visitors up an earthen mound to an overlook — the highest point in Erfurt Park.
"I'm excited," said Ward 3 City Councilman Jeff Vaught, who represents the area where the new park improvements are planned. "This is something that's been talked about for a long time. Obviously, the recession and budget cuts put it on the back burner. But now that the economy's recovering, people deserve a park out here. It helps to maintain the quality of life that is attracting residents and businesses to Shawnee."
According to Holman, the Erfurt Park improvements will represent the last parks and recreation project to be funded by the city's Parks and Pipes sales tax, unless voters decide to extend the tax.
Parks and Pipes, a one-eighth cent city sales tax, is scheduled to expire in 2015. Proceeds from the tax are split evenly between park and stormwater projects. According to Jim Allen, a Johnson County commissioner and former Shawnee mayor who was in attendance at the April 3 open house, the Parks and Pipes tax has allowed Shawnee to leverage significant outside grant funding for both park and drainage projects.