Firm owned by official's father robbed, vandalized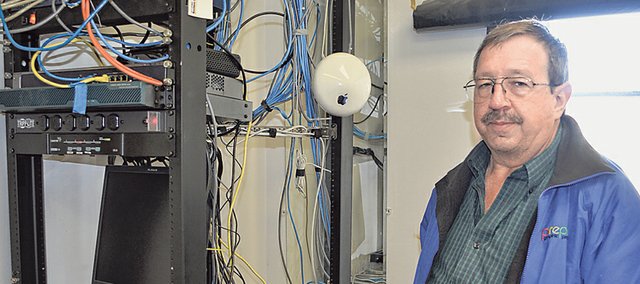 Shawnee City Councilwoman Michelle Distler ran unopposed for re-election this year. But election night didn't bring smooth sailing for everyone in Distler's family.
Dan Distler, Michelle's father and owner of Prepress Graphic Professionals, said his downtown Shawnee business was broken into, robbed and vandalized sometime between 5 p.m. on Tuesday, April 2, and 6 a.m. the next day.
Entry was apparently made by breaking out a garage-door window along the back side of the business, which is located at 10921 Johnson Drive, Dan Distler said. Once inside, the suspects stole four computers and the business's petty cash, poured acid on three computer servers, and emptied ink containers onto the floor. They also clogged sinks and left the water running, causing flooding of the back room, the owner said.
Distler said he is hopeful that insurance will cover most of his losses and that most of the information that was stored on the damaged servers can be retrieved from their hard drives. But he expected to lose a couple of days of operation due to the damage and cleanup.
"It's kind of sickening," he said Wednesday morning, after police investigators left the business.
Prepress Graphic Professionals specializes in wall graphics, banners and a variety of other printing products and services. Distler has owned the business since 1990, he said, and has never been victimized by crime there before.
He said he had no idea why his business had been targeted but added that he "did run a couple of kids off the roof a couple of weeks ago."
Michelle Distler said her father had worked so hard to build the business that the setback was "absolutely heartbreaking" to her.
"I have complete confidence in our excellent police department," she added, "and hope those who committed such a horrendous crime are brought to justice."
Maj. Bill Hisle of the Shawnee Police Department said anyone with information on the crime is asked to call 913-631-2155.