Kansas Legislature passes sweeping anti-abortion bill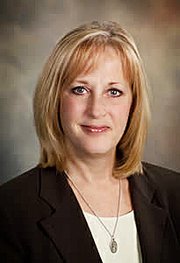 First they passed a series of gun rights bills. Now, the conservative Republican majorities in both houses of the Kansas Legislature have passed sweeping anti-abortion legislation.
The Kansas Senate voted 28-10 Friday for the final version of a bill that was carried by 10th District Senator Mary Pilcher-Cook, R-Shawnee. The House passed the final bill 90-30 Friday night, with all members of the Shawnee delegation voting yes. Gov. Sam Brownback is expected to sign it into law.
The legislation, House Bill 2253, defines life as beginning at the moment of fertilization. It also bans all state taxpayer support for abortions, bans abortions performed solely because of the baby's sex, prohibits abortion providers from being involved in public school sex education classes, and requires patients seeking abortions to be provided with information on gestational development and other abortion-related topics.
"Some people don't want the state to pay for (abortions) in any way, shape or form," Pilcher-Cook said of the bill's primary thrust. "And others don't have a problem with it. This legislation takes payment for it out of the government realm so that each individual can decide how their money is spent on that subject."
The bill does not place any new limitations on abortions themselves, Pilcher-Cook added.
But Rep. Barbara Bollier, a Mission Hills Republican who voted against the bill, said elements of the legislation could lead to reduced access to abortion.
Bollier, a moderate Republican and former physician, said one of her concerns is that the bill prevents women from deducting medical costs related to abortion services on their state income taxes. Such costs are "private, protected information that she should not have to put on a tax return," Bollier said.
She also expressed concern about the bill's requirement that doctors inform patients seeking abortions about the link between abortion and breast cancer. Abortion opponents say there is evidence that women who carry a fetus to term run a lower risk of breast cancer. But Bollier said "there is no medically proven link" between abortion and breast cancer.
"The concern I have is that there is medically incorrect information included in the bill, and no one would agree to amend it out," Bollier said. "It's a slippery slope when we start dictating that doctors discuss information that is not medically proven."
According to Pilcher-Cook, the legislation does not tell the doctor what to say about the risk of breast cancer. The physician "could say there is no risk," Pilcher-Cook said. "All the law says is that he has to cover that topic with the patient."
Bollier, however, said some medical providers may have trouble discerning between the letter of Kansas abortion law and the increasingly anti-abortion spirit behind it.
"I think some providers will be discouraged from performing abortions even when there is a medical emergency," Bollier said. "I worry that some woman is going to die because of that."
Bollier said she thought the conservative Republican majorities now controlling the Kansas Legislature would "absolutely" overturn Roe v. Wade, the 1973 U.S. Supreme Court decision allowing abortion in limited circumstances, if they could. But she doesn't believe that's what voters want.