Local auto center refurbishes
SUV

for mom without wheels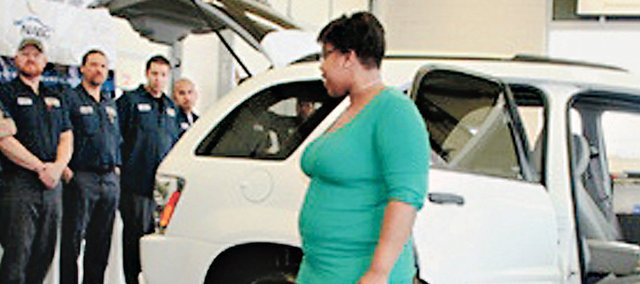 For the second time, Weaver's Auto Center has provided a refurbished vehicle to a recipient in need through a national program called Recycled Rides.
On March 25, the collision and mechanical repair center at 6502 Vista Drive presented a fully refurbished 2005 Chevrolet Equinox to Denise Lockridge, a local single mother. She was selected as the recipient of the SUV by Catholic Charities of Northeast Johnson County, said Charley Vogt, a Country Club Bank official. Vogt, who offices near Weaver's, said he helped auto center owner Tony Weaver connect with Catholic Charities for the Recycled Rides project.
Recycled Rides was launched in the aftermath of Hurricane Katrina. It involves the National Auto Body Council and body shops around the country refurbishing donated vehicles with assistance from vendors.
In this case, the vehicle was donated by Farmers Insurance. Vendors who helped out by donating time and materials were Auto Glass and Tint, Country Club Bank, Hammond Chiropractic, Hendrick Chevrolet of Shawnee Mission, High Touch Technologies, Interstate Batteries, Midway Auto Parts, NAPA Auto Parts, Sonic and Tire Centers Inc.
In addition to restoring the vehicle, Weaver's Auto Center and its partners in the project filled the SUV's backseat and trunk with groceries, household goods and gift cards for Lockridge, plus birthday presents for her son, who was soon to turn 1.
Lockridge, who works at a local Smashburger restaurant, said she would no longer have to beg for rides to work and the grocery store, thanks to the donated vehicle.