Man receives life sentence for for 2010 Shawnee murder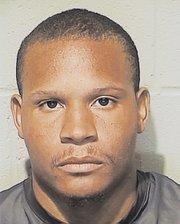 A 26-year-old Kansas City, Kan., man was sentenced to life in prison for the August 2010 shooting death of Chris Dotson, 22, Shawnee.
Eddie Lamar Thomas Jr. received the life sentence as a result of his Jan. 30 conviction on a first-degree murder charge by a Johnson County District Court jury. During his April 1 sentencing, Thomas also received an additional 61 months for a related aggravated robbery conviction.
Thomas' convictions followed three days of testimony in District Judge Kevin Moriarty's courtroom. The jury began deliberating at about 4:30 p.m. Jan. 30 and came back with its verdict at about 9 p.m.
Chief Deputy District Attorney Chris McMullin, who prosecuted the case along with Assistant District Attorney Erika Rasmussen, said phone records from one of Chris Dotson's employers, T-Mobile, had played a key role in Thomas' arrest and conviction.
Dotson was discovered dead on Aug. 25, 2010, by his mother, La Trice Dotson, and his grandfather. Dotson had held a second job in medical records at Children's Mercy Hospital, where his mother also worked, and she had become concerned after he didn't show up for work. Found on the floor of his apartment at 6715 Lackman Road, Dotson had been shot through the cheek by a .40-caliber bullet that also severed Dotson's spinal cord.
Kansas City Metro Squad investigators assigned to the case determined that Dotson had last been seen alive as he was leaving his job at T-Mobile on Aug. 22, 2010.
According to McMullin, the investigators also determined that Dotson had received several text messages from the same phone number on that date. After obtaining a search warrant for Dotson's T-Mobile phone records, investigators learned he had been exchanging texts with Thomas, McMullin said.
A few days later, police asked Thomas to come in for questioning and Thomas confessed to the murder, McMullin said. But the confession was suppressed two years ago, after the court found that the police interview had gone from a "noncustodial to a custodial situation," meaning Thomas should have had his Miranda rights read to him, McMullin said. That didn't happen.
Therefore, prosecutors were forced to seek a conviction based on the evidence assembled during the murder investigation.
Jeremy Chappel, a crime scene technician who was with the Johnson County Sheriff's Office at the time, testified that investigators had looked for Dotson's wallet at the scene. But they didn't find it or any currency in the apartment, bolstering the prosecution's theory that robbery had been the motive for the murder.
According to Chappel, the crime scene investigators did find two latent footprints in the entryway to the apartment. Steve Koch, a forensic scientist with the Kansas Bureau of Investigations, testified that the latent prints were compared to prints made from one of the suspect's shoes, a Nike Air Jordan Air Force 1. The comparison showed that both prints were made by the same size and style of shoe, Koch said.
The prosecution also presented evidence collected after a search warrant was executed on Aug. 27, 2010, at the home of Thomas' girlfriend, Shana Williams, in Kansas City, Mo. Tucked inside a Harry Potter book in a bedroom there, investigators found a Bullet Hole gun store receipt for a .40-caliber Ruger handgun purchased by Thomas. In addition, from piles of clothing on the floor of the bedroom, the investigators recovered a white T-shirt and pair of denim shorts that appeared to have bloodstains on them.
Ross Capps, a forensic scientist with the Johnson County Sheriff's Office, said DNA testing of the stains determined "with a reasonable degree of scientific certainty" that Chris Dotson was the source of the DNA extracted from the stains.
Another witness, forensic scientist Jaci Keller of the Johnson County Crime Lab, testified that two fingerprints lifted from a plastic cup in Dotson's apartment matched Thomas' fingerprints.
More like this story