Mill Valley's double play: Twin sophomores a natural fit as pitcher, catcher combo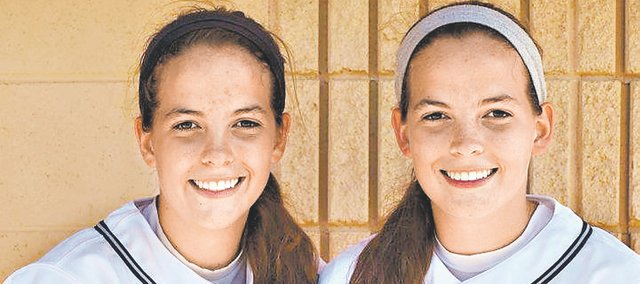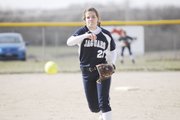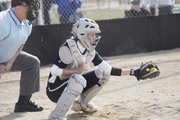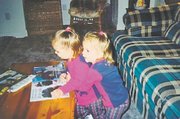 Tony Myers still has to shake his head and laugh sometimes when he watches his twin daughters, Mill Valley sophomores Lacie and Lexie Myers, play softball.
Few sports are more conducive for a set of twins to take the field simultaneously, as each afternoon the sisters continue a pastime they took up as 8-year-olds: playing catch.
"It's like they have their own language," Tony Myers said.
Entering Wednesday's game against Bishop Ward, Lexie Myers is 2-0 as the Jaguars' starting pitcher, her sister catching each game, just as she has done as long as they've been on a diamond.
"You can't break twins up," Mill Valley softball coach Sarah Haub said. "They have their own code. They obviously know each other the best."
Twice during an 8-1 victory against Tonganoxie on Thursday, Lacie Myers first noticed a look of frustration on her sister's face, long before she kicked the dirt after a string of unsuccessful pitches.
Lacie called time and rose from her position behind the plate, each time calming her counterpart before the Jaguars (3-1) would cruise to victory.
"It's just so much easier when she's been there for me through everything," Lexie said. "When I'm down, she always comes out and picks me up. It's always good to have her because she knows me better than anyone else."
After the second visit between the two on Thursday, Lexie struck out the next batter.
"You have to understand what the pitcher can pitch," Lacie said. "And us being sisters, I can tell just by her face if a pitch isn't working."
In the bottom half of the inning, with the Jaguars batting, the two added a sizeable contribution offensively. Lacie reached on a double and eventually scored after being batted in by her sister, who herself authored a double to right a slow start both girls had on offense.
"What one can do, the other does right behind her," Tony Myers said.
Don't believe him? Take for example a summer tournament in which the sisters played before high school. Lacie, batting two spots ahead of Lexie, belted a ball right off the outfield fence. Not to be outdone, Lexie's plate appearance ended with a looper that kissed the same swath of fence her sister's ball previously struck.
"They compete with each other silently," Tony Myers said.
Tony Myers said he has played fastpitch softball an upwards of 30 years, spanning from youth to adulthood. Meanwhile, Jeffrey Myers, 28, also plays men's fastpitch. Tony Myers has traveled to 18 states to play men's fastpitch softball.
Soon enough, his daughters took an interest in the sport. First with baseball, at age 5, where they played with current Mill Valley baseball player, Jake Hansen, and eventually softball three years later. By then, Tony Myers said, they went from wearing matching dresses to uniforms and baseball gloves. From then on, their dresses stayed on clothes hangers a little more often.
"They took to the dirt, so to speak," Tony Myers said.
From the start, both say, they fell into the positions they play today. Be it coincidence or some other unconscious occurrence, they happened upon the two positions more connected to one another than nearly all others in sports.
"I just don't feel as comfortable with other catchers because she knows me best," Lexie said. "She trusts me to pitch games, I trust her to call games how I want to pitch."
So far, the twins' readymade rapport has also meant Haub hasn't needed to intervene whenever Lexie has found herself in a brief jam.
"It makes it easier on me of course," Haub said.
With the addition of freshman Rienna Schriner to varsity this season, the Myers twins were joined by another set of sisters Rienna and junior Alexa Schriner.
College ball is already a goal for Lacie and Lexie, who Tony Myers said can also contribute elsewhere on the field if needed.
Lexie can also play at first base and Lacie, meanwhile, can play in the outfield — both positions the girls found themselves playing in each nightcap game of their team's first two doubleheaders.
"They've been very close from the get-go," Tony Myers said. "One of them starts a sentence and the other finishes it without skipping a beat — like they're the same person. It's very rare they're apart."
All spring, the farthest apart the Myers twins will be is 60 feet. Even then, that's a deceiving measurement. Because when Lexie locks eyes with her sister behind the plate, nods her head and winds up, that's when it's most difficult to tell the two apart.