Newtown inspires new approach to defending students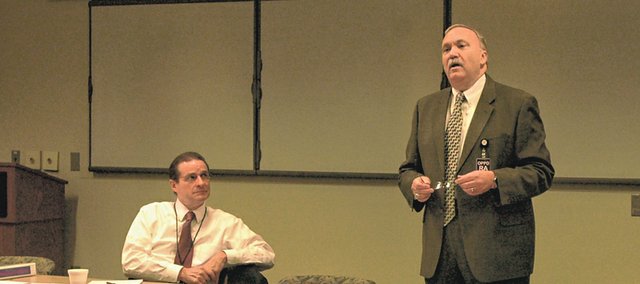 Ever since the 1999 Columbine High School shootings, area police departments and school districts have been collaborating on a small scale to evaluate safety measures in schools.
"Any time there's an incident involving schools anywhere in the country, we obviously start talking about what we can do about it here," said John Douglass, chief of police for the Overland Park Police Department.
But what happened at Sandy Hook Elementary in Newtown, Conn., has inspired a reaction never before seen in this area, Douglass said. Virtually every public safety department, school district, community college and private school in Johnson and Miami counties have formed a task force, totaling nearly 250 people, called the Defense of our Schools Project. The idea behind it, Douglass said, is that bringing many people with their unique perspectives together will create a "synergy and a power" strong enough to prevent such an incident from happening locally.
"The truth of the matter is, there is no one solution" to preventing a school shooting, Douglass said. "And so what we're trying to do is to come up with as many different options and ideas as we can, which tailor-make opportunities to reduce the risk."
Douglass said the initiative began within days of the incident in Newtown in which 26 people, including 20 children, at Sandy Hook were gunned down by 20-year-old Adam Lanza, a former student. Douglass said initial meetings were held with a small group of police chiefs and superintendents, including Gene Johnson, superintendent of schools for the Shawnee Mission school district.
"All of our schools have plans in place, security plans that are practiced on a regular basis," Johnson said. "But the Sandy Hook incident just kind of brought that all to a head that maybe it would be good for us review our current plans and see if we could even strengthen the plans that we had."
Many others in the area felt the same way, and the initiative — originally called the Defense of Our Schools Summit — soon snowballed into the large-scale, organized project it has now become. Groups of 15 to 20 people, representing a mix of educators and safety officials, will meet throughout the month at the Overland Park police station to brainstorm ideas and possible solutions around a given theme for each meeting.
"This is probably the biggest general look at this topic this area has ever done," Douglass said.
Meetings are expected to conclude at the end of this month, after which a final report with recommendations will be drawn up to be used as schools see fit, Johnson said. Douglass said the goal is to have the report completed by this summer.
"The best way to describe it is a toolbox of additional opportunities that schools may choose to take part in," Johnson said. "Because every school is different, and not every school is built the same way."
The report is expected to include recommendations addressing all areas of a possible incident, from the possible fire hazards associated with getting students out of a building safely to looking at the mental health components associated with a school shooting, Douglass said.
"We need better ways of identifying potential threats from outside the immediate school. We also need to work on ways to isolate the shooter away from potential targets. And, finally, we need to develop ways to change the classroom into lifeboats so that we can secure safety while trying to neutralize the threat," Douglass said.
Specific recommendations from the report addressing these and other components of a possible shooting won't be released to the public, Douglass said, "because they would be immediately defeated if everybody knew what they were ahead of time."
"At the same time, we want to reassure the public that we've given this a lot of thought," he said.
Bringing together different members of the community with different viewpoints but with the same ultimate goal can only be beneficial, said Doug Sumner, De Soto school district superintendent.
"Protecting our schools is really a joint responsibility, and the Defense of Our Schools Project, we think, is a perfect example of combining the energy and expertise of members throughout the community," he said.
Echoing Sumner's thoughts was Maj. Bill Hisle of the Shawnee Police Department, which is also a member of the project. The safety of students can't be left up to just the police departments and special resource officers in the schools, he said.

"The police are a finite group, and we do have limited resources, and we're hoping to add to those community partnerships," he said, noting that those partnerships would help to create a more proactive approach to the problem. "I think with Newtown, with the idea that now we can have people outside (in) the community that would come in and harm a child, we're searching for what the appropriate response to that would be. And that extends beyond the police department."
The hope is that this vigilance inspired by Newtown will continue to carry on past the project, Douglass said.
"Our intent is to create kind of a listserv where (members) can put questions or ideas on and let other people look at them over time," he said, "so that the contacts remain and continue after these meetings are over."