Election recap: Conservatives' gain prompts debate over partisan city politics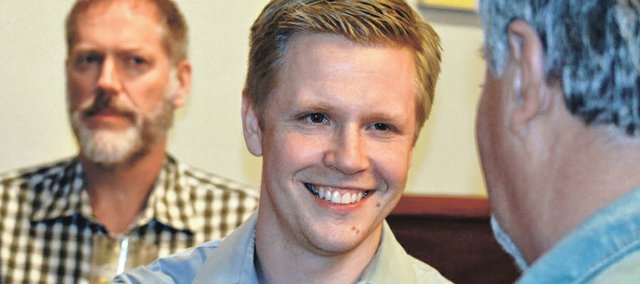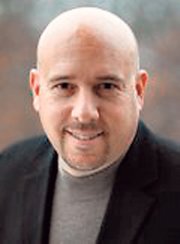 Three candidates for Shawnee City Council kept tabs on the April 2 election returns during a watch party at a local Minsky's Pizza location.
Though Shawnee municipal elections are nonpartisan, the event was sponsored by the Northwest Johnson County Republicans, a political action committee that supports candidates on the conservative end of the GOP spectrum.
In the Shawnee City Council races, the NWJCR endorsed Ward 1 incumbent Dan Pflumm, Ward 2 challenger Dr. Mike Kemmling, Ward 3 challenger Gordon Herron and Ward 4 incumbent Michelle Distler. All of them but Distler, who was unopposed, attended the event at Minsky's. And all but Herron won their elections.
That raised the number of Shawnee City Council members identified as conservative Republicans by the NWJCR from two to three — one member shy of a four-four split and two members shy of a majority.
But according to all three of those council members, they plan to vote based on their own minds and constituents and are not part of any slate.
"I am there to represent the people, nothing more, nothing less," Distler said. "I believe I have proven that over the past six years. I don't choose who endorses me and who doesn't, but just because someone does does not make me one of 'them' or a 'movement' or anything else."
Last year, Kemmling and four others seeking city offices were labeled by an anonymous campaign mailer as being part of a slate using "national issues like abortion and gun control to attempt to deceive (voters) even though those issues have absolutely nothing to do with our city government."
The "slate" idea as applied to candidates endorsed by the NWJCR "is a fabrication from conspiracy theorists," Kemmling said.
"It's intellectually dishonest and absent of facts, ..." Kemmling added. "The Northwest Johnson County Republicans is a local organization. They endorse candidates whose views best align with their own. It's commonplace, and many organizations do it, such as the gun groups, abortion groups and even unions.
"Detractors are merely trying to get away from the issues facing the city. If they can't win in the arena of ideas, they try to shift the focus by inventing stories."
Last year, the "slate" allegation may have contributed to Kemmling's loss, by 11 votes, to incumbent Ward 2 Councilman Neal Sawyer. This year, he said, he "was elected by a grassroots movement of like-minded people coming together."
According to the NWJCR's website, one of its goals is to support candidates at all levels of government that embrace its values: limited government, fiscal responsibility, low taxes, traditional values, respect for life, law and order, clean government, personal responsibility, a strong national defense and patriotism. But according to some local politicians, partisan politics have no place at City Hall.
Reacting to bills before the Kansas Legislature this session that would make local elections partisan and move them to fall cycle, Shawnee Mayor Jeff Meyers said the changes would "only encourage further division by bringing Washington-style politics to the local level."
The changes also would violate the wishes of local voters and decrease media coverage and public knowledge of local races and issues, the mayor said.
Ward 3 Councilman Jeff Vaught, who beat back a challenge by the conservative Herron, said the current nonpartisan elections promote a well-informed electorate and elected officials who are well-equipped to address local issues.
"Typically, people voting in the fall are voting the party line," Vaught said. "They're voting based on philosophy, so the candidate often becomes secondary to the party philosophy. But locally, what's philosophy got to do with it? We have roads that need to be repaired, snow to plow, parks and recreation, things that you can touch and feel. If you vote party line, you can elect a person completely clueless on those local issues."
Ward 4 Councilman Mickey Sandifer, who was not up for re-election this year, said fiscal responsibility is one conservative GOP tenet that does relate to local government. But he didn't foresee much change resulting from the addition of one NWJCR-endorsed candidate, Kemmling, to the City Council "because the council has already been getting pretty fiscally conservative."
Meanwhile, Vaught said, he's starting to see signs that "nationally, the pendulum is starting to swing back away from the right."
Following his defeat, Herron said Vaught had benefited from the fact that a De Soto school district tax issue on the Ward 3 ballot had brought out several voters who had limited interest in and knowledge of city affairs. That's true, Vaught said, but those voters knew enough to tie Herron to the conservative Republican movement that has slashed state income taxes so deeply that public school finance is now in jeopardy.
"You've got some people starting to wake up," Vaught said when asked to account for his victory in a ward that lies within the Kansas House district that elected conservative Republican Charles Macheers to represent it in Topeka last November.
Dan Pflumm said he thought last week's election totals had less to do with partisan politics than with voters wanting to end recent City Hall shenanigans, such as the appointment of the mayor's uncle by marriage to the council following private discussions that led to a district attorney's investigation.
"When I was campaigning, I had several people say, 'Hey, I've been reading about you in the paper,'" Pflumm said. "I had to tell them, 'Whoa, I hope you read in those articles that that wasn't about me.'"
Though he was one of three incumbents re-elected to the council, Pflumm said he believes his election was a vote for change. In addition to having been supported by a conservative Republican group, Pflumm and the other three candidates endorsed by the NWJCR have something else in common. All have voiced support for municipal government being more transparent and responsive to constituents, including those critical of the city and its staff.
Asked what might happen if a new coalition wins a majority of seats on the council via future elections, Vaught said, "It depends on what their agenda is."
"I know the agenda of one council member, if there were the votes to do it, would be to get rid of (City Manager) Carol (Gonzales)," Vaught said.
That would be a shame because Gonzales is "an award-winning city manager" who has the city on the right track, Vaught said.
"Going door to door during this campaign, I heard about good roads, awesome parks, very little negative about Shawnee," he said.
More election news, page 10.