Five questions: Composting 101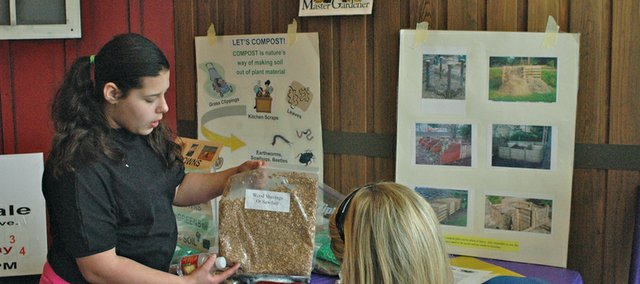 Spring is a good time to start a compost bin in your yard for a natural way of fertilizing soil. Officials with the Wyandotte County Extension Office Master Gardeners answer some questions about composting below. 
Q: How should I get a compost bin started?
A: Select a site where water will not stand. Build a structure at least 3-foot by 3-foot with wooden pallets, cement blocks, snow fence and/or chicken wire.
Q: What are the first materials to gather to start a compost pile?
A: "Greens" for a source of nitrogen: grass clippings, garden plants, and most kitchen wastes (avoid meat scraps); and "browns" for a source of carbon: dried leaves, straw, wood chips, shredded newspaper and sawdust.
Q: How do you layer a compost pile?
A: Start with 2- to 3-inch layer of soil. Then add organic materials in layers 3- to 6-inches deep. The nitrogen (green) to carbon (brown) ratio should be one part greens to two parts browns. Add a commercial garden fertilizer (half a cup per bushel of material).  Water each layer as it is added.
Q: How do you maintain your compost pile?
A: Repeat the sequence as materials become available. Water regularly — every week if it doesn't rain. The top of the pile should be dish-shaped to hold moisture, and it should have the feel of a damp sponge. Turn the material with a pitchfork every week or so, as decomposition creates heat.
Q: When can you use your compost as fertilizer?
A: Four to six months after starting the pile. Compost will be dark, moist and crumbly, and should smell like moldy leaves. Contact your county's extension office for more information.