Dream comes into focus for junior:
SMNW

junior invited to

KU

junior day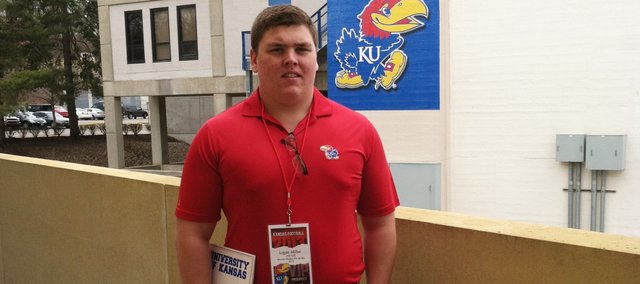 Overland Park — After everyone gathered around the shot-put cage hears the final scores at the Mid Season Invitational at Shawnee Mission South on Friday, the throwers put their respective school-colored windbreakers on and head for the bleachers to watch the rest of the track events.
Technically, the field events are done for the day.
But when everyone cleared out, Shawnee Mission Northwest junior Logan Miller steps inside the circle for another round, along with his fellow teammates. He heaves and retrieves as he tries to figure out what was out of place during that meet.
"I'm having a problem getting my practice throws to translate to my actual throws," Miller said. "I don't know what it is. It's so frustrating."
He finished eighth that day, though the struggle wasn't with his competition but rather his own performance and desire to get the form just right. This is coming from a student whose true aim is to play college football, and an athlete who almost skipped this track season if it weren't for his mother's influence.
"He said, 'I'm not sure if I want to do it this year, Mom,'" Jody Miller said. "And I said, 'Yeah, you are.'"
But Miller understands commitment. He's surrounded by it. His father and former coaches keep him in football shape year-round. As a junior, he's young enough to have boundless dreams while being old enough to know what it takes to get there.
If that means using another sport to stay active, so be it. But he's going to do it the best he possibly can.
The work ethic has translated quite well on the recruiting trail. Miller now has offers from the likes of Harvard and Princeton to play football and after attending Kansas University's junior day a couple weeks ago, the Jayhawks are interested as well. It was as if all of a sudden, a relatively unknown 6-foot-3, 280-pound lineman from Shawnee was getting widespread attention.
"We didn't really know until just recently that a D-I was really going to be possible," Jody Miller said. "Everybody thinks their kid's great."
This is because Miller and his family have made the proper adjustments while seeking out schools. He needed a better way of promoting himself to colleges than his self-made videos. So Miller enlisted the help of the National Collegiate Scouting Association, one of the leading recruiting organizations that help students find the best college for his or her situation. Add that to his good standing in school, and it's no wonder coaches are calling.
There's still a senior year left to go, but Miller will eventually have to decide on a school. There's the prestige of going to a DI football school close to home at Kansas; plus, his grandfather used to teach there and his parents are Jayhawks at heart. Then there are the academic-driven schools that could provide a more substantial future.
"I know that the Ivy League maybe isn't the best athletically, but to be able to go to a school like that would change my life," Miller said.
He's a junior in high school, but Miller already grasps the pros and cons of reality while mapping out what's ahead. He plans to study law or entrepreneurship to solidify his post-football career.
"Even if you go to the NFL, it's only for a couple of years normally," he said. "That money's not going to sustain your family. But something like going to Princeton and working on Wall Street, that's stuff that can sustain your family down the road."
Miller won't have to choose a college for a while, especially since he hasn't seen some of the other campuses. He plans on going to a couple of camps for Kansas over the summer as well as taking a visit to New Jersey to see Princeton's facilities. There could be more invites on the way.
Of course he is looking forward to those visits, but Miller seemed most thrilled about becoming a high school senior. At the conclusion of this school year, Miller will need just a couple credit hours to graduate, but he'll keep taking classes and enjoy his youth while it lasts. He also still needs to finish his football career at SM Northwest.
This past season, Miller said that despite not being one of the older veterans on the team, he had a voice. It's something football coach Linn Hibbs expects from one of his leaders next year.
"There's no question we need that for him," he said. "That's part of his maturation. There's no question another piece to the puzzle for Logan is to not only play at a high level, but to have a great work ethic in the classroom, weight room and practice."
There's more unfinished business for Miller than just classes and football. As the newly anointed president of the spirit squad, he's making it his goal to get as many students as possibly out to sporting events, from football to basketball to track.
Standing under the bleachers at SM South's football stadium, he talks about the Raiders' fan support when the Cougars visited this very field. Miller might one day be playing in front of thousands, but that will be there when he's done here.
"We'd go to their games and they'd have the stands full of kids," Miller said. "That's how we want it to be for Northwest because I know how good it feels when I'm playing football to look up and see 150 Northwest students who took the time to be there."