Local couple, bookmobile driven to help at-risk kids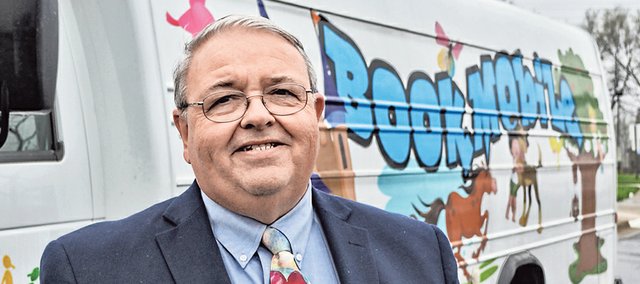 Bookmobiles, a popular means of serving Johnson County Library patrons in the 1950s, fell out of use locally as branch libraries began sprouting up across the county.
Therefore, it seemed unusual to see one parked in front of the Johnson County Central Resource Library in Overland Park last Wednesday afternoon. But the mystery wasn't difficult to solve for the curious patrons who ducked inside.
The bookmobile's volunteer operators, Bill and Marilyn Jahnke of Shawnee, explained that they were there at the request of Johnson County Library Board member Charley Vogt, whose mother was a bookmobile librarian back in the day. Vogt, who ended his eight years of service on the library board Wednesday, invited the Jahnkes to come showcase their bookmobile and the nonprofit organization that operates it in economically depressed neighborhoods in the metropolitan area.
A retired Overland Park fire chief, Bill Jahnke is chief executive of the organization, Hands to Hearts, which was founded about four years ago by him and some other men in a Bible study group that met at the Country Club Cafe in Shawnee.
The organization, staffed entirely by volunteers with no paid employees, was launched after the Jahnkes made three mission trips to South Africa and began looking for ways to help at home. It originally focused on feeding and clothing the needy. But a discussion during a Hands to Hearts board meeting a couple of years ago prompted the organization to add the bookmobile to its list of charitable services.
"We were discussing how Johnson County children spend an average of 800 to 1,000 hours being read to or other 'book time' by the time they reach kindergarten," Bill Jahnke said. "In Kansas City, Kansas, which is the area we primarily serve, the number is 25 hours."
To increase that number and, thus, improve literacy and employment potential for at-risk youths in depressed areas, Hands to Hearts used a private donation to purchase a ready-made bookmobile that was for sale in Boseman, Mont., and it secured a $30,000 grant from the Mader Foundation to purchase books.
The books Hands to Hearts acquires for its bookmobile are all given away, said Marilyn Jahnke, who serves as bookmobile librarian and Hands to Hearts' program director. And the book supply is constantly replenished through donations of cash and books from individuals, scout groups, churches and other organizations, she added.
The Jahnkes staff the bookmobile several times a month, and to deploy it most effectively, they partner with schools and organizations already working with the children who could most benefit from their help.
On the week before spring break, for instance, 400 students at Banneker Elementary in Kansas City, Kan., visited the bookmobile, where each selected a free book.
Other partners include the Willa Gill Center, a Kansas City, Kan., homeless shelter that the bookmobile visits weekly; the Urban Scholastic Center; Learning Club of Kansas City, Kansas, after-school learning centers; and the summer program at Sunflower Elementary in Lenexa.
Bill Jahnke, who carves out bookmobile time from his busy schedule as owner of a business that designs and builds fire department training centers, said Hands to Hearts tries to stock titles that are most popular with kids, such as those in the "Curious George" and "Wimpy Kid" series.
"We also have a lot of adults come in and ask for books because they may have problems reading, too," he said. "So we always have something for them."
Jahnke said he gets a lot of satisfaction from distributing the books and sharing the same type of joy he remembers from his childhood, when the Johnson County Library bookmobile would make stops at Tomahawk Elementary.
"That was always the highlight of the school week," he recalled.
In addition to giving away books, Hands to Hearts partners with Harvesters to pack and deliver more than 800 snack-filled backpacks to school children each Friday. It also provides 30 bags of food to homeless families each weekend, maintains a clothing closet, and partners with schools on other special needs and projects.
More information can be obtained by calling 913-385-3663 or visiting www.handstoheartskc.org.