Downtown celebration will feature open houses, food trucks, chalk art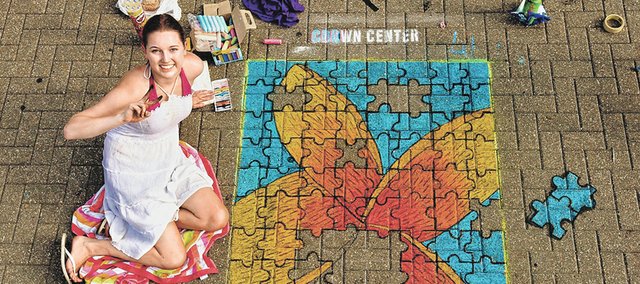 Chalk one up for downtown Shawnee.
Celebrating the Beauty and the Best of Downtown Shawnee, an annual event showcasing the area and its merchants, has come a long way from the yearly cleanup days of downtown's more litter-strewn past.
This year's event, to be held from 9 a.m. to 2 p.m. Saturday, May 11, will be the second to feature open houses and discounts at downtown businesses, drawing for prizes and food trucks serving up everything from barbecue to cajun chow. Another feature that will be new this year will be the chalk artistry of Ashley Wilson, a representative of the Kansas City Chalk and Walk Festival.
Shawnee Planning Director Paul Chaffee said members of the Downtown Shawnee Partnership have long been impressed with the chalk art festivals held each September at Crown Center Square in Kansas City, Mo. But they hadn't thought of a good fit for chalk artists in downtown Shawnee until a recent meeting, during which member Nick Burke suggested adding chalk art to the Beauty and the Best attractions.
The other members agreed that Wilson's appearance would be a great addition because it will give children something to do while parents check out the downtown merchants. Children and adults will be able to marvel at Wilson's artistry in two locations, a parking lot at Johnson Drive and Barton Street and Shawnee Plaza, a shopping center that Nick Burke owns at 59th Street and Nieman Road. In addition, there will be plenty of chalk on hand for children who would like to adorn the pavement alongside Wilson.
Beauty and the Best, now in its 10th year, began evolving in recent years after the completion of downtown streetscape improvements prompted merchants to take ownership in the district. By last year, downtown beautification projects requiring dozens of volunteers were no longer necessary, so the event began focusing on what was going on inside downtown's establishments.
This year, Chaffee said, the number of businesses hosting open houses and offering special Beauty and the Best promotions will increase to 31 from 20 last year.
To help entice visitors into the businesses, punch cards again will be handed out for validation by the participating merchants. Those who get their cards completed will be entered into a 2 p.m. drawing for $200 worth of cash prizes.
Also back this year will be several of the region's popular food trucks including Shawnee-based CoffeeCake KC, Crave of KC, Cajun Cabin and Smokin' Fresh Streetside BBQ.
Doug Sayles, owner of Smokin' Fresh, said he joined the food truck craze a couple of years ago, after being laid off from his sheetrock finishing job due to the building crunch.
According to Sayles, he is a veteran of area barbecue competitions and heeded his wife's suggestion that he parlay his culinary skills into a new profession.
A brick-and-mortar barbecue restaurant was cost-prohibitive, Sayles said. But he was able to acquire and equip the mobile kitchen he pulls with his pickup truck for about $80,000.
He isn't the first person to marry the region's crazes for food trucks and barbecue. But Sayles is the area's only all-natural and organic barbecue restaurant on wheels.
Smokin' Fresh uses organic produce and natural meats that contain no growth hormones or steroids. He also supports the sustainability concept of buying local. He purchases his meats from Paradise Locker Meats in Trimble, Mo., and Local Pig in Kansas City, Mo., and he uses sauces made in the Kansas City area by a company called Meat Mitch.
"But I don't sauce it and hand it to the customer," Sayles said. "Nothing of ours is swimming in sauce unless they ask for it that way. And I hear many people who buy our food walk away saying, 'That's what a barbecue sandwich is supposed to look and taste like."
Among the items Smokin' Fresh will be offering at the May 11 event will be its top three sellers: pulled pork and brisket sandwiches and chipotle chicken.