New Shawnee homes awarded in conjunction with spring tour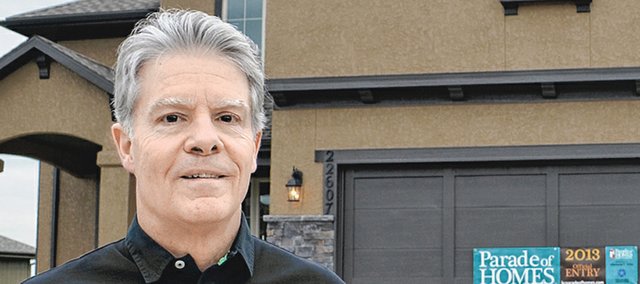 The new home at 22607 W. 60th St. in Shawnee's Eagle View of Grey Oaks subdivision has just about everything — even a lanai.
For those unfamiliar with the term, that's a covered deck or patio, which in this case includes a fireplace, Skeet Jameson explained.
Jameson is the owner of James III Homes, which last week was honored with a Grand Award for the Shawnee home as part of the 2013 American Dream Awards competition held in conjunction with the Home Builders Association of Greater Kansas City's Spring Parade of Homes.
The homes tour, which continues through May 5, includes 322 new homes that will be open daily across the metropolitan area. Thirteen of those homes are located in Shawnee, including three honored through the American Dream Awards competition. In addition to the local Grand Award winner, judges chose two local parade entries as runners-up.
One of the local runners-up is a two-story, four-bedroom, three-and-half bath home built by Comerio Corp. at 21206 W. 46th Terrace in the Riverview subdivision. It is priced at $350,000. The other is a two-story, five-bedroom, four-bath home built by J.S. Robinson Fine Homes at 20904 W. 68th St. in Ridgestone Meadows. It is listed at $474,950.
The American Dream Awards program evaluates home builders on architectural design, construction techniques, craftsmanship and selection of materials. Nineteen industry professionals from across the country judged the competition, selecting 22 Grand Award winners and 24 runners-up.
The home at 22607 W. 60th St. is the fourth Grand Award winner built by James III Homes during the past four years, Jameson said. Priced at $439,950, it includes five bedrooms; six and a half baths; a basement finished with a bar, television viewing area and one of the home's three fireplaces; and lots of other extras, like the lanai.
According to Jameson, the finished basement, which boosts the home's 3,100 square feet of living area by nearly 1,000 feet, is in keeping with a popular trend among today's homebuyers. Many buyers, he explained, are opting for "bonus" finished space due to the increased affordability of new homes. Lower mortgage payments are being driven by historically low interest rates, which are under 4 percent for 30-year fixed mortgages and as low as 3 percent for 15-year mortgages.
In addition to the bonus space, the James III Homes Grand Award winner features a striking front exterior, which uses stucco and stone to achieve a Tuscan look. Other features include an open first-floor design with an extra-large kitchen and massive kitchen island; four upstairs bedrooms, each with its own bath; and a spacious master suite, which is entered via a wide hallway and double doors.
"The master bedroom and kitchen are both big, big spaces in this floor plan," Jameson said.
James III Homes has dubbed the floor plan the Aspen III-5 and is building it in Grey Oaks as well as Shawnee's Greens of Chapel Creek subdivision. Both are among the more than 70 new-home communities that have been created in Johnson County by Rodrock Development, which Jameson served as sales manager for 10 years before entering the building trade in 1987.
"Coming from the marketing side has helped me understand buyers and buyers' needs," said Jameson, who is glad to see more buyer demand as the market begins to thaw from the recent real estate freeze.
According to Jameson, his firm achieved a high with more than 50 homes built in 2002 but saw that plummet to 10 to 12 in both 2009 and 2010. Now he's back on pace to build between 20 or 30 new upscale homes a year.
Fortunately for Shawnee, Jameson said, downtown Kansas City has come out of the recession with a new entertainment district, performing arts center and arena that have made new homes in the north part of Johnson County more attractive than those in the south for many buyers.
"Shawnee is a very, very good market with its proximity to K-7, I-70 and K-10," Jameson said. "It has extremely good access to all parts of the region, including the Legends and the new Cerner office development in Kansas City, Kan. And from here (in Grey Oaks) you can buzz right in to downtown Kansas City, Mo., on I-70."
More like this story