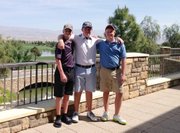 It's not uncommon to see a pair of siblings or even twins on the same high school team. But when teams have three siblings, that's a rarity. And when two teams have this phenomenon in the same city? You're better off looking for a wild rhinoceros in Kansas.
Allens 3/5 of SMNW varsity
The Allen brothers are still waiting for that breakthrough, the moment that will define the year when the three of them are for once, and for all, playing as one.
Senior Garret, junior Colton and freshman Blake make up three of the five varsity players on Shawnee Mission Northwest's golf team in a perfectly aligned circumstance that coach Jim Bamburg has never seen before. The significance is not lost on them.
Midway through the golf season on a rainy Tuesday, the Cougars' scheduled practice at Lake Quivira wasn't going to happen. After seeking refuge in a nearby restaurant, the brothers discussed what this year could amount to.

"My dad said to us, 'You've got to make a memory because this will never happen again,'" Blake said. "Once this season's over, we're not going to get it back."
The stars haven't aligned on the golf course for the Allens, who have yet to all shoot well at the same time. If one of them recalled doing well in a tournament, another would counter with a bad score. But as they enter the final half of the season, they feel a surge coming on.
"Golf is such a challenging sport and it really emulates life," Bamburg said. "You've got to take the good with the bad and move on. It's also one of those games you can play until you're 80 years old."
For the Allens, the draw is the solo venture of navigating each course, holding yourself accountable while dealing with the ups and downs. The seemingly laid-back trio prefers that type of competitive atmosphere.
Though their father plays golf, he was more into baseball, and his three sons all played it from an early age. Garret said his dad was upset when they all eventually picked golf.
It started with the oldest, Garret, who tried out for golf his freshman year after struggling to decide between that and baseball. He was the last one to make the varsity roster, which boasted four other golfers who went on to play in college.
Colton was next and started his high school athletic career playing soccer, basketball and golf. He dropped soccer the next year and basketball this year. By this time, the youngest, Blake, had played enough golf to know it was what he wanted to do.
Now that all have made it onto the same team, a brotherly competition exists and it might be more beneficial to the team.
"If we're working to beat each other," Garret said, "then we know the team's going to do well because we're more than half of the team."
And, as brothers usually are, they can be entertaining when put together. Garret, who will be playing golf at Washburn University next year, is the voice of reason when his siblings get into a scrum or if there is a rift between teammates. Colton, as the admittedly aloof yet introspective middle child, also has ambitions to continue golf after high school. It just won't be Washburn.
"I've played with him my whole life, been with him my whole life," Colton said. "I want to step away for a little bit and be on my own instead of having a bigger brother."
Blake is the endearing baby bro of the bunch. When asked what each one brings to the table, without missing a beat he said, "I think I'm definitely the funny one."
"Blake's the cockiest, for sure," Garret responded, keeping him in check.
The lighthearted banter included tales about family life and stories from golf tournament travels. With three tournaments left before regionals, this short-lived adventure is reaching its inevitable end. Sure, Blake and Colton will be on the same team next year, but they know it won't be the same.
As the conversation about their defining moment reached its anticlimactic end, Colton realized that there was something pure about what was happening right then. Even though they weren't on the golf course, the Allen brothers were at their best.
"This has probably been our best moment," he said.
Geithers continue to play together
At this point, Machaela, Gabrielle and Caroline Geither have been playing on the same softball team for so long that it's nothing special, at least not to them.
It's such a rare occurrence that three sisters — a St. James Academy junior, sophomore and freshman, respectively — are on the starting varsity roster of the same high school at the same time. But they get occasional reminders.
"I remember a Spring Hill girl came up to Gabrielle and goes, 'Who are those three girls on your team with the last name?'" Caroline said. "'That is so cool.'"
The Geither name isn't even finished with high school yet. There are six children in total, all born within six and a half years.
When Machaela, the oldest, is a senior next year, the oldest boy will be a freshman at St. James, most likely playing some sport. Each sibling is involved in at least one, just like their parents.
This is sort of what Gloria, their mother, imagined for their household.
"We wanted a big family, and I just knew that if I had a break in there at any point and knew what it felt like to have that break, I may have not wanted to go back," she said.
The three eldest Geither girls have been playing softball together for several years now, among other sports, and the support they have for each other sticks out above all else. They aren't afraid to call each other out either, as long as it's constructive.
That makes life easy for coach Kerri Elstun.
"There's competition to push each other, but there's not competition to be better than the other," she said. "They don't have that in them."
The sisters acknowledge that they might not be as good as each other depending on the sport, and that is part of the process that pushes them. Caroline, for instance, might be the most talented at basketball, and Machaela feared making JV while serving water to her little sister during varsity games.
"Oh, I always have to be one step better than them because I'm the oldest," Machaela said.
Of course, that talk is all in fun. The sisters are lucky enough to have one more year to be on the same team, which helps them be a part of each other's lives.
"When we're on the field and I see, like, Caroline do an amazing catch, I'm glad I was there for that moment and that I wasn't at my own softball game," Gabrielle said.
It's just an example of how the Geither family supports one another. A couple of weeks ago, the whole family was watching the youngest son's track race. While other parents had stopwatches and pushed their child to perform, the Geithers were encouraging.
"That's just what you do; you just cheer him on," Gloria said. "We're not timing him. That's not what it's about. Are you having fun? Did you have a good time?"