Shawnee gets second Jimmy John's near Quivira Road
Shawnee — Jimmy John's Gourmet Sandwiches has launched a second location in Shawnee.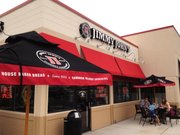 Last Tuesday, the popular sub shop opened its new store at 12106 Shawnee Mission Parkway, in front of the Price Chopper just west of Quivira Road. The other Shawnee Jimmy John's sits at the intersection of Nieman Road and 75th Street.
The new location is currently hiring. Hours are 11 a.m.-10 p.m., seven days a week.
For more info, visit jimmyjohns.com or call 913-948-6515.