New Shawnee Walmart to create 200 jobs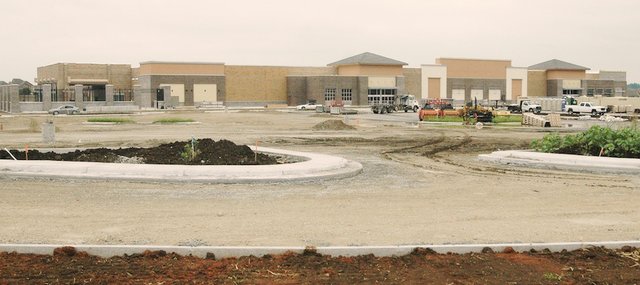 Shawnee — The new Walmart Supercenter slated to open this fall in western Shawnee will create 200 jobs, the big-box retailer announced Monday.
Walmart said it will bring on most of the 200 new employees in August, through its temporary hiring center at 5546 Lane Terrace, in the Oak Valley Shopping Center.
According to store manager Michele Edwards, the store will be hiring both full- and part-time employees.
"We are excited to be opening a new Walmart Supercenter in Shawnee and bringing good jobs with great career opportunities to the area," Edwards said. "It will provide a one-stop shopping experience for products customers want at an affordable price."
Long in the works, the 147,848-square-foot store is taking shape at 5701 Silverheel St., near the southeast corner of Johnson Drive and Kansas Highway 7. The Shawnee Planning Commission approved that scaled-down footprint in May 2012 after a lawsuit from some residents of the neighboring Grey Oaks subdivision derailed a larger, 2007 proposal. Construction broke ground in January.
Linda Leeper, president and CEO of the Shawnee Chamber of Commerce, said Monday evening that the new Walmart will lay the foundation for additional retail and industrial growth in the western quarter of the city.
"Any time a community announces 200 jobs, that's a big deal," she said. "We have plans to continue to add jobs in Shawnee, and this certainly helps us get there."
The latest hiring news adds to a strong run of employment gains for the city so far in 2013, Leeper added.
"We've had three or four announcements now that are in the 150- to 200-job range, so we're excited," she said.
The June jobs figures, the latest for Shawnee, show an unemployment rate of 4.2 percent, second lowest among Kansas' 16 largest cities, said City Manager Carol Gonzales. That translates to about 1,400 people out of work, she said.
"While we are in better shape than most," Gonzales noted, "new employment opportunities for Shawnee residents and for others in the area are a good thing, whether it be Walmart, EC Manufacturing or opportunities that will come from the WestLink business park."

The western Shawnee site will be Walmart's second location in the city. About 6 miles separates it from the first, at 16100 W. 65th St.
Applications for the new store will be accepted 7 a.m. to 7 p.m. Monday through Friday. Apply online at careers.walmart.com or call 913-422-2025.
More like this story