Bond of brothers:
SMNW

alum forges friendship in

N.C.

during summer baseball league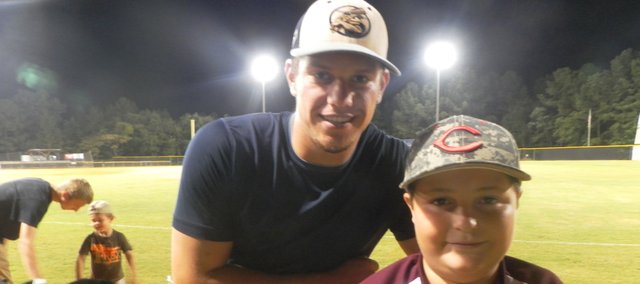 This summer has seen Chase Rader, a 2012 Shawnee Mission Northwest graduate, score the winning run in the Coastal Plains League All-Star Game and play in front of crowds of an upwards of 8,000 people in ballparks featured in films like Bull Durham.
Rader returned to Coffeyville Community College this month, where he will play his second season of college baseball after playing for the Fayetteville (N.C.) SwampDogs this summer. He returned with clippings of a profile of him in the Fayetteville Observer and a newfound experience with having played in front of thousands. But what Rader may remember most, perhaps this summer's most enduring impression, is an unexpected addition to his family.
One evening before a SwampDogs game, 11-year-old Dawson Batts took the mound to hurl the game's first pitch. Batts, a Clinton, N.C., native, has been drawn to baseball since the age of 3, pitching with dreams of playing at Fenway Park and in defiance of being born with just one arm.
Before the night was over, Batts met the SwampDogs players he and his parents, Erica and Shane Batts, spent many of their summer nights cheering on. But it was the one who shared a pair of baseball uniform numbers with Dawson — Rader, 23 and 13 — who sparked a near-immediate friendship.
First they exchanged Facebook messages, then Chase would text Dawson baseball shop talk.
"From that initial moment," Erica Batts said, "they were tied together. You'd think they were inseparable."
In addition to uniform numbers, they even shared a love of the Boston Red Sox. Though he's been alive for two Red Sox championships, Dawson relates to Boston's underdog attitude crafted through a decadeslong title drought.
'Baseball is his life'
Erica Batts' ultrasound gave her no cause for concern. Ten fingers, 10 toes, she recalls being told. But when Dawson Batts was born on Oct. 10, 2001, the Batts' doctor returned with a look of shock.
"Do you want to see him?" they were asked.
Amniotic band syndrome prevented the development of Dawson's left arm. Upon learning of this, Shane Batts grew emotional at the thought of his son not being able to enjoy the boyhood pursuits he came to associate with childhood: baseball, football, fishing, swimming.
Jump ahead a few years, however, and Dawson has not only pursued such aims, he's excelled at many of them.
"Baseball is his life," Erica Batts said.
The only thing missing from Dawson's life was a brother, Erica said. After Dawson's birth, Erica discovered she could no longer have children. So it had to be a welcome development that Dawson and Rader wasted little time forging a strong friendship.
"He inspires me," Rader said. "When I come out to talk to him and wave at him in the stands, it helps me relax and play the game knowing that someone like him is watching."
'Your brother'
Speed has always been one of Rader's strong suits, after all. In his freshman season at Coffeyville Community College — where he also played with SM Northwest grads Aric and Adam Valencia and Mill Valley grads Alex Wilson, Tyler Moore and Jacob Spring — Rader broke a school record with 43 stolen bases on 45 attempts.
In a July 9 profile of Rader, The Fayetteville Observer reported that coaches from Missouri State, Indiana State and Illinois have expressed interest in Rader after 2013-14 and that Rader has also long harbored dreams of playing in Arkansas.
Rader — 6 feet, 200 pounds — played shortstop and pitched for the 16-5 Cougars his senior season, helping SM Northwest collect a share of the Sunflower League championship. In college, he's spent time at first and third bases, and expects to play more third next season. He'll also look to build on a season in which he ranked third nationally in stolen bases.
Rader's return to Kansas was a departure the Batts family dreaded. By the time Rader prepared to leave North Carolina, Dawson had already begun to consider him his "big brother and best friend."
The two hit the gym together, went out to lunch, exchanged wisdom about baseball and other facets of life.
"Don't give up," was what Erica recalled Rader repeating. "And stay away from older women."
Before long, Dawson joined the SwampDogs players in joking around with the team's interns.
"You been around these boys too long," one once joked to Dawson.
Not long enough, he may add today.
On one of the last nights Rader played in North Carolina, he gave Dawson his jersey, on it read the inscription: "Your brother, Chase."