New
SM

North football coach well aware of direction he wants to pilot program
Stay tuned for The Dispatch's preview of the upcoming high school football season, available in the Aug. 28 print edition and on shawneedispatch.com.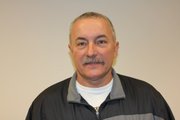 Two of the most devastating and jubilant games in Don Simmons' coaching career involve his new team, Shawnee Mission North.
In both games, played between October 2000-01, Simmons watched as the Indians ran plays to win the game against his Blue Valley North team, toying with Simmons' nerves. It became a famous rivalry in Metro football, one that pitted two then-perennial winners against each other.
Simmons now hopes to bring back the history of winning to SM North, the same school that dashed his undefeated hopes a dozen years ago. The Mustangs, with a 6-0 record at the time, gave up a 31-0 halftime lead and eventually lost the game after the Indians ran in the game-winning touchdown in as time expired.
In 2001, Simmons watched again as the Indians ran a play to potentially win the game. The Indians ran a fake field goal in overtime for the victory in which the kicker connected on a back-of-the-end-zone pass to a streaking teammate. However, to Simmons' relief, the pass was long and the receiver caught the ball almost five years outside the back of the end zone.
"I tell stories of those two games all the time," Simmons said.
Simmons didn't try to hide a smile under his graying mustache as he recently recalled the games, ones he will now attempt to recreate at SM North. Hired in February after coaching for nine years at Class 4A Chanute, Simmons is all smiles about the opportunity to return to the Kansas City area and coach in the Sunflower League. He can smile despite the Indians' recent history — eight straight losing seasons with a record of 13-60 during that period — because rebuilding is what he says he does best.
"That's what I thrive on," he says.
Simmons' earned his first head coaching job at Riverton High in Joplin, Mo., almost 30 years ago. Although hard to believe after amassing a career win-loss record of 194-95, he said that back then he imagined himself not as a football coach but as a basketball coach.
Simmons played both sports in high school growing up in Galena, Kan., in the southeast corner of the state. He then went on to play college basketball at Missouri Southern State University. He's not exceptionally tall, standing just over 6-feet, but Simmons said that was the sport he most enjoyed playing. While at MSSU he decided he wanted to be a basketball coach.
"I wanted to give back to kids the way other coaches had given back to me," Simmons said.
At Riverton High, he was both an assistant basketball and football coach for six years before being offered the football job. After taking the job, Simmons said the strategy behind every snap, along with the challenge of coordinating so many players, hooked him for life.
"I loved it," he said. "I wouldn't have traded it for anything."
Only several years into his coaching tenure, Simmons led the team to an undefeated mark and state championship in 1990. And so began a career of head coaching that has travelled through four schools and across four state classifications.
After Riverton, he took over an Independence High team that hadn't won a game in three years and, within four years, turned the team into one of the top in the state.
Simmons says the challenge of rebuilding the current SM North program coming off a 0-9 season is close to the challenge he faced at Independence. The end result of the turnaround for the Bulldogs is what Simmons says he enjoys about rejuvenating a program.
"You can watch as a whole school and community come together," Simmons said.
During a five-year stop at Blue Valley North, he won three Eastern Kansas League championships, made the Class 6A playoffs twice and compiled a 37-10 win-loss record. In 2001, Simmons' team was ranked second in the state and in the top 50 nationwide.
The 2001 team, which his son Brandon Simmons played wide receiver and defensive back for, came out on the right side of the once vivacious Blue Valley North-SM North rivalry.
Brandon Simmons, who now coaches WRs and DBs as his father's assistant, said his father is the same guy he was back then – a tuff but fun loving coach who respects his players.
"He's never veered from his philosophy," Brandon Simmons said, "and he has been successful with it."
Don Simmons recalls preparing to face SM North in 2000 and 2001, saying that the team was one that worked harder than most. His son remembered how devastating the loss was and how joyful revenge felt.
Don Simmons says SM North's reputation and culture back then must resurface in order for the team to be successful.
"They were a blue collar type of team," Don Simmons said. "That's what we're trying to bring back."