Mill Valley football must replace bulk of historic 2012 offense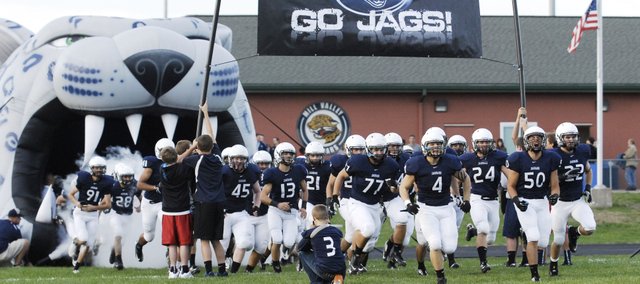 MVHS (8-2 IN '12)
• 9/6 vs. Manhattan
• 9/13 at Turner
• 9/19 at Basehor-Linwood
• 9/27 vs. Tonganoxie
• 10/4 vs. Bonner Springs
• 10/11 at Piper
• 10/18 vs. Schlagle
• 10/25 at Washington
• 11/1 at Lansing
Join the conversation
Let your voice be heard on Friday (and Thursday) nights. Use the hashtag #shawneesports on Twitter or find us on Facebook at facebook.com/theshawneedispatch. We'd love to hear your thoughts on the week's high school football games and see your photos, Instagrams and Vine videos. And stay tuned each Friday night and Saturday morning for a roundup of the week's action.
Seeking contributors
The Dispatch is seeking to expand its coverage of Shawnee's student-athletes. If you are a student journalist, community member or general sports enthusiast, contact sports editor Stephen Montemayor at smontemayor@theworldco.info for more information. We are seeking to publish scores, stats, feature stories and photos of athletes from Mill Valley, SM Northwest, SM North, St. James Academy and Maranatha Christian Academy in addition to Shawnee student-athletes who may be attending other area schools.
The decision as to who will succeed Skyler Windmiller as the Mill Valley football team's next gunslinger is coming down to the wire after a three-headed competition remained virtually a dead heat all summer.
One year after going 6-0 against in league play and putting up some of the best numbers in the state — second among all 5A offenses — the Jaguars must replace nearly every offensive player responsible for 4,292 yards total offense and 64 offensive touchdowns.
Mill Valley's 5-foot-11, 170-pound sophomore Logan Koch, who racked up 7.87 yards per carry with nine touchdowns in relief of Windmiller last year, joins 6-2, 260-pound senior Dylan Cole and 6-0, 175-pound junior Ty Bruce in contention to start at quarterback.
"They've all done a great job of maximizing the time they get to make the best of it," Applebee said. "I foresee us having some sort of package for all three right now."
Applebee said he hoped a clearer picture of who would start at quarterback would emerge within the first few weeks of fall practices, now underway, adding that the other two candidates would see time at running back, receiver and/or defensive back.
"It's been hard to tell. Every time they all have played, they've done really good," Applebee said. "They're all playing really well, that's the hardest thing. It really will come down to which one of those three consistently on each play in and play out is making the plays we need."
Applebee is also counting on what was at times in flux in 2012 becoming a steady hand in 2013: the Jaguars' offensive and defensive lines. Injuries afflicted the lines multiple times in 2012, but a number of starters return.
"That's the most promising thing about everything," Applebee said. "It's really where you win and lose games. I believe that the most exciting thing about our experience coming back is on the lines."
Junior Evan Applegate (6-7, 285) and senior Coltyn Gatton (6-1, 215) will be joined by sophomore Ben Hecht (6-4, 250) to solidify the right side of the line, Applebee said. Meanwhile, senior Adam Swearingen (6-1, 245) returns after being hampered by a injury last year that he suffered during the previous wrestling season. In all, Applebee said the Jaguars expect to field a steady seven-deep rotation on the offensive line.
Mill Valley also returns seven starters to what may be the team's strength in 2013: defense. First-team all-league linebackers Micah Clarke (75 tackles) and T.J Phillips (5A state honorable mention) will comprise one of the league's top linebacker units alongside junior Tyler Garrison (56 tackles).
The defensive line will feature the return of Ryan Smith (45 tackles, first-team all-league honors), Aaron Kennedy (one fumble recovery, one touchdown) and Alex Rounds (30 tackles).
The Mill Valley secondary will meanwhile welcome back senior defensive backs Tyler Willard (60 tackles, two interceptions) and T.J. Midiros (55 tackles, two interceptions) and may also be bolstered by wide receiver Christian Jegen (more than 18 yards per catch and four touchdowns), whom Applebee expects to be one of the few players to line up on both sides of the ball. Henry Midyett is also a candidate to see time both running the ball and at linebacker.
Mill Valley will be ushering in a new era of skill position players. Aside from Koch, senior Nick Wilson (26 carries, 167 yards, three touchdowns) is the Jaguars' top returning rusher. Junior Zach Hanna will return at tight end (18 yards per reception, honorable mention all-league) and Zach Deverill (6-2, 185) will join Jegen in providing a pair of wide receivers north of 6-feet tall. The Jaguars open the season at 7 p.m. Sept. 6 at home against Manhattan in a rematch of last year's 43-21 loss on the 6A school's home turf.
Stay tuned next week for a preview of all Mill Valley fall sports.