SM

Northwest seniors aim high in Hibbs' second year as football coach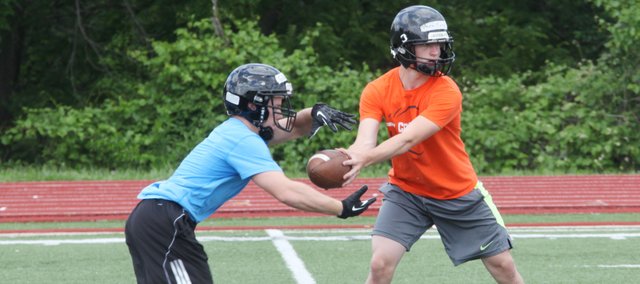 SMNW (2-7 IN '12)
• 9/6 at Olathe Northwest
• 9/13 vs. Free State (SMN)
• 9/20 at SM South
• 9/26 vs. Leavenworth (SMN)
• 10/4 vs. Lawrence (SMN)
• 10/11 at Olathe South
• 10/18 at SM East (SMS)
• 10/25 vs. SM North (SMN)
• 11/1 at SM West (SMS)
Join the conversation
Let your voice be heard on Friday (and Thursday) nights. Use the hashtag #shawneesports on Twitter or find us on Facebook at facebook.com/theshawneedispatch. We'd love to hear your thoughts on the week's high school football games and see your photos, Instagrams and Vine videos. And stay tuned each Friday night and Saturday morning for a roundup of the week's action.
Seeking contributors
The Dispatch is seeking to expand its coverage of Shawnee's student-athletes. If you are a student journalist, community member or general sports enthusiast, contact sports editor Stephen Montemayor at smontemayor@theworldco.info for more information. We are seeking to publish scores, stats, feature stories and photos of athletes from Mill Valley, SM Northwest, SM North, St. James Academy and Maranatha Christian Academy in addition to Shawnee student-athletes who may be attending other area schools.
The lack of recent Sunflower League success hasn't obscured the memory of the Shawnee Mission Northwest senior class' successful freshman team season, during which it went 7-2.
"We always had a good way of winning," senior Jake Gilliam said. "We're just trying to keep it going."
Gilliam figures to play a large part on the path the Cougars will take toward that aim in 2013. Gilliam will be one of several players fronting a run-heavy offense that will seek to improve upon coach Linn Hibbs' 2-7 debut season in 2012.
In a given offensive series this year, as many as three backs will block while another seeks to exploit defensive holes produced by what has been termed the "diamond set."
"The running back will run through, full house, just coming at every direction … bop, bop, bop," said senior Jake Hoskins, who will also see time at running back in addition to safety.
Added Gilliam: "That run game gives us options. Every time a running back comes through, the defense won't be sure if he has the ball."
The hope is that the Cougars can avoid last year's predilection to score in the single digits — going 0-4 each time and only scoring 25 points or more twice on the season, both victories. The ground game was also an emphasis in 2012, but perhaps more so out of necessity: the Cougars passed for just 643 yards all year with two touchdowns and nine interceptions. Meanwhile, SM Northwest finished with 1,513 yards rushing at a 4.3 yards per carry clip.
Logan Miller (6-foot-1, 295 pounds) returns to anchor the offensive line while Ariska Savior (5-9, 289 pounds) is one of the defensive line's top returning players. Devin Shockley will also be counted on at inside linebacker, Hibbs said. In all, seven defensive starters return to a unit that will field three defensive backs at a time with the outside linebackers serving a linebacker-safety hybrid role.
"It's just going to be a bloodbath," Hoskins said.
The Cougars will have their work cut out for them against offenses like Free State and defending state champion SM West, the latter coming in district play. It was against the Vikings last year, Hibbs said, that many of this year's returning defensive starters received a baptism by fire of sorts: as many as eight defenders were underclassmen starters in a 40-9 season-ending loss.
The Cougars will also be fielding a new starting quarterback, with a three-man competition for the job taking up much of the summer. Junior Clay Drouillard was the only player to see the field backing up 2012 starter Lucas Karlin. Senior Jake Horner spent a lot of time practicing with the starters this summer, too, and Hibbs coyly suggested he would have a key role in some fashion on offense this season. Meanwhile, sophmore Ron Kopp was also in the mix.
Spencer Cook returns at receiver after averaging 11 yards per catch last season. Connor Johnson is back at tight end and running back Khalil Hattley figures to be among several backs expected to contribute in catching passes. This year, a deep senior class will seek to conclude their respective high school careers much the same way they began as freshmen dreaming of the varsity lights.
"Basically your season goes how well your seniors play," Hibbs said.
Stay tuned next week for a preview of all SM Northwest fall sports.