Best Car Wash: Olympic Carwash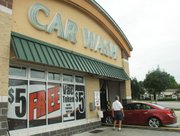 Address: 6401 Nieman Road
Contact: olympiccarwash.com, 913-268-7534
It's no Tunnel of Love, but for your sweetheart on wheels, it'll do.
Olympic Carwash's Shawnee location boasts a fully-automated Express Tunnel wash that shines your baby from head to toe. And this month, it's $3 off $10 if you pick up the discount code at Olympic's website, olympiccarwash.com.
The car wash on Nieman Road, just south of Shawnee Mission Parkway, also boasts do-it-yourself service bays, heavy duty vacuums and more detailing supplies than you can shake a shammy at.
If you're ever heading south for an extended period, check out Olympic's other location in Olathe, 350 North Ridgeview Road.
Runners-up: Whale Spout Car Wash, 22203 W. 66th St.; Expressway Auto Wash, 13621 Shawnee Mission Parkway