Christmas Around Town to light up Shawnee on Saturday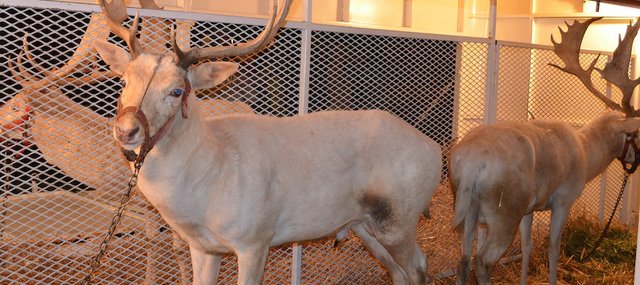 What was Christmas in Shawnee like 84 years ago?
"When you talk about the 1920s, most people hear about flappers, gangsters and Prohibition," says Sharron Uhler, curator of education at Shawnee Town 1929. "But we were a very small farming community, and even though we had Kansas City nearby, we were still pretty isolated. It was a quote-unquote long drive to get there."
In the winter of 1929, most Shawnee residents still lived on simple farms, Uhler explains, with acres and acres between them. Downtown Shawnee was lucky just to have electricity.
"What's really fun is that 1929 was the first year the town put up any kind of Christmas decorations. And they were able to do it with lights, because Shawnee finally had electricity," Uhler says. "That year, each of the downtown businesses had a Christmas tree in front of their business lit up with colored lights, but as soon as you stepped outside of downtown, there was nothing. So it was very, very different."
On Saturday, Uhler and the rest of the folks at Shawnee Town 1929 will help recreate some of that first-of-its-kind, rural-to-urban holiday magic as Christmas Around Town returns for another year. About 3,500 people turned out for last year's gathering. And with several fun additions to the lineup, Uhler expects this weekend's draw to be even bigger.
"For the first time this year our 1920s farmhouse will be adorned with period decorations," she says, including a Christmas tree with glass ornaments from the 1920s and real metal tinsel. "And our horse-drawn carriage rides will wind up and through the farmstead."
As usual, the festivities will kick off at City Hall at 4:30 p.m., with local music and dance groups performing on Johnson Drive before Santa Claus and Mayor Jeff Meyers flip the switch at 5:15 p.m. on the city's Christmas tree. This year for the first time, however, Santa then will ride west to Shawnee Town in a restored 1929 Ford Model AA wagon. Several downtown Shawnee businesses will welcome shoppers late while the main attractions — reindeer, music, face-painting and arts and crafts — shift to Shawnee Town from 5:30 to 7:30 p.m.
"The gravel roads leading up to the town area will be lit with lanterns," Uhler adds, "and we'll have warm apple cider and cookies ­— as long as they last.
"It's a wonderful event because it's all of our community families together. It puts hope in the air."