Johnson County Christmas Bureau serves 13,000 in need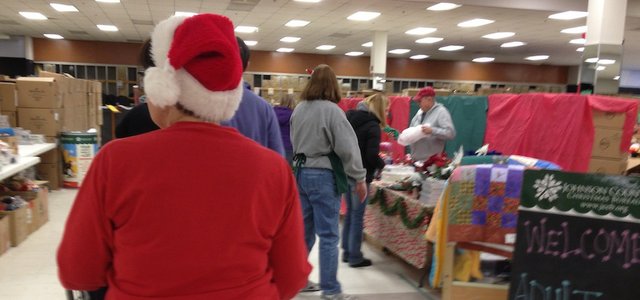 As Karen Boyd sorted through stacks of Barbies and Bratz dolls Saturday morning, a patient line was forming in the toddler-gifts section of the former Marshalls at Great Mall of the Great Plains in Olathe.
"The Bratz and Monsters Inc. stuff is really going fast this year," said the Lenexa resident, hopping from table to table to restock.
It's Boyd's 25th year working the Christmas shopping rush. But she's not an employee of a big-box retailer, and the sought-after toys aren't the subject of a recent price drop. Boyd is a volunteer with the Johnson County Christmas Bureau, and the goods she's peddling aren't for sale.
"Just imagine all this stuff in our garage for the past few months," she said, catching her breath. "It's just wonderful, though. We're helping so many people here today."
In a year-round project culminating each December with the Christmas Bureau's Holiday Shop, Boyd and nearly 3,000 volunteers like her donate their time, energy and everything from canned goods to winter coats, to help fellow Johnson County residents in need.
This year's Holiday Shop, which kicked off Friday and ends today, is expected to serve more than 13,000 individuals, several hundred of them from local nursing homes, said Barb McNeile, the Christmas Bureau's executive director.
"Our clients all come by scheduled appointment," McNeile explained. "They're all prequalified by other agencies to shop with us at or below 150 percent of the federal poverty level, about $36,000 a year for a family of four."
Each client is assigned a volunteer as their personal shopper, who helps them select free items that best fit their needs from hundreds of bins, tables and racks.
"We're set up similar to a big-box store — everything from groceries to books," McNeile said. "They go through and make selections just like you or I would if we were out shopping. It's just a wonderful holiday shopping experience."
One of the biggest needs the Holiday Shop sees is winter coats. This spring, that effort got a big boost when Mayor Jeff Meyers declared April "Collect Coats for a Cause Month," and Shawnee students from 17 schools pitched in to help collect more than 7,500 new and gently used items.
On Saturday night, as Shawnee's Christmas Around Town celebration kicked off with a tree lighting at City Hall, Meyers presented a check to the Christmas Bureau, one of the beneficiaries of this year's Mayor's Christmas Tree Fund.
"We're so thankful for the support of the city of Shawnee," McNeile said. "We're an organization that doesn't exist without the support of the community."
Though this year's donation drives have mostly concluded, the Christmas Bureau still needs children's coats, canned goods, sports balls, sleeping bags and small electronics. And looking ahead to 2014, McNeile hopes some Johnson County businesses may be able to fill another key need.
"Our biggest need is space," she said. "Right now, our items are stored all year long at eight different locations, but because we've grown so much, we have a huge need for permanency, both in terms of storage space and shop space.
"We really need a place we can look at it, touch it, inventory it, sort it."
To find out how you can help, call the Christmas Bureau at 913-341-4342 or email info@jccb.org.
More like this story