SMN

students gather Saturdays to produce literary magazine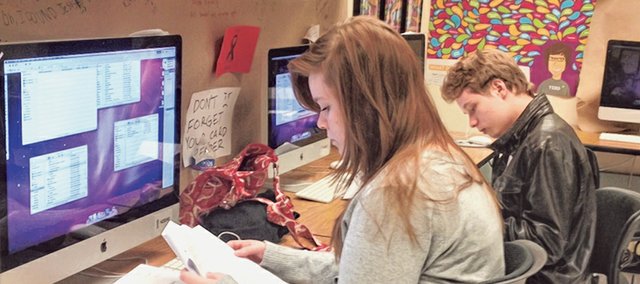 School at Shawnee Mission North High School may let out for the week every Friday afternoon, but a small group of students make the trip back to campus for about four hours each Saturday.
They're working on the school's literary and art magazine, "Indian Lore," an annual publication, taking its name from the school's mascot, that features more than 70 pages of student-created stories, poems and art.
"Indian Lore" student staff members begin meeting in November, and in the beginning of the months-long process of putting the publication together, a large portion of each day is devoted to working together in going through the hundreds of works submitted by hopeful students. That's the fun part, says senior Clayton Robrahn, who this year serves as the magazine's editor.
"Each piece of writing that we read gives us a sense of calming, or sometimes it'll be a funny piece or absolutely crazy and not have correct spelling," he said. "And it kind of brightens our day and gives us a new outlook on life."
Becoming a staff member of "Indian Lore" is as easy for students as signing up, said advisor Maureen Davis. She said 13 students signed up this year, but only a small handful of those 13 actually show up each week for a laid-back atmosphere that last Saturday included doughnuts and discussions about submissions, many of which are full of typical teen angst, said senior Taryn Borelli. That's exactly what staff members are not looking to include in the next issue of "Indian Lore." Instead, she said, they're looking for originality in the works, or something that "has a good outlook or point about life," added Robrahn.
But going through loads of material that just isn't quite right for the magazine has its upside, Borelli said.
"It makes finding the good ones even better, 'cause it's like finding the needle in the haystack," she said. "Like, the piece of gold in the garbage can."
Davis said she's not exactly sure when the magazine got started at SM North, and details of its origins are hard to find. But a 1996 publication produced by SM North and compiling works from the school's historical literary magazines speculates "Indian Lore" may have gotten its start in the 1980s by the Creative Writing Club. Other literary magazine efforts at North have included "Mektoub," which ran for a number of years until its final issue in 1981, and a single issue of "Into the Looking Glass" published in 1983.
Creative writing is still where most of the submissions come from, said Davis, who makes submitting to "Indian Lore" a requirement of students in her creative writing classes. Fliers asking for submissions are also posted throughout the school every year. Artwork is generally chosen from among student art portfolios.
The magazine comes out near the end of the school year and issues are $5 apiece. Davis said they generally sell about 100 issues, either when the magazine comes out or at the beginning of the year when parents have the option of purchasing a copy when registering their student.

Over the years, the magazine has earned some recognition, most recently being named a 2012 National Scholastic Press Association Pacemaker finalist, the highest honor a student publication can earn from the NSPA. The NSPA also recently bestowed a First Class rating on the magazine, which is the second highest out of five ratings the organization gives to student publications.

Students at last Saturday's "Indian Lore" meeting said they showed up on Saturdays because it's fun going through and talking about submissions. And reading through other works also helps them to develop their own writing abilities.
"Just like I'd like to see one of my pieces in the magazine … I want to try and support someone else having their dream come true," said Robrahn, who's been involved with the magazine since last school year, when he worked as a staff member and when a poem he wrote was selected for inclusion in "Indian Lore." He also noted that submissions from magazine staff go through the same selection process as everyone else.
While it may not seem like it, coming to school on a Saturday to work on the magazine is also a nice break, said junior Stevie Robhrahn, who is Clayton's sister. In addition to school, she said she works part time as a cook and cashier at Pizza Hut.
"Just coming here and reading and just taking a minute to get caught up in the story and the poetry is really relaxing for me," she said. "It takes away from the stress of the week."
Submissions from SM North students will be accepted until about early March 2014, Davis said.
"I know I'm not a perfect judge, but despite that, if the story feels like it's a decent story and they put their heart and mind into it and it looks good and someone else can get something out of it, then I'm going to put it in or try to put it in," Clayton said.
Submissions can be sent to Davis at maureendavis@smsd.org.