Kansas City Connection: Soccer overload, Christmas shopping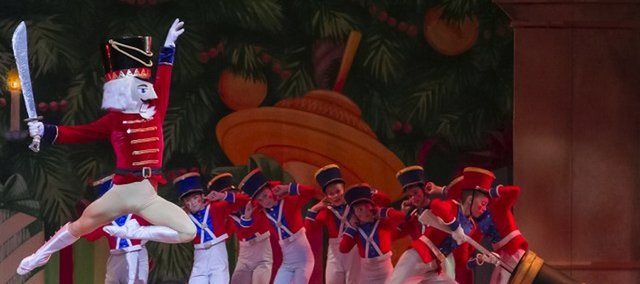 Last week, Kansas City became home to a championship pro sports team once again as Sporting Kansas City won the Major League Soccer Cup under frigid conditions — the coldest game in league history, at 20 degrees. The win capped off a big year for Kansas City soccer, with Sporting Park the first MLS stadium to ever host the All-Star Game, U.S. Men's National Team and the MLS Cup final in one year.
If the area's soccer success has you eager to take a more active role, check out the first annual Truce Tournament on Dec. 26 at the World War I Museum at Liberty Memorial. Sponsored by the Museum and Sporting Club, the amateur 3-on-3 tournament includes a kegs and eggs breakfast, free admission to the museum, and an English Premier League watch party for all participants.
Registration is open until Friday and can be completed at TheTruceKC.com. Registration costs $180 per team, or tickets can be purchased to the breakfast and watch party separately, with proceeds benefiting the cancer-fighting Victory Project. Participants must be over 18 to take part and at least 21 to drink.
Holiday shopping
I'd driven by Casa Mesa dozens of times before the colorful patio furniture, decorative metal cacti and clay ovens finally lured me into the building on Southwest Boulevard abutting the railroad tracks.
When I got inside I was amazed at the color and variety of the store's inventory, which includes furniture, blankets, wall hangings, mirrors, ceramic tiles, sculpture — all handmade and imported directly from Mexico.
Basically, Casa Mesa looks like one of those big novelty stores you see in Mexican border towns, except with much more sturdily crafted and tastefully selected wares.
Compared with your standard furniture store, the prices here are low, and the items are all one of a kind. Inventory switches out regularly here, so if you see something you like, it's best to pounce on it, because you probably won't see it again.
I'm usually pretty stumped when it comes to what I should buy my parents or in-laws, but at Casa Mesa I had no trouble finding gifts for each. The store is located at 3054 Southwest Blvd. and is open every day except Monday. See casamesaimports.com for more details.
Theater round-up
We've already written about many of the current theater offerings in previous Kansas City Connection columns, but with all the holiday excellence on stage right now it's worth a quick refresher:
"Santaland Diaries"
What: A David Sedaris-authored comedy about one man's misadventures as a Macy's holiday elf, extended through Dec. 24.
Where: The KC Rep's Copaken Stage downtown at 13th and Walnut
Tickets: KCRep.org
"The Nutcracker Suite"
What: A Kansas City classic featuring ballet dancers from several companies in one epic performance of the E.T.A. Hoffmann story set to Tchaikovsky's dramatic score.
Where: The Kauffman Center for the Performing Arts, through Dec. 24
Tickets: KCBallet.org
"A Christmas Carol"
What: Charles Dickens' timeless drama of one man's redemption at Christmastime
Where: The Kansas City Repertory Theatre's Spencer Theater on the UMKC Campus, through Dec. 26
Tickets: KCRep.org, or by phone at 816-235-2700.
— Lucas Wetzel is a KU graduate and Kansas City native who has worked as a writer, editor and language trainer in the U.S. and Europe. Know of an upcoming event in Kansas City you'd like to see featured in Kansas City Connection? Email us about it at kcconnection@ljworld.com.