Students from Prairie Ridge, Pakistan use Skype to build connections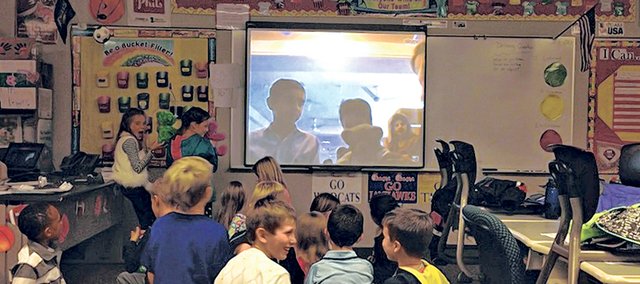 On Dec. 5, third-grader Jack Ward stayed up well past his bedtime on a school night. But it was for a good reason, and he even had his parents' permission.
Jack was among a number of third-graders in Brandi Leggett's class at Prairie Ridge Elementary to participate in a 9 p.m. Skype session with 47 English-speaking third-grade students in Multan, Pakistan.
"I thought it was fun because I got to do something I usually don't get to do in other classes," Jack said of Skyping with the students in Pakistan, where it was 8 a.m. Dec. 6 at the time of the session.
Since the De Soto school district installed Skype on school computers last school year, Leggett said, she's been regularly utilizing the video calling program as a way to teach her students about diversity. So far through Skype, Prairie Ridge students have communicated with other English-speaking students in countries that include New Zealand, Australia and China.
"Just trying to make stuff more relevant to the kids," Leggett explained. "Any way that you can take it beyond the classroom walls where they can see it, it's more motivating to them and engaging to them."
Leggett is a frequent visitor to online teacher networking sites such as Teachers.Net, where last school year she found a posting from Asifa Tareen, senior mistress at Officers' Colony Campus, a school in Multan. Tareen was looking for a school from another country with which to conduct a teddy bear exchange. The exchange, developed by the International Education and Resource Network, provides a way for students to learn about different cultures through teddy bears they exchange with a school from another country. Photos and diary entries written by students from the bear's point of view are then posted in a blog for the other school to see and read.

The timing couldn't have been better, Leggett said, since she had noticed during a recent classroom discussion some misconceptions from her students about Pakistan.

"It was almost like they had this conception that it was nothing but negativity there," Leggett said, noting that her students mainly associated the country with Osama bin Laden. "It was just perfect timing."
So the two schools began a partnership, each exchanging two teddy bears. Leggett said she and Tareen also decided to add a Skype session to the project as a way to get the students face to face.
"It allows you to just bring them almost into your classroom," she said.
That partnership was a success and has continued this school year, with the first Skype session of the year taking place Dec. 5. It was originally set for Nov. 19, but had to be rescheduled due to violent clashes that occurred Nov. 15 during an Ashura procession near the school in Pakistan. The Day of Ashura is a religious holiday in which Shia Muslims commemorate the death of Husayn ibn Ali, the grandson of Muhammad.
No students at the school were injured, but the times had to be switched so that the Pakistani students could conduct the session in the morning.
"Nowadays, there are no visible signs of unrest and students are coming regularly to school, but calling them for Skype session in the evening at our end would have been risky," Tareen said in an email.
During the Skype session, the Prairie Ridge students touched on the conflict briefly, asking the students from Pakistan how they were. But a larger portion of the discussion revolved around similarities and differences between the two countries. Leggett said her students were surprised to be told by the Pakistani students that there is a Kentucky Fried Chicken and Pizza Hut in Multan.
"The cricket thing really threw the kids off," Leggett said, said of the sport popular among Pakistani students but foreign to those at Prairie Ridge. A major shopping holiday in the United States also came up.
"Well, they wanted to know about Black Friday here," Leggett said of the Pakistani students. "That was one of their first questions, was did (the Prairie Ridge students) enjoy Black Friday."
Through the conversation, though, one main similarity among the students was made clear.
"They both found that they're both proud of their country," Leggett said.
Seeing that the Pakistani students are in many ways much like themselves has already made a positive impact on students in her classroom, Leggett said, with the hope that impact will continue through another teddy bear exchange and more Skype sessions in the works for later in the school year.
"The kids at this young age, if they're able to develop these positive relationships now, then maybe like the stereotypes or the negativity that may come up later, maybe it (won't happen), or you can just lessen it because the kids are learning," she said. "Maybe we won't have so much conflict around the world."
Tareen agreed with Leggett that there is much potential value to be found through the Skyping project, both for her students and the students at Prairie Ridge.

"They learn to know that there is a world out there and kids like them who are equally eager to learn and communicate," she said. "They start thinking out of the box. They appreciate what they have and what they are capable of."