Koeller's comeback season highlighted by leading
SMNW

at Sunflower League meet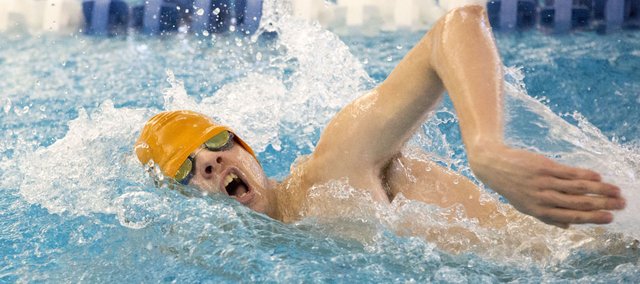 Lawrence — For some of the members of the Shawnee Mission Northwest boys swimming team, the Sunflower League Championships was the end of the road.
"For our team, it's the biggest meet of the season," SM Northwest's first year swimming coach Brittany Smith said. "Many of our swimmers train our entire season to swim this meet and it's just a way to end the season at their fastest point."
Senior Ben Koeller swam his personal best in the 200-yard freestyle, in which he took third place with a time of 1:48.04. Koeller also placed second in the 500-yard freestyle, swimming 4:50.55. He qualified for state in both of those events in December.
Koeller came back to secure the top three finishes over the weekend after recovering from an ATV accident last season.
"It felt amazing to know that I am finally back to where I was," Koeller said after the meet. "I'm definitely looking forward to state and looking to improve a lot more on my 200 and get a best time in my 500."
Koeller led his Cougars to a seventh-place finish behind Shawnee Mission North, with 75 points.
The Cougars placed 10 out of the 12 schools last season and nearly doubled their overall score, Smith said.
"It is definitely an improvement and a step in the right direction," she said. "I'm excited about it."
The 400-yard freestyle relay team of Koeller, Eliot Alpert, Aaron Bullard, and Daniel Wood swam a 3:36.31 on Saturday afternoon to qualify for state. The 200 yard medley relay team, Sam Adams, Josh Gomer, Andy Marshall and Joshua Van Auken, swam a state qualifying time on Friday night.
"I would say (the relay teams) swam fantastic and swam better than anyone could expect," Smith said. "They all had personal bests, for the most part."
Senior Julian Cole-Nieves scored 314.40 points on Saturday in the one-meter dive to place fifth overall. He qualified for state during the first meet of the season.
Freshman Emile Winkelmolen scored 297 points for seventh place, just .40 points behind eighth-place Shawnee Mission East diver Cameron Carollo. Winkelmolen's score makes him a state contender as well.
Diving coach Diana Wood said both divers were consistent throughout the day, which led to their success.
"You can do lots of spins and twists," Wood said. "But at the end of the day, it's who's most consistent."
"I thought it was great preparation for state," she said. "There are a lot of really good divers out there."
Individually, Bullard placed 10th in the 200-yard freestyle, .52 seconds behind the ninth-place finisher. Marshall also placed 11th in the 50-yard freestyle with a time of 23.58 seconds.
Both Bullard and Marshall, in addition to Gomer, Eliot and Wood, will all be trying to individually qualify for state at the Last Chance meet on Thursday at the Lawrence Indoor Aquatic Center.
Looking ahead to the next couple of weeks, Smith said she wants her swimmers' times to get faster so they can advance to the second day of finals at state.
"Our 200 and 400 relay teams can be there, that's not a high expectation at all," Smith said. "I think that Ben (Koeller) will place very well because he is a strong swimmer and that will provide a confidence booster for our team."
But as the season comes to a close, Smith said she really just wants her swimmers to enjoy it.
"A lot of our swimmers are seniors and I want them to enjoy their last meet, which for some of them will end their career as a swimmer," she said.