How they met: Local sweethearts share stories of coming together, falling in love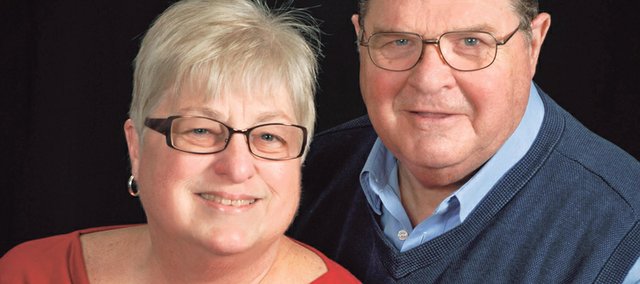 Valentine's Day is the time for couples to recall and celebrate the moment when Cupid fired that first arrow, dramatically changing the course of life.
In honor of the holiday, The Dispatch asked a half-dozen Shawnee residents to share the stories of how they met their sweethearts. As expected, those stories have revealed what we already knew: that Cupid can strike in curious, often comical ways.
Mel and Barb Carney
Mel Carney came to St. Louis to see an old teacher and the Gateway Arch. He hadn't counted on bowling over the love of his life. But that's what happened after a strange case of mistaken identity.
According to Barb Carney, Mel's wife for 43 years now, she first met him in a St. Louis bowling alley in December 1967.
Mel, who had seen the arch under construction during a previous visit, had returned to St. Louis while stationed at Fort Polk, La. And upon his arrival, he took the suggestion of an Army buddy from St. Louis, who said a friend of his named Barb would likely take Mel sightseeing if he asked.
So one night while Barb was getting ready for a bowling outing with her Hampton Bank team, the phone rang. It was Mel, who told Barb her friend Ed Schmitt had recommended he call. She told him she couldn't meet him right then; she was going bowling. But when Mel suggested he meet her at the bowling alley, she agreed to that plan.
Thus, when a homely, unkempt young man walked into the alley and began loitering behind her team that night, Barb suspected he was Mel.
"I hate to be snobbish," she recalled, "but I said, 'Oh girls, if this is him, I've got to run fast.' And the whole time we were watching this guy, the girls were saying, 'How are we going to get you out of here?'"
Meanwhile, the real Mel Carney was sitting behind another Hampton Bank team that was bowling that night. Eventually they pointed out Barb, who was bowling a few lanes away. And in contrast to the man she thought he was at first, Mel looked pretty darned good when he introduced himself.
"I mean to tell you, this other guy made Mel look like Tom Cruise," Barb said.
Barb and Mel ended up going out after bowling that Thursday night, she said, "and then we went out Friday night, all day Saturday and all day Sunday."
By the time Mel headed back to Fort Polk, Cupid had struck for sure, Barb said. But a week later, Mel left for Vietnam, limiting further contact during the next several months to letters.
"I think we really got to know each better through those letters than we would have dating," Barb said.
Still, she remained guarded about the relationship, "because at that time you never took for granted that someone was coming back" from Vietnam, she said.
But the romance moved to the next level when Mel finally returned to St. Louis — on Valentine's Day 1969. It didn't hurt that he had been restationed at Fort Leonard Wood, Mo., just a couple of hours away. And neither did the fact that Mel, a cheerful Irish boy from Iowa, shared her strong family and religious values, Barb said.
Mel, now a computer software salesman, asked Barb to marry him in April 1969. And the knot was tied on Sept. 6 that year. Eventually, the couple settled in Shawnee, where Barb worked for 19 years at St. Joseph Grade School and now works for Kiene Dental Group. The couple have three grown children and six grandkids.
Mike and LeAnne Thompson
Mike Thompson, chief meteorologist for FOX 4 News, attributes his 36 years of wedded bliss to an earlier occupation: grocery sacker.
Thompson was a 14- or 15-year-old Burlington, Kan., kid when his future mother-in-law told her daughter LeAnne about the nice young boy at Z&L Grocery.
LeAnne, whose father was the middle school principal in Burlington, didn't take direct action to bag the young sacker.
"But her friend Regina came around and gave me the hint" that LeAnne was interested, Mike said. "So I kept my eye on her and finally got up the courage to ask her out."
Mike was a junior and LeAnne a sophomore at Burlington High when they went on their first date.
"It was a little baseball game, Legion or Pony League, in Yates Center," Mike recalled. "It was one of those double- or triple-date things."
Mike was smitten by his date, whom he described as pretty, smart, athletic and spunky. Over the years, he's also found her tolerant of all "this weird stuff" the couple have been through.
It started with Mike signing up for a four-year hitch in the Navy in 1975, right after he graduated from high school. He and LeAnne got hitched in 1976, Mike said, "and as soon as we got married, I had to go to Cuba."
Mike, who received meteorological training in the Navy, was a weather forecaster on the USS Lexington until his discharge in 1979.
Then, he and LeAnne drove to Oklahoma City, where Mike intended to go to college on the GI Bill. But instead, he applied for a job he had seen posted in an American Meteorology Society bulletin. He was hired, just four days after exiting the Navy. And thus began his television career, which included meteorologist positions in Oklahoma City and Charlotte, N.C., before the couple moved to the Kansas City area 31 years ago.
"Coming from a tiny town of 1,200 people, that's the last thing we ever expected," Mike said of his career.
The Thompsons still enjoy the feel of small town living in their longtime hometown of Shawnee, where LeAnne stays busy volunteering at St. Joseph Catholic Church. The couple have three children and eight grandkids.
Bob and Linda Leeper
Linda Leeper, CEO of the Shawnee Chamber of Commerce, was a 16-year-old Kansas farm girl when she met the guy who made her heart leap — with a stuffed animal.
"I was on a blind date," she recalled, "and we went to a house in the small town of Holton, where this young man named Bob Leeper was having a party."
The blind date wasn't so great, Linda added, but the party was great and the host was "pretty cute."
Thus, she was thrilled when Bob, whose family ran Leeper Hardware in Holton, asked her out a couple of weeks later. As it turns out, the boy from town had been smitten by the cute blonde farm girl at his party.
Linda still recalls their first date, on Feb. 7, 1964. They went to see a new James Bond movie, "Goldfinger," in Topeka. But it was their second date, on Valentine's Day, that sealed the deal.
"Bob arrived at my house with a 3-foot-tall, stuffed pink poodle," Linda said. "He was pretty much the first guy I dated, and we dated for four years after that."
In 1968, the Leepers were married between their sophomore and junior years at Kansas State University, where Bob earned a business degree and Linda majored in fashion merchandising.
Two years later, the Leepers moved to Kansas City, where they began careers as retail buyers, Bob for The Jones Store and Linda for Adler's. Married for 44 years, the Leepers have one grown son.
Rick Umberger and Michelle Distler
Shawnee City Council member Michelle Distler said Cupid struck her and her husband, Rick Umberger, slowly and surreptitiously.
"We went from hanging out all the time to eventually getting married, and I don't even know how because, to this day, he's never proposed to me," Michelle said.
It all started in May 1992, while Michelle was juggling five part-time jobs and 15 college credit hours. Her free time was limited to one Sunday a month, she said, and on one of those Sundays, she agreed to visit some friends at a singles apartment complex with sand volleyball courts.
Rick, a resident of the complex, was among the group Michelle played volleyball with that day. Afterward, several in the group went to a cookout at Rick's place.
"I found him attractive," Michelle said. "But I thought he was a lot younger than what he was. I was 19, and he was 32."
Rick also owned a business, The Knife Man, a commercial sharpening and equipment repair company that he continues to run today. But Michelle wasn't immediately smitten with his entrepreneurial skills.
"I didn't know for a long time that he owned the business," she explained, "because when I asked him what he did, he just kind of nonchalantly said, 'I sharpen knives.'"
Michelle knew right off, however, that Rick was a good person; she could see that in the way he treated others. And she began to appreciate his maturity after their occasional meetings at the volleyball court and swimming pool led to dinner at a Vietnamese restaurant.
"It wasn't really a date; he just said, 'Hey, do you want to go eat there?'" Michelle said. "I had led a very sheltered life, and he ended up introducing me to all kinds of foods and different things I had never experienced."
In the process, they became close and comfortable with each other. Togetherness began to feel like a foregone conclusion.
"I remember standing in the kitchen one day," Michelle said, "and the question of whether we were ever getting married just kind of came up in conversation."
Before she knew it, she was making plans for their wedding, which took place on Sept. 16, 1995. The newlyweds then settled in Shawnee, and 10 years later they celebrated the birth of their daughter, Jeydan Umberger.
The family has lived happily ever after, Michelle said, but 20 years after meeting Rick, she was still wondering why he never proposed. So she asked him.
"He said it was because that's what everyone does," she said. "He wanted to be different and reel me in by making me think it was my idea. I have no idea what that means. He was laughing."
Bruce and Alvina Young
Alvina Young got off to a shaky start with her future husband, whom she met at a dance when she was 16.
But by the time Bruce Young asked what she wanted for her 17th birthday, Alvina's sentiments had obviously changed.
"I want a ring," she told him.
Alvina, now a certified trainer and owner of Inspired Fitness, met Bruce at a Lenexa recreation center, where he asked her to dance. A few days later, he took her out to eat at a Waid's Restaurant, she recalled. But Bruce, who now owns Young's Flooring in Shawnee, floored her during that first date.
"It didn't go well," Alvina recalled, "because he was wanting to see another girl."
But three months later, Bruce called and asked her for another shot. And she said, "Yes, if you can decide which one you want to date."
"This time, when we went out, it was like we knew," Alvina said. "We really enjoyed each other, and we dated seriously for six months."
Then, as Alvina approached her 17th birthday in April 1968, it appeared Bruce, who was three years older, would be going to Vietnam soon. That's why she asked for the ring.
"I said, 'I want to be committed to you, and I won't see anyone else if I'm engaged,'" Alvina said.
So Bruce bought her the ring, which was a little alarming to Alvina's father until she and Bruce promised that, no, they wouldn't get married until Alvina graduated from high school.
As it turned out, Bruce didn't have to go to war. But the couple stuck with their wedding plans, getting married on Nov. 1, 1969 — five months after Alvina finished high school.
"We were married at the Merriam Christian Church, after we had one counseling session," she said. "We probably needed 50."
During the first year of their marriage, Alvina spent a lot of time crying on the front step, she said. But then Bruce gave her some sage advice: "Take 'always' and 'never' out of your vocabulary and don't bring up the past." That helped, she said. So did the example of fellow church couples and a few relationship seminars.
Today, she treats Bruce like a king. He helps her with her slippers in the morning and gives back rubs at the end of the workday. And every birthday and Valentine's Day, he writes her poetry.
The Youngs, who will celebrate their 44th anniversary this year, have two grown children and two grandchildren.
Paul and Cindy Ridgway
There has never been another girl for Paul Ridgway.
Paul, who owns an American Family Insurance agency in Shawnee, met Cindy at the Antioch Nazarene Church when they were in third grade.
Later, Paul played on the church basketball team, which Cindy rooted on as a cheerleader. They participated in summer camp and other church activities together. And by the time they were in ninth grade, Paul decided it was time for them to go steady. He asked her during a surprise birthday party for a friend in 1969.
"We were down in the basement," Paul recalled, "and just before they turned out the lights so we could surprise this person, I went over next to Cindy and grabbed her hand."
The following year, Paul and Cindy went to school together for the first time. Both were sophomores at Shawnee Mission West. Then Cindy's family, which moved a lot, relocated to Oklahoma City when they were juniors.
"But we stayed in touch," Paul said. "I wrote her a letter about once a week, and she wrote me about once a day."
The romantic letters fanned the flame, which for Paul had been sparked by Cindy's looks and friendly demeanor.
"She never really gets mad at people," he said. "I'm about the only one who can make her mad, and I'm pretty good at it."
But fortunately, the couple were mad about each other when Cindy's family moved back to this area the March of her senior year. A few months later, on Dec. 26, 1972, the Ridgways were married. They were both 18.
"Being that young, we could easily have grown in different directions," Paul said. "But fortunately, we grew up in the same direction."
Like his marriage, Paul's insurance career also headed in the right direction. By 1988, he had been in management with American Family for about five years. But then he hit a rough patch at work, prompting Cindy to spring a Valentine's Day surprise.
Paul had been having some cocktails with some buddies that afternoon, when Cindy came in and told him they were going straight to the airport. She had planned a getaway to Scottsdale, Ariz., to help Paul get away from all his problems.
"It was the coolest thing," he said.
With Valentine's Day approaching again this year, the Ridgways, parents of a grown son and daughter, were expecting another cool event. They have six grandkids, Paul explained, "and our daughter-in-law is expecting with our seventh."