She's state-bound: Mill Valley junior becomes only girl in state wrestling tournament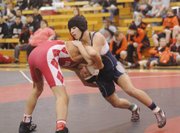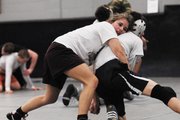 11 Jaguars qualify for state
Mill Valley placed third at the 5A regional wrestling tournament, to which the Jaguars played host on Saturday. Read more here about the 11 Jaguars who will be competing in the Class 5A state wrestling tournament in Wichita this weekend. Stay tuned to shawneedispatch.com for the latest state tournament coverage.
The only girl inside the Mill Valley wrestling practice room is undefeated in at least one sense.
Sure, junior Kali Gracy's win-loss record sports a few blemishes like that of all of her varsity teammates. But just about every time she's been told no — you shouldn't be wrestling; I don't want to wrestle a girl — the result has gone in her favor.
Gracy, just weeks into her varsity career, elevated after three years in the program, sat alongside her teammates as coach Travis Keal delivered one of his pre-practice sermons one Thursday afternoon. With a three-week stretch ahead that included the Kaw Valley League tournament, the 5A regional tournament at home and the state championship tournament in Wichita, Gracy was tabbed late in the season to make the jump to varsity and become one of 11 wrestlers Keal is counting on to help bring home his program's first team state title.
Keal points to the wall of state placers. Picture yourself on the podium, he says. Picture yourself on the highest one. Bad things are going to happen this week. You're not going to get everything you want. Make sure you outhustle people.
Gracy, sitting front and center, takes it in.
Everyone in here has lost this season, Keal continues, it's about coming back and getting third, fourth, fifth place.
Just before Gracy made the leap from junior varsity to this stage, she authored perhaps the biggest comeback of her Mill Valley career so far. Against a Piper opponent who had defeated her earlier in the season and who possessed a large lead on points late in their rematch last month, Gracy locked in a headlock that she had been working on with coaches after practice each day. Moments later, she'd have her arm raised, a winner by pin.
"I don't think I've ever been so happy," Gracy said.
Fast-forward back to that Thursday practice, and Gracy is staying late to work on it again. She'll have to leave soon to make it to dance practice, which will keep her busy for another several hours. But the way she — and her coach — sees it, if Gracy is going to concede the strength advantage to many of her male opponents, she won't lose the technical battle.
•••
The only girl in the Mill Valley wrestling practice room didn't want to come back here. Not at all. She didn't want to leave California, where her family moved when she was 10 after her father's job transferred him to the northern part of the state. She loved the beaches — a vacation in her backyard, practically. She also loved the Delta Wrestling Club, where she returned to the sport after a few years away.
Gracy is the middle child in a trio of siblings that includes a younger brother, Keegan, 8, and older brother, Tanner, 21. Their father, Justin Gracy, said Kali always looked up to Tanner, joining the family for daylong wrestling tournaments at which Tanner's wrestling club would compete when they first lived in Kansas.
After one such tournament, the coach approached Justin and his wife, Jodi, after having noticed the interest Kali took in the sport. She's going to these all-day tournaments with you guys anyway, he said. Why not let her wrestle some of them?
Kali was 5 when she first stepped on the mat.
"I always wanted to be better than my brother," Kali says now. "And he wrestled, so I followed in his footsteps."
But once Tanner moved on from the club, the Gracys didn't want to continue attending all-day tournaments. So Kali's involvement in the sport was put on hold, at least until the family moved and she noticed that her new middle school offered the sport for girls.
The way Kali remembers it, her parents weren't too keen on her wrestling again. But Justin Gracy insists he and Jodi didn't really have many reservations. Attend the preseason meeting and see how it goes, they told her.
Kali did, and returned home signed up and ready to go.
"They really had no choice to let me wrestle or not," Kali said with a smile.
Back then, Kali played two sports almost every season, her father recalled, fitting wrestling, basketball, softball, soccer and dancing into a calendar year.
"It paid off keeping her busy all these years," Justin Gracy said.
Justin Gracy remembers splitting time with Jodi as they drove Kali from practice to practice, helping her exchange one uniform for another. Looking back, he said that prepared Kali for today, where she splits time between wrestling and competitive dance, returning home most nights at 9 p.m., yet still finding time to maintain strong grades.
By eighth grade, Kali was wrestling both boys and girls and took first in a Northern California tournament and second in the state's wrestling tournament. From there, it was on to nationals in Oklahoma City, where she placed second.
But pretty soon, it was time for the family to move back to Kansas. Shortly after the Gracy family returned to Shawnee and Kali began wrestling at Mill Valley, her outlook grew sunnier, despite having exchanged the beach for suburban sprawl.
"Oh, I love Coach Keal," she said. "He's my favorite coach by far that I've had."
•••
The only girl in the Mill Valley wrestling practice room must use a separate locker room, and that's where the differences between her and her teammates end.
Most days, Gracy spends a lot of time practicing with teammate Landon Scott, the No. 5-ranked 106-pound wrestler in Class 5A.
"You can tell when she's out there wrestling a good wrestler that she holds her own," Scott said.
Keal tells everyone in his program that, one day, they'll get an opportunity. And late last month, Kali Gracy's opportunity arrived.
"To me, anybody that can stick out wrestling seasons — because they're difficult no matter if you're male or female — anyone who can go through practice and improve as a wrestler and as a person gets my respect," Keal said.
From the day Kali entered the program, Keal said, her gender has never been an issue. She doesn't receive, nor want, special treatment.
But that perspective isn't always shared by her opponents. There's still the rare, though no less frustrating, occasion when an opponent forfeits, not wanting to wrestle — or get beat by — a girl.
"That just gets me more angry to beat the next person," Gracy said.
At Saturday's regional tournament, however, two of Gracy's opponents forfeited for another reason. Gracy advanced to the tournament final after her first two opponents, both of whom were from nearby private Catholic schools, forfeited because of a rule issued by the Kansas City, Kan., archdiocese forbidding boys and girls to wrestle one another. The forfeits made news as a local television station was on hand.
Gracy placed second after being pinned by Turner's PJ Cheney, Class 5A's top-ranked 113-pound wrestler. Still, by finishing in the top four, Gracy was guaranteed her first trip to the state wrestling tournament in Wichita on Friday and Saturday.
The only girl in the Mill Valley wrestling practice room the past three years became the only girl bound for state.
An all-girls state wrestling tournament — sponsored by U.S.A. Wrestling — in McPherson follows the Feb. 22-23 state wrestling tournament by a month. Gracy won that tournament as a freshman, but hurt her rotator cuff and still placed eighth at nationals later that month. She missed most of her sophomore season because of the injury.
Gracy is still weighing her options for what comes next after graduation. Competitive dance is also a big part of her life, and Gracy has eyed Kansas University as a dream destination.
But should she wish to continue wrestling, there are options beyond high school.
According to the National Wrestling Coaches Association, the number of female high school wrestlers has grown from slightly more than 800 to 7,000 in just a decade's time. That growth has also extended to the college level, where 22 colleges now sponsor varsity programs.
"The sky's the limit," Keal said. "The opportunities are there."
Try telling Kali Gracy no.