Business owner promoting area artists through Third Friday events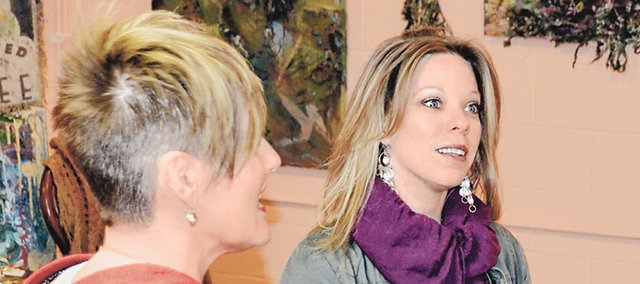 When Tamara Hudson opened Chez LaRue by Encore in November of last year, her goal wasn't just to have a personal styling and design studio right next door to the business she has owned since 2003.
"This whole idea of Chez LaRue is to bring people together with their talents and have a place to showcase it," the owner of Encore Unique Boutique said of her latest business, which she named after her mother. "It's just an outlet for people's talent and creativity and something different for downtown Shawnee."
To that end, Hudson recently began featuring area artists' works on the walls of Chez LaRue as part of Chez LaRue Third Friday Art Openings.
"This will be a regular event every third Friday featuring different artists each month," Hudson said.
The first event, featuring painted works by Overland Park-based artists David Bandy and Adrienne Bush, was held in January. And Friday, the featured artist was Natosha Keefer.
During the event, cocktails and light appetizers are provided and artists have the opportunity to network and even sell their works. Admission to the art opening is free.
What Hudson hopes the community gets out of the art openings is an experience somewhere in the ballpark of First Friday events that are planned in area cities but that still keeps true to the uniqueness of downtown Shawnee, she said.
"No way do I want to compete with the (Kansas City) Crossroads (Arts District) and what they're doing," she said. "This is just something for Shawnee that I hope some of the other businesses will want to get involved with. … Anything that we can do to get more of the Shawnee businesses working together, I am all for."   
Hudson said she didn't yet have an artist confirmed for next month's event, which will be from 5 p.m. to 10 p.m. March 15. But there has been no shortage of interest from artists hoping to showcase their work in her space, she said.
"I thought I would have to search a little bit to find artists. … I have more artists than we could even possibly use this year," she said.
She said she's wanting a diverse mix of art and photography on her walls each month, too, and that includes works from area youths, as well. Hudson said the best way to inquire about having work featured during an art opening is to email a sampling of works to tamzstyle@gmail.com.
Chez LaRue is open Saturdays for personal, wedding and other styling needs and by appointment only during the week. All artists' works will be on display following their art openings for one month.
Hudson also offers modeling, pageant and charm classes for youths and adults at Chez LaRue. Call 913-268-5393 for details.