McKinnis follows through on promise, becomes second
SMNW

state wrestling champ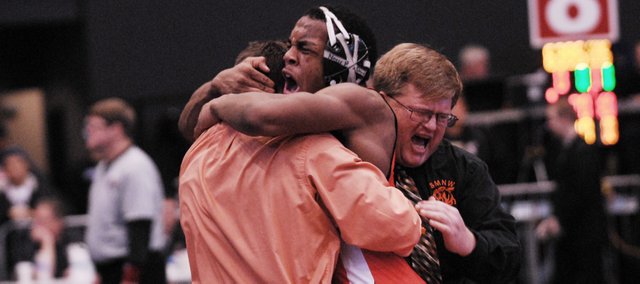 Wichita — Shawnee Mission Northwest junior LaPhonso McKinnis is on the ground at the foot of a staircase inside Hartman Arena, rolling on the ground in both a state of delirium and just a little bit of pain in his knee.
Surrounding McKinnis are teammates, former opponents and SM Northwest assistant coaches, the latter reminding passersby that McKinnis just won the Class 6A state championship in just his second season.
SM Northwest coach Howard Newcomb is 20 yards away, glasses off and a tear stuck on his cheek as he shakes his head. "Oh man, oh man," he repeats.
McKinnis became just the second Cougar to win a state wrestling championship under Newcomb, following Blake Trullinger's 125-pound title in 2002. Trullinger, meanwhile, would text Newcomb throughout this tournament, congratulating him on semifinal victories, second- and third-place finishes and, now, another state champion.
That champion rose to his feet, meeting more hugs and handshakes. Upon receiving his medal and commemorative bracket, he took off again across the stadium floor and up another set up steps.
McKinnis maintained a firm grip on the bracket from then on.
"I can't wait to get home and show my mom," McKinnis said.
•••
McKinnis surprised Garden City senior Anthony Gardner with a move called an ankle pick early in their championship match. He later said he knew that was the move he needed to execute against Gardner, who'd be tough to take down otherwise. After a pair of near pins, McKinnis took a 9-2 lead into the second period.
"I think it surprised him when I ankle-picked him the first time and he was on his back. I think that got in his head," McKinnis said. "I think it got into his head even more when I kept doing it over and over and over."
But Gardner made it interesting, later hitting a five-point move in the second to pull within 9-7 and soon tacking on another two points to tie.
"I had to turn it on," McKinnis said. "No more me doing stupid stuff."
McKinnis notched a point off an escape and two more off a subsequent takedown to enter the final period up, 12-9.
But with just 1:12 left — McKinnis up 14-10 — the pair tumbled out of bounds. McKinnis stopped where the mat ended and the floor began and Gardner's momentum carried him over McKinnis' left knee. McKinnis let out a shout and Newcomb rose from his seat looking stricken. After assessing the injury, McKinnis rose back off the mat, receiving the obligatory reminder of just how little time was left and what was waiting for him on the other end.
•••
Hours before McKinnis rode out the final seconds of his 16-11 victory, circling to create distance between himself and Gardner as time expired, McKinnis stood alone in a storage room just out of view of the main floor.
At the end of the night, when trying to make sense of how a second-year wrestler could be so calm on this stage, his coach was at a loss. Meditation maybe?
Newcomb wasn't too far off the mark. Before he walked out onto the floor, McKinnis later said, he shed a few tears in that room and gathered himself. Before he could break his opponent, he had to break himself.
"I made it all the way to the finals," McKinnis said. "In the back of my head I kept thinking about how I didn't want to let my team down."
McKinnis helped lead the Cougars to a 10th-place finish, one point behind SM West. Joining him were senior Colton Almos (third, 145 pounds) and junior Mario Galvan (second, 195 pounds).
Earlier on Saturday, McKinnis earned a 7-4 decision in his semifinal match against Derby senior Jose Santillon. One season after going 0-2 at state and finishing 9-9, McKinnis (38-9) leapt into the arms of assistant coach Mark Wahl, who has seen McKinnis through the entirety of his young career.
"He beats himself more than other kids beat him," Wahl said.
Later Saturday afternoon, given some downtime, McKinnis picked up the phone and called his older brother, Deland. It'd be a number he'd call again later that night to affirm a promise made when the two first spoke — before McKinnis etched his name on the walls inside SM Northwest.
"I'm not leaving with the silver medal," McKinnis told his brother in their first conversation. "I'm not leaving the runner-up."
More like this story