Roof at horse arena collapses under snow; no injuries reported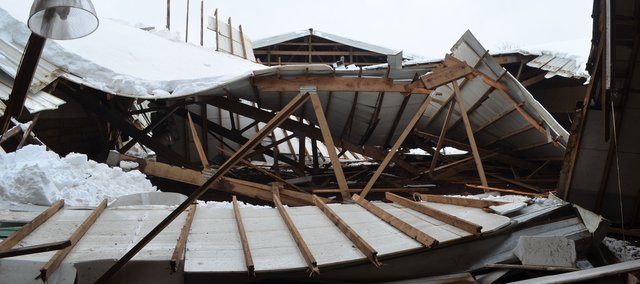 Be careful what you wish for.
Vikki Mazza, co-owner of the Covered M Arena in Shawnee, said area horse owners have been praying for precipitation to alleviate a serious hay shortage.
They got it and then some over the last week, as nearly two feet of snow had accumulated on the roof of Covered M Arena by Tuesday morning.
At about 10 a.m., a 75- by 130-foot section of the roof collapsed under the weight of the snow, which came down heavy and wet Monday night and Tuesday morning.
Fortunately, Mazza said, there were no injuries, human or equestrian at the arena, located just west of Renner Road at 17100 W. 53rd St.
Mazza, who has owned the business with her husband, Bob Mazza, for 42 years, said 50 horses were boarded in the arena at the time of the collapse. But their stalls are located on the outside of two load-bearing walls that run the length of the arena, she said. The portion of the truss-supported roof that collapsed fell in the middle of the two walls into an unoccupied riding area.
The collapse left a huge tangle of wood and metal roof sheeting. But the adjacent CM Tack store building was not affected.
The Mazzas said they would rebuild the arena, which was covered by insurance.
"I just glad none of the horses were injured and nobody was hurt," Vikki Mazza said as she surveyed the wreckage. "This can be fixed."