Second snowstorm piles more on city, puts freeze on voting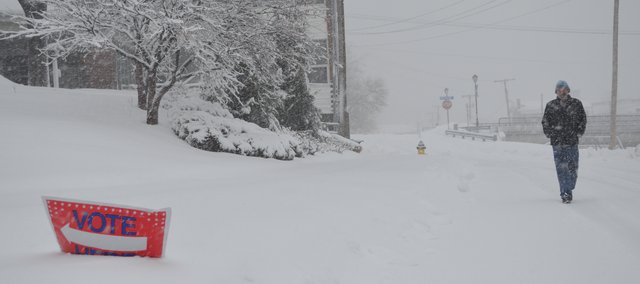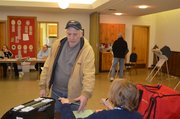 Low turnout
"This may be one of those elections where one vote really will make a difference," Nick Burke said.
Burke, who arrived at Merriam Christian Church at 7:35 a.m. Tuesday, was the last of only three voters who made it to the polling place during the first hour to cast ballots in the Shawnee Ward 2 City Council primary.
Due to the snow, Johnson County Election Commissioner Brian Newby was expecting only a 4 percent turnout for primary elections countywide. The snow also caused consolidation of polling places, from the 28 originally planned to only five.
In addition to the few votes expected to trickle in before the 7 p.m. close of polls, Newby said, county primary races, most of them for city council members, would be decided by 600 advance ballots cast at the Olathe election office plus mail ballots.
Newby's office sent out 1,300 mail ballots for the primary. But he was unsure what would happen to ballots that didn't make it back to the election office today due to postal delivery issues. Probably any late-arriving mail-in ballots that were postmarked by Monday or earlier will be counted, Newby said.
At the polls, the election office reverted to paper balloting because of the snowstorm, Newby said. That meant the ballots would have to be scanned in Olathe, a task that is expected to delay final election totals.
Another snowstorm moved in Monday night, this one starting out a little more mercifully for Shawnee.
This storm's plot started slowly, included a few intermissions and was expected to thicken by 4 inches or less during the day Tuesday.
Gil Hoag, a National Weather Service observer, said warm temperatures and sleet kept snow accumulation to trace amounts before midnight Monday — a sharp contrast to last Thursday's storm. It dumped 9.5 inches of snow on the Shawnee area, most of it falling within a few hours of the storm's onset just before 7 a.m.
But the latest storm, which included two to three inches overnight, was bad enough for the Shawnee Police Department to ask all residents to stay home Tuesday unless employed in an essential public service or health care positions. Tuesday morning traffic indicated that most complied, and travel to Merriam Christian Church, the only polling place for Shawnee's Ward 2 Council primary was also light.
County Election Commissioner Brian Newby said the snow prompted consolidation of primary polling places across the county from 28 originally planned to just five. By 8 a.m. Tuesday, only three Shawnee voters had made it to the Merriam polling place, and Newby had downgraded his countywide primary turnout projection from 8 percent to 4 percent.
Similar to Thursday's storm, Tuesday's snow closed all schools and many local businesses. But due to fewer motorists it did not appear to create the same level of morning rush-hour havoc.
Shawnee Public Works Director Ron Freyermuth said "whiteout" conditions Thursday were so bad that even a few snowplows got stuck in ditches along curbless roads in western Shawnee.
The city's fleet of 21 snowplows hit the road at 1:30 a.m. Thursday, pretreating streets with rock salt and calcium chloride. But the task of clearing main streets kept the crews from starting on the 60-hour job of plowing residential streets until late that day.
The Price Chopper at 12010 Shawnee Mission Parkway closed at 4 p.m. Thursday because most members of its night shift were snowed in at home.
Major Bill Hisle said Shawnee police worked only four crashes Thursday due to light traffic and slow speeds. But officers were deluged with calls for motorists assists — 141 of them.
"We had 14 police cars out (Thursday), some with two-man units," Hisle said Friday. "They were obviously very taxed going from call to call the entire day. ... I also know the snowplows were out all night long (Wednesday and Thursday)."
Nonstop plowing continued Monday night and Tuesday.
Shawnee police, meanwhile, responded to five crashes and 20 motorists assist calls between 4 p.m. Monday and 4 p.m. Tuesday.
"These lower numbers are obviously due to the fact that most everyone stayed home (Tuesday)," Hisle said Wednesday. "This allowed the snow plows to do their work unimpeded. We've been fairly busy this morning with fender benders, but nothing too serious as of yet."
More like this story