Sombrero's Mexican Cantina opening caps years of preparation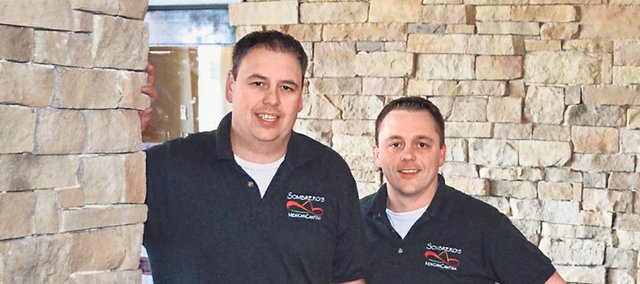 Sombrero's Mexican Cantina recently burst on to the local restaurant scene, opening in the former El Maguey space at 22702 Midland Drive in the Shawnee Crossings retail center.
For co-owner Brian Roberts, however, Sombrero's is the result of a lifelong dream and years of preparation.
"I have been working at getting my own place for about six years," he said. "I've been to Texas, New Mexico, Arizona and California, working on recipes and getting the menu put together."
In addition, for the four months prior to Sombrero's Feb. 15 grand opening, the owners worked to create a soothing, upscale interior through varying shades of blue paint, stacked stone walls and columns, art-glass lighting, a loft-look ceiling and other touches.
Sombrero's is owned by Lee Roberts, who once worked at Ponak's Mexican Kitchen & Bar in Kansas City, Mo., and his sons Brian and Jeremy Roberts, both veterans of Panzon's, a popular Mexican restaurant in Lenexa.
"Panzon's has been successful because they know how to take care of people, which resulted in a lot of regulars," said Brian Roberts, who worked his way up from busboy to manager during 20 years there. "We will have that same philosophy of keeping people happy and exceeding their expectations with no excuses."
Due to their respect for Panzon's owners, however, the Robertses decided not to borrow any of their recipes or steal any of their employees.
Rather, Brian said, they hand-picked experienced kitchen help from across the metropolitan area and hired a number of Mill Valley and De Soto high school students as servers to help create a neighborhood restaurant feel.
In addition, Brian created a menu featuring fresh tortillas, which will be made daily on the premises, and an assortment of sauces, including avocado, verde and habaneros varieties.
"Fresh tortillas made in-house, chips, sauce — that's the foundation," he said.
But beyond that, Sombreros features special dishes like Chile Rellenos, made from a recipe Brian picked up in New Mexico; Chili Verde, with seasoned pork, beans and special seasonings; and tamales that have proved to be an early favorite.
"We wanted to keep it real simple at first," Brian said of the menu, which also includes a variety of enchiladas, burritos, tacos, tostados and salads. "Then down the road, we'll introduce specials like Chicken Tanga and other authentic dishes."
The restaurant also features a full bar, with eight Mexican and domestic beers on tap, plus low-calorie Margaritas that Brian claims are the best in town.
Sombrero's, which also includes a room for private parties of up to 40 people, is open from 11 a.m. to 9:30 p.m. Monday through Thursday, 11 a.m. to 10:30 p.m. Friday and Saturday, and noon to 9 p.m. Sundays.
Located across the street from Perceptive Software's headquarters, Sombrero's lunch business will take a hit when that company moves its 600-plus jobs to Lenexa in a year or so, Brian said. But he hopes to win the company and its employees over in the meantime and continue serving the firm in the future through the restaurant's catering service.
"The days of putting a 'we're open' sign up and hoping people show up for lunch are gone," Brian said. "Nowadays, you have to take lunch to people, and we're going to do that by offering catering to local companies."