Couple brings taste of Italy home to Shawnee pizzeria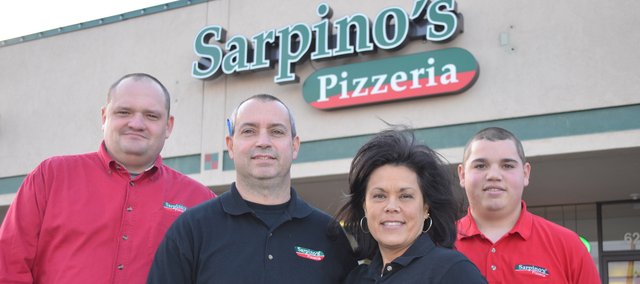 Sarpino's Pizzeria brought the taste of Italy to North America, and Steve and Cathy Darpel have brought it home to Shawnee.
The Darpels, who opened their first Sarpino's Pizzeria franchise last week at 6232 Nieman Road, said they chose that location because they wanted to do something nice for their longtime hometown.
"I was born and raised here," Cathy Darpel said. "I went to Bluejacket (Elementary), Hocker Grove (Middle School) and Shawnee Mission Northwest (High School). Steve went to Shawanoe, Trailridge and Northwest, which is where we met. We were high school sweethearts."
Members of the Northwest Class of 1988, the Darpels went on to run Mr. Goodcents sub sandwich franchises in Mission and then Olathe for 20 years. But on the advice of a friend who owns a Sarpino's franchise, the couple decided to change brands and cuisine.
"We saw what he was doing with all the fresh dough, fresh produce and fresh sauces," Cathy Darpel said. "And we loved the pizza."
Vasili Bykau, a trainer from Sarpino's Pizzeria's corporate office in Chicago, said the chain's fresh-daily preparation philosophy was imported directly from Italy.
Sarpino's founder, Gerry Koutougos, took his family on a European vacation in 1999, and while touring the Italian countryside, they happened upon a small, secluded family restaurant run by an old woman named Sarpina.
Koutougos was so taken by the taste of Sarpina's food that he volunteered to work for free, as an assistant in her kitchen, for two weeks. And two years later, he incorporated what he'd learned at the first Sarpino's restaurant, which opened in Victoria, British Columbia.
The concept spread to the United States in 2003, Steve Darpel said, and the new Shawnee location, in the Nieman Plaza shopping center, was the sixth to open in the Kansas City area.
Open from 10 a.m. to 2 a.m. 365 days a year, the new restaurant offers no dine-in seating but provides free delivery within a three-mile radius as well as take-out service and online ordering via gosarpinos.com/shawnee.
Besides offering a wide selection of specialty and gourmet pizzas, Cathy Darpel said, Sarpino's differentiates itself from other pizza places with broad selections of pastas, calzones, sandwiches, salads, wings and sides.
Pizza favorites, the couple said, include the Tropical Hawaiian, Bacon Cheeseburger, New York Deli, Alfredo Chicken and Midnight Express, which includes spicy ground beef, salami, pepperoni, Italian sausage, jalapeno and red chili peppers — all on a layer of sauce and topped with Sarpino's gourmet cheese blend.
The Darpels have hired a staff of 15 to prepare and deliver the food, and among their helpers is their son, Matt, a sophomore at Shawnee Mission Northwest. The couple also has a daughter, Alison, who has been helping out during her holiday break from Pittsburg State University. And they have many friends and relations in Shawnee who they are hoping will become regular customers.
"That's what makes it so important that we do this right," said Cathy Darpel, whose maiden name is Herrmann. Her brother, Craig Herrmann, is a patrol officer with the Shawnee Police Department.