Yogis tout benefits ranging from weight loss to spiritual bliss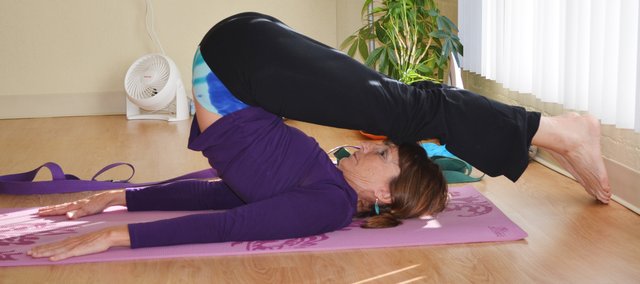 Faith Glenn, the instructor for new yoga classes at the Mill Creek Activity Center, said yoga's roots in India and ties to ancient Hindu beliefs have slowed its adoption here in the Bible Belt.
But with many Kansans shopping for bigger belts these days —­ we're the 16th most obese state in the nation, according to a recent report — yoga is being embraced by growing numbers as a great way to get back in shape.
Glenn, one of four local instructors who offered their opinions on yoga's health benefits, said two of the biggest misconceptions about yoga are that it is inextricably tied to Eastern religion and that those who use it to get in shape are all aiming for a pretzel shape.
But neither of those assumptions would be accurate in describing the weeknight classes Glenn began teaching Dec. 13 at the Mill Creek Activity Center, 6518 Vista Drive.
"It's very basic Hatha yoga," she said. "The classes include everyone from teenagers to people in their 40s and 50s, so we make the poses fit the body, not the bodies fit the poses."
Glenn, whose students range from marathon runners to people with sedentary jobs and knee or back issues, can adapt postures according to each student's limitations and skill level so there's no sense of failing to strike the "right" poses.
"It's not a judgmental thing," she said. "Yoga is not a competitive sport."
But as in sports, there are goals. Hatha, a Sanskrit word that means sun and moon, gets at a core goal of yoga: achieving physical and inner balance, Glenn said. Her classes focus on Hatha yoga's Sun Salutation series — 12 poses that work muscles, joints and the spine in order to restore a full range of motion and maintain it throughout life.
In other types of yoga classes, like flow yoga sessions, participants hold poses for brief periods, sometimes just a single breath, giving the cardiovascular system a more rigorous workout.
But in the classes Glenn teaches, poses are held longer, allowing students to perfect them such that they're feeling the stretch in the proper places.
"Then you can take yoga out of the classroom and into your home, where you can do it at your own pace and focus on your breathing instead of what the teacher and others are doing," she said.
There are, however, both social and spiritual aspects that keep people coming back to the group setting, Glenn said, and the gentler, contemplative yoga sessions she leads end with guided visualizations or meditations that are appropriate for students of all religious backgrounds.
"They're usually nature-based, like a cloud walk or a nature walk in your mind while the lights are off and maybe some classical piano music is playing," she said. "I can teach people physical things, but I'm not telling anyone how to live or feel."
According to Glenn, she began practicing yoga after growing up with bad hips, which caused her a lot of pain during her teens. Yoga helped her overcome the pain and later helped her deal with the discomfort and pain of pregnancy and childbirth.
Yoga Tree
Amanda Alleman of Shawnee, who is about five months pregnant, began taking Hatha yoga classes at Yoga Tree, 12212 Johnson Drive, upon the advice of her doctor.
"I started coming to support her," said Alleman's sister, Julia Schwartz. "Now I come for myself. The other day, I told Amanda, 'We've gone our whole lives without yoga, and now I don't know if I could do without it.'"
Yoga Tree, the only Shawnee studio devoted exclusively to yoga, was opened in October 2011 by Theresa Ebel, whose nickname, "Tree," is only one factor behind the name.
"Beyond that, there's the tree posture," she said. "And then there's the concept of being rooted and growing outward. We create our roots with our practice here, and we branch that out into our personal lives."
Ebel, who teaches basic Hatha yoga, said holding postures for several breaths makes practitioners uncomfortable.
"All you're thinking is that you want to get out of the posture," she said, "because even when you're just holding your arms up, that's weight-bearing exercise. But when you use your breath and a gazing point, you can overcome that fight-or-flight mechanism. And when we learn to do that in a posture, we can learn to do that in everything."
According to Ebel, yoga also teaches awareness of the body and a knowledge and acceptance of limitations, which are key to challenging oneself without injury.
While yoga is often defined as a yoking or union of body, mind and spirit, Ebel likes to describe it as "the creation of energy through breath and movement." And because it "revs up the metabolism," she said, it's also good for weight loss — making yoga a popular New Year's resolution.
"I've had students say they have not changed their eating habits at all," Ebel said, "but that after six months of yoga, they're putting on jeans that haven't seen the light of day for years."
Ebel said she started practicing yoga about 12 years ago, after years of hard-core distance running and swimming, because her knees, hips and shoulders were demanding a gentler form of exercise.
After pounding the pavement for so long and giving birth to four children, she had lost almost an inch in height. But thanks to yoga, Ebel said, "I have gained it back after those 12 years."
"I also used to have bad varicose veins behind my legs, and they're gone," she added. "That's from one-leg balancing. ... Just creating freshly oxygenated blood and improving your posture helps move energy through you to repair, heal and strengthen."
Ebel added that yoga can be as spiritual, or nonspiritual, as students want it to be. But after practicing four or five years, she couldn't help but sense the spiritual connection.
"We're all just so busy in our lives, but taking that time to focus on that perfect true being that God created allows you to change how you react to things and others," she said. "We're all these perfect beings, but then things happen to us that stack on those layers and layers that cause us to act a certain way. Yoga lets you get past those layers."
That can be particularly important for military veterans, said Ebel, whose community service contributions include membership in Yoga for Vets, a national program that offers free classes to veterans. Multiple studies funded by the Pentagon and Department of Veterans Affairs have demonstrated that through stretching, breathing and meditation exercises, yoga can help veterans with stress-related disorders regain their inner balance.
Inner Wisdom Wellness Center
Michelle Klaproth of Shawnee participates in small group yoga sessions a couple of nights a week at the Inner Wisdom Wellness Center, 5807 Merriam Drive.
Klaproth, who has been doing yoga for about six years, said it had helped her relax and eased her tendonitis and back pain.
"It's just making me stronger and feel better," she said. "And when I go home (from yoga class), I eat a lighter meal than I normally would."
Away from the classroom, Klaproth often finds herself "doing some cat and cow" or other postures she has learned to relieve tension. But she keeps returning to class, sometimes bringing a friend or relative with her, for the camaraderie, support and peaceful surroundings.
Klaproth's instructor, Carla Mason, teaches a gentle form of Hatha yoga called restorative yoga, which uses long hold times and props like straps and pillowy "bolsters" to make certain postures easier on hamstrings, the back and other parts of the body.
According to Mason, she became involved with yoga instruction at a Lee's Summit fitness facility as part of a Silver Sneakers senior exercise program that included a yoga component.
"Then I really wanted to grow beyond that," Mason said, so she enrolled in a 200-hour certification program for yoga instructors, completing it in August 2011.
The certification program required Mason to do 80 hours of student teaching, which she completed at her home and at Ebel's Yoga Tree. She then began offering private lessons, including prenatal yoga, in her home before learning of an opening at the Inner Wisdom Wellness Center.
Besides teaching yoga there, Mason is currently working toward a master's degree in exercise science. But despite her interest in physical exercise, Mason knows it is only one facet of a healthy existence.
While yoga helps relax, strengthen and tone bodies, she said, "it also benefits everyone by using our minds, breath and bodies to reconnect and elevate ourselves above and beyond subsistence."
But she doesn't push the spiritual aspect in class, even during the quiet, reflective periods that open and close each hourlong session.
"I just let people experience that for themselves without me telling them, 'This is a spiritual moment we're having,'" Mason said. "Everybody's spiritual walk is different. So you just open the door for them to be able to experience it without putting your ideas into their minds."
But despite that approach, common among yoga instructors, and scientific evidence of yoga's health benefits, some Christians remain leery of yoga, Mason lamented.
"A lady who teaches Zumba at my church said she didn't think they would ever allow yoga in the gym there," she said.
Mason, however, said she was confident yoga would continue to grow because of the health benefits it bestows.
"Autoimmune disorders, high blood pressure and heart ailments are all on the rise because people have a lot of stress," she said. "But once people experience the euphoria, the calmness, the peacefulness of a really good yoga class, it changes everything."
Your Wellness Connection
Randy Just, director of the B.K.S. Inyengar Yoga Studio of Dallas, will be in Shawnee on Jan. 18-19 to conduct an all-level Iyengar yoga workshop for the Movement Arts program at Your Wellness Connection, 7410 Switzer.
Iyengar yoga, named for the Indian yogi who introduced props to make Hatha yoga safer, also delivers health benefits, some of them startling, Just said.
Just has seen Iyengar yoga help shrink a brain tumor, get a friend off asthma medication and spare one of his students from serious injury after her bicycle was struck by a car, he said. Thanks to the keen sense of balance the student developed, "she was able to stay on the bike and not fall over and it kept her from becoming a lot more injured," Just said.
People typically start losing balance as they age, and several senior citizens die from falls every year. But for students, even older ones, who put their minds into certain postures, improved balance comes quickly, Just said, "and once it comes, you have it."
Other health benefits of yoga, he said, include healthier lungs, improved digestion, better posture and stronger, more flexible muscles.
Such benefits are available at a number of yoga venues, including 24 Hour Fitness and other gyms, which Just refers to as 'the McDonald's hamburgers of yoga." But he doesn't mean the description to be disparaging.
"They're nice," he said, "because they introduce so many people to yoga, and then a lot of those people get more serious about it and find people like me."
Just unabashedly touts the spiritual benefits of yoga, as evidenced by his definition of the discipline.
"Yoga means taking the true self, which is the soul or the essence of God within you, and yoking it to your earthly being," he said. "Then you are no longer confused; you don't think that this world is it. You still live in the world, but you understand that there's this essence of you that goes beyond it. ...
"Yoga puts you back into that true self, and in that self there's quietness, contentment, happiness. It's the same place Christians go to in prayer and through emulating Christ, and what Buddhists find in emptiness. It's that place where you're no longer lost."