Bruised but victorious,
SM

Northwest girls open 2013 with rally at

SM

West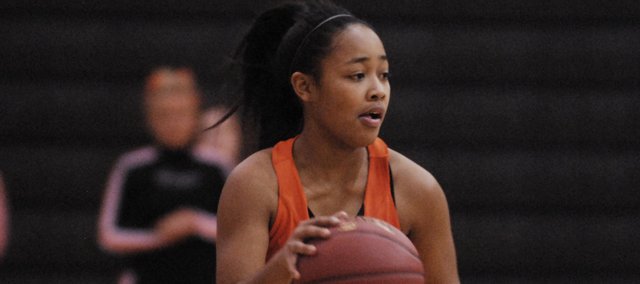 Photo Gallery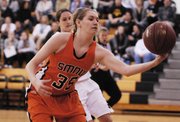 Jan. 3: SM Northwest girls 46, SM West 39
The Cougars improved to 6-1 in their first game back after winter break.
Overland Park — Shawnee Mission Northwest girls basketball coach Jeff Dickson could only stay frustrated, out of his seat with hands on hips, for so long.
Because for every time there'd be a play on Thursday like when junior McKayla Ross lost control of the ball on a behind-the-back dribble attempt or when a Cougars possession would end in a turnover, there were just enough moments more when Ross would float toward the basket for a dazzling layup, mimicking the path of a paintbrush.
The Cougars (6-1) returned out of winter break to rally past SM West, 46-39, after trailing at halftime and overcoming a spate of second-half bruises.
After the Vikings made it 23-21 to start the third quarter, the Cougars went on a 10-3 run to grab control for most of the rest of the way. But it wouldn't be easy.
With 3:03 left in the third quarter, sophomore Arielle Jackson went down hard on her wrist, staying on the court long enough to quiet the crowd. Soon enough, though, she sprung to her feet to take her foul shots.
"I can get up," Jackson said. "I've played games where the other team is trying to take me out before. In the back of my head, my dad and family are telling me to get up, I'm fine."
The Cougars didn't trail again after a 30-second sequence saw them go from down 35-33 to up 39-35. After the Vikings took what would be their last lead of the game with 4:12 left, Ross answered with a basket on the ensuing possession and Jackson added an and-one after a steal — again crashing to the hardwood — to go back up four.
Ross finished with a game-high 17 points, but with just 3.9 seconds left things took a scary turn. Frustrations had grown for the home team as passes sailed out of bounds on successive possessions. With the Cougars trying to close out the game, up 45-37 in the final moments, and the Vikings seeking to foul to stop the clock, a series of health scares afflicted SM Northwest.
With just 6.9 seconds left, senior Kristina Purinton — who hustled all night to come up with multiple steals — went crashing into a row of bleachers, her head and chest absorbing the bulk of the blow. And, just three seconds later, Ross was sent hurtling to the court, crashing down on her left wrist.
After the game, Dickson said Ross' wrist had yet to swell or become discolored. Still, Ross' pain was more than apparent. On her face, sharing residence with the pain, was likely fear that said pain signaled any amount of the 2012-13 spent on the bench.
Ross, along with senior Anna King, is one of the Cougars' most valuable players.
"She's in attack mode at all times," Dickson said of Ross. "That's what we want from her. She might miss one or two shots and then go off for four, five in a row."
Though able to rely on multiple upperclassmen to lead the way, Dickson is also drawing from a bench filled with greener athletes: In total, a dozen players saw the floor on Thursday.
But it's not just the supporting cast that's young: Starters Jackson and freshman Brenni Rose are at the onset of their varsity careers.
Jackson finished with 11 points and three rebounds, including going 4 of 5 from the free-throw line to help close out the game. Rose finished with six points and three rebounds, including a block and a basket to go up 43-37 late.
"We don't win that game without her," Dickson said of Rose.
Sophomore Tatum Graves came off the bench and scored two points and added four rebounds in the third quarter. King finished with eight points and three rebounds.
The Cougars trailed, 21-20, at halftime after an evenly matched — at times good, others ill — first two quarters. Dickson said SM Northwest's starting five played solid, but once he had to dig into his bench, the Cougars struggled at times.
Ross led the Cougars with seven points at the half and Jackson had five points with three rebounds — including a three-pointer in the first quarter.
League play will continue when the Cougars play host to Lawrence High at 5:30 p.m. Tuesday.