Mill Valley's Short to join Windmiller at Missouri Western, McCann commits to Northern Colorado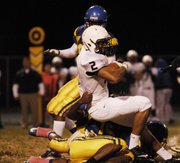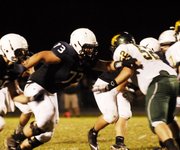 It was something their families had joked about for years: Kendall Short and Skyler Windmiller playing together, beyond high school.
Turns out that will come to fruition with Short's commitment to Missouri Western State University, following, by not long, last month's commitment of Windmiller.
"The way they run their offense is pretty much the same how we do at Mill Valley," Short said. "And my quarterback is going there. We're going to have to meet a lot of new people but it gives me someone I can hang out with as well to get to know the playbook with. He's my quarterback and I'm his running back."
Short finished with 733 total yards and 12 touchdowns for the 8-2 Jaguars in 2012. Short suffered what he said was a mild head injury early in the season and returned to help lead the Jaguars to both Kaw Valley League and district championships. It was during that stretch that Mill Valley coach Joel Applebee said Short played some of his best games as a Jaguar.
"He came back very strong," Applebee said. "Those were the best three to four games of his career since I've been here as coach."
On Friday, Applebee also told The Dispatch that senior offensive lineman Coleman McCann committed to Northern Colorado, an NCAA Division I Football Championship Subdivision (FCS) school. McCann was a first-team All-Kaw Valley League selection after the 2012 season.
McCann entered the season ranked in the top 10 among Kansas high school prospects by rivals.com. He was only able to play little more than two league games before an injury caused him to sit the rest of the season, but by then recruiters and area coaches had seen all they needed to draw their conclusions.
The 6-foot-3, 270-pound McCann again earned first-team All-Kaw Valley League honors, repeating 2011's award. Applebee said McCann really emerged during his junior season, in which he also earned honorable mention All-State honors.
"He's a huge kid, very strong and is able to get great leverage," Applebee said. "He's a taller kid, too, which can go a long ways when playing offensive line."
Applebee said McCann first visited Northern Colorado over the summer and plans to return this month to finalize the recruiting process. Mill Valley will have a signing ceremony on Feb. 7.
More like this story