McKinnis, Galvan give Cougars pair of titles at Dick Burns Mat Classic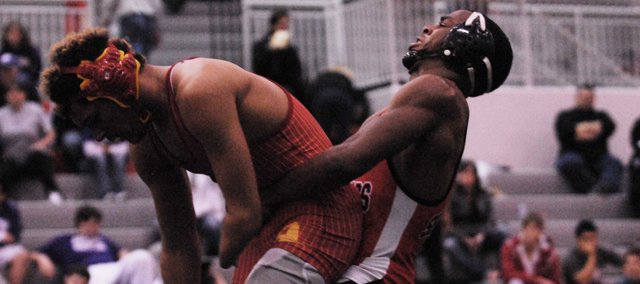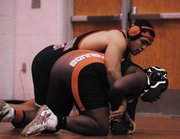 'Takedowns for Down syndrome'
For a second year, the Shawnee Mission Northwest wrestling program is taking part in Take Downs for Down Syndrome, a joint effort between high school wrestling teams and First Downs for Down Syndrome to create awareness and provide resources for those with Down syndrome and to also raise money for wrestling teams.
SM Northwest coach Howard Newcomb said the Cougars raised $3,600 last year. The program, which runs until the end of January, allows people to donate money on behalf of SM Northwest wrestlers. To make a pledge, visit ezeventsolutions.com/fr/fdfds/smnw2013.
Bonner Springs — Another week, another new trio represented the Shawnee Mission Northwest wrestling team in the championship round of a tournament.
The Cougars placed fifth at the Dick Burns Mat Classic in Bonner Springs on Saturday, their day highlighted by tournament championships earned by juniors LaPhonso McKinnis and Mario Galvan.
Meanwhile, sophomore Emilio Amunatigui advanced to the 113-pound final, where he was pinned by Lee's Summit North freshman Ethan Nielson.
In all, six Cougars placed in the top four of their respective classes.
McKinnis entered the tournament as the No. 1 seed in the 170-pound bracket, one year after making his varsity debut at the same tournament, where he went on to place fifth.
This time around, McKinnis improved to 19-3 when he earned a 10-5 decision victory against Atchison senior Geoffrey Vaughn.
The victory made it two straight tournament titles for McKinnis, who won the 170-pound title at the Johnson County Classic in December just before winter break.
Galvan, wrestling up a weight class at 220 pounds, pinned Atchison senior Tyler Hunt in 2:05 to add another tournament title to his 2012-13 resume and improve his record to 17-2.
In Galvan's place at 195 pounds, sophomore Zach Newcomb placed third after he pinned Baldwin sophomore Joel Halford in 57 seconds.
Competing at 145 pounds, senior Colton Almos also placed third, and Jorge Amunatigui earned a fourth-place finish at 132 pounds.
The Cougars travel to Blue Valley West for a dual on Wednesday and will have the weekend off while the program plays host to its annual junior varsity tournament.