Education focus: Partnership to provide career, technical education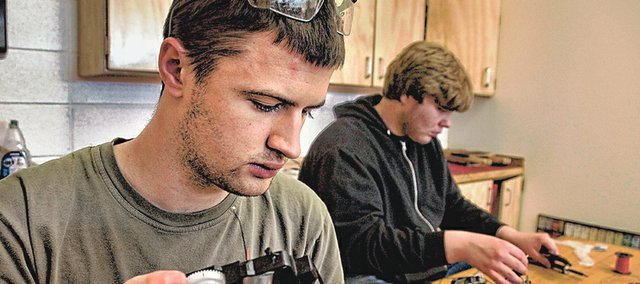 Lawrence may be home to the largest university in the state of Kansas, but for people who grow up here and whose career plans involve something other than a four-year college degree, access to other kinds of post-secondary education has traditionally been limited.
That accounts for about 25 to 50 percent of each graduating class at Lawrence and Free State high schools, according to administrators. That's how many students they estimate go to a two-year college, some other kind of job training program, or who try to enter the workforce directly out of high school
In many other Kansas communities, high school juniors and seniors can enroll simultaneously in nearby community colleges or technical schools to begin training in areas such as technical trades, construction or certain health care careers. But for Lawrence students, there are no such schools within easy commuting distance. The nearest such schools are in Kansas City, Johnson County or Topeka.
"I feel like this is something we've needed to do for some time," said Rick Henry, career and technical education specialist for the Lawrence school district.
Lawrence school officials hope to close some of that gap in the near future by forming partnerships with three area community colleges to share space and offer training programs in Lawrence.
The proposal, which depends on voters approving a bond issue on the April 2 ballot, calls for renovating space at the district's Community Connections Center, 2600 W. 25th St., also known as the Holcom Center, and forming partnerships with Kansas City, Johnson County and Neosho County community colleges to offer career and technical education programs.
Those programs would include training in health science, machine technology, computer networking and commercial construction.
"In talking with high school administrators and some middle school administrators, as well, we've selected some programs that have a good market outlook and things that we feel are needed and are necessary in our area and we feel would appeal to our students," Henry said.
According to the latest estimates, that would cost about $5.7 million for construction and developing the program, or about 6 percent of the proposed $92.5 million bond issue.
Those programs would be in addition to existing career and technical education programs offered at the two high schools.
The effort in Lawrence reflects a growing emphasis in K-12 education on what is called "college and career readiness." The idea is that by the time students graduate from high school, they should have the skills necessary to enter college or some other career training program, or to enter the workforce.
In Kansas, most school districts today build their curriculum around a number of different "career pathways," and students entering high school are strongly encouraged to select a pathway in order to plan the courses they will take and prepare for life after graduation.
"We offer 19 different pathways in various areas," Henry said of the curriculum in Lawrence. "Some of those are business-related; some are more industry-related, technology-related, teaching, those sorts of general areas."
Last year, Kansas lawmakers passed a measure that Gov. Sam Brownback had proposed which provides free tuition for high school students to enroll in certain career-training programs at post-secondary institutions. The state pays for the tuition, and also rewards the schools with $1,000 for each student who graduates with an industry-recognized certificate for jobs that the Kansas Department of Labor deems to be in high demand in the state.
Because of that, Henry said, community colleges now have more of an incentive to reach out and form partnerships with public school districts, and the districts have more incentive to invest in career and technical programs.