Local
FEMA

Corps member joins historic disaster response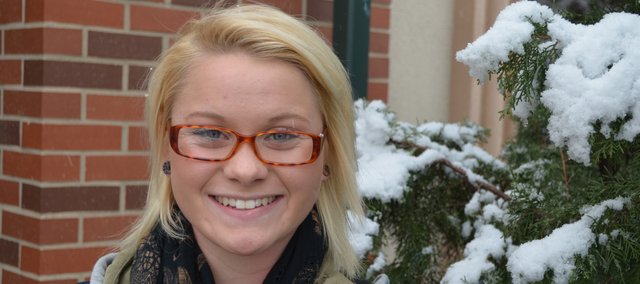 Who knew that a high school orchestra director could make such a big impact in preparing a young Shawnee woman for a historic disaster relief effort?
Victoria Celli, a 2012 graduate of Shawnee Mission Northwest, was among hundreds of young leaders who returned home for the holidays following deployments to New Jersey and New York as part of the first class of FEMA Corps, a new federal program designed to provide emergency management experience to young people.
FEMA Corps, which dispatched its 18- to 24-year-old members to assist victims of Superstorm Sandy in late October, is a new partnership between the Federal Emergency Management Agency and the Corporation of National and Community Service, which engages more than 4 million Americans in service through AmeriCorps, Senior Corps and the Social Innovation Fund.
FEMA Corps was designed to strengthen the nation's disaster response capacity in a cost-effective way. According to Celli, she witnessed another benefit while working with the victims of Sandy during the past couple of months.
"They liked seeing all the young people out there in their bright blue FEMA Corps jackets," said Celli, who made sure she provided the victims with a smile and a positive attitude as well as help in recovering from the disaster.
And that's where that orchestra director comes in.
Celli, who plays violin, said that SM Northwest orchestra director Jeff Bishop had inspired her with his positive outlook on life.
"When I was in high school, students were negative a lot of the time; they just wanted to get out of high school," Celli said. "But (Bishop) was always a very positive person."
Celli also was influenced by a friend who had served in AmeriCorps and convinced her to apply for participation in the program last February. She did, and finally got a call from AmeriCorps in late August. Celli was told to report to FEMA Corps' Vinton, Iowa, training campus within about a week, on Aug. 28.
Celli, who will receive $5,500 for college expenses after completing 10 months with FEMA Corps, also receives biweekly stipends to cover living expenses during her service, which began with a month of training in Iowa.
Celli's 240-member group, which along with a similarly sized group in Mississippi made up FEMA Corps' inaugural class, then traveled to the Center for Domestic Preparedness in Anniston, Ala. During two and a half weeks there, Celli said, "we received training in specific FEMA jobs. We were trained like any other government employee for FEMA."
Then, on Oct. 30, Sandy made landfall near Atlantic City, N.J., and Celli saw her first disaster-response action.
Working with a team assigned to Trenton, N.J., then several cities in Hudson County, N.J., Celli spent the next couple of weeks going door to door through storm-devastated areas to tell property owners how to register for federal aid.
"You had to have a positive mindset, make sure you smiled and let (survivors) know you were there for them," she said of the effort. "You may be young and know you look young. But if you let them know you know what you're doing and care about what you're doing, they're going to feel more comfortable around you."
Celli said she understood when some people — upset by the flood damage, power outages and other impacts of Sandy — yelled at FEMA Corps members on occasion.
"But you never say, 'I understand,'" she added, "because you don't know exactly what they're going through. You have to be able to just sit there and listen."
In addition to dealing with tense storm victims, Celli said, the FEMA Corps members had to navigate some dangerous driving situations due to all the debris on the roadways.
"But I never felt scared," she said. "I just felt there was so much that needed to be done, so I wanted to work more and more and more. Near the end of the day, I'd be saying, 'There's three more blocks we can get to today.'"
Celli, who headed back to New Jersey on Jan. 3, is now working in FEMA Corps' public assistance program. In that role, she helps fill out the project worksheets necessary in determining the costs of rebuilding hospitals, schools and other public infrastructure devastated by Sandy.
"The work I'm doing now may not be super-dramatic," Celli said. "But these are the things that need to get done now to help those communities. So I enjoy it."
Unlike many of her peers, Celli didn't begin her FEMA Corps service with plans for a career in emergency management. But who knows? She is planning to major in history, she said, and her recent experiences could lead to work with an organization such as FEMA's environmental and historical preservation unit.
"I'm still soul-searching," Celli said of her future. But a couple of things have become clearer over the past couple of months.
One is that "you have to have a positive outlook on things," she said. The other? That there are more important things to life than those material things that can be swept away by a disaster.